Posted
CUP FINAL PREVIEWS: Spring Cup and Division 2 Cup finals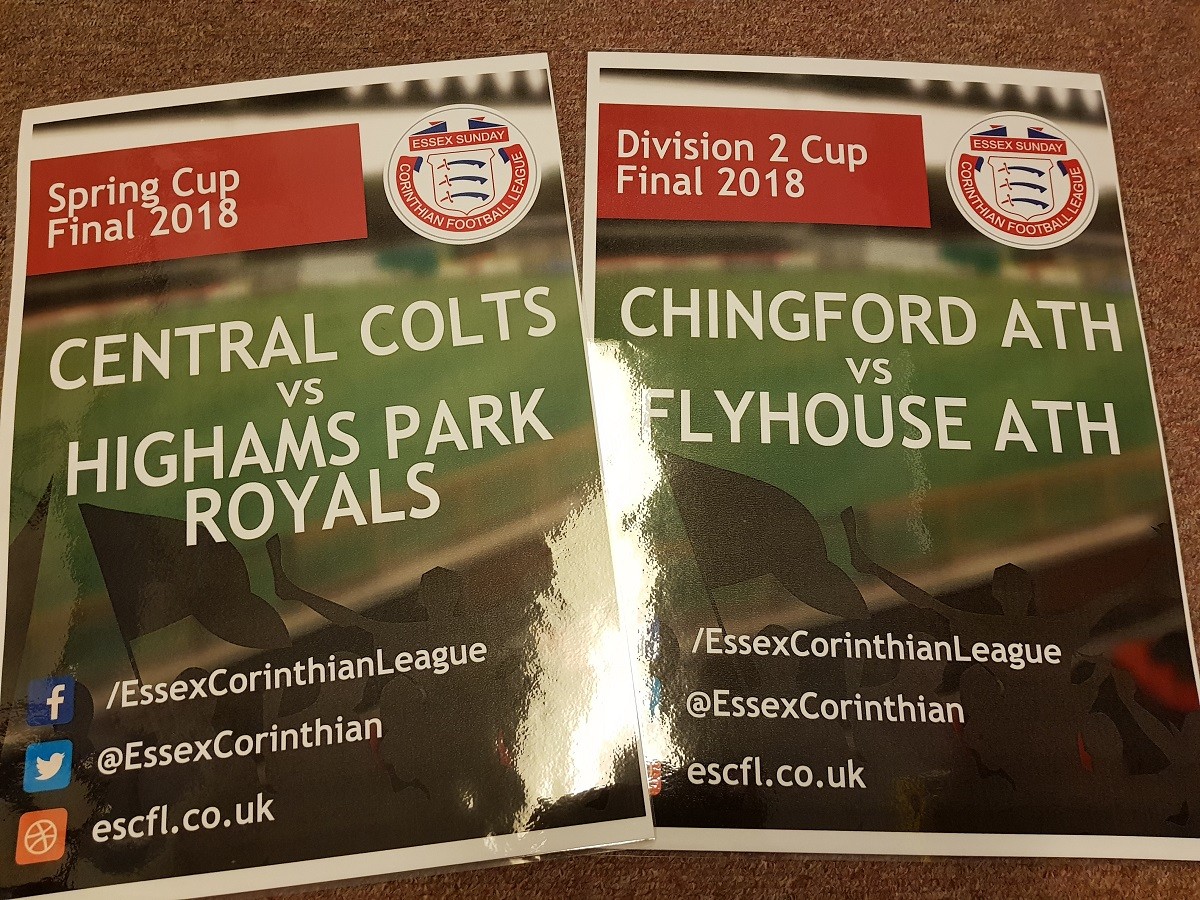 For our latest news and updates, please enter your email address
This Sunday marks our third weekend of cup finals as we head to Thurrock FC for another busy day of football comprising the Spring Cup and Division 2 Cup finals.
All of our showpiece cup finals will once again be taking place at Thurrock FC's wonderful Ship Lane ground, just a stone's throw from the M25/A13 & Lakeside. There will be bar and refreshment facilities available on the day which you are all welcome to make use of.
All of the clubs involved have been allocated tickets which they are required to sell so please contact your clubs for tickets in the first instance. We also have a supply of tickets on the turnstile on the day at a cost of £5 each.
We now look ahead to each of the games and provide some insight into who might be crowned cup winners on Sunday.
Spring Cup Final – 10.30am Kick-Off
Central Colts vs Highams Park Royals
The morning final brings together two of Division Four sides with Central Colts making a return to Thurrock after reaching the final of the Division Four Cup last season, taking on our league debutants this season in the form of Highams Park Royals, looking to mark their last game of their debut season with a piece of silverware.
As seasons go, this one will live long into the memory of those involved with Central Colts as the Dagenham based outfit built upon a much improved second campaign last season to top the table this time around. The improvements shown by this Colts side are tremendous having finished rock bottom of the bottom division just two years ago and now on the cusp of a treble with one hand on the league title you feel. The run to this final has taken in a trip to Oak Royals in the first round, running out 4-1 winners to book a quarter-final place away at Grey Area. A fairly routine win in that match saw them win 6-1 to book a top of the table clash against rivals Thames Ironworks Community. In a close match, Colts were able to edge the contest by the odd goal, winning 2-1 to confirm their place at Thurrock on Sunday. The man to watch is undoubtedly the goal machine himself, Tunde Olagunju, who has notched the small matter of 40 goals in all competitions this season to lead the charts.
As we look into the away dressing room on Sunday, we find a Highams Park Royals outfit who could well mark their debut season together as a club with a piece of silverware if things go their way on Sunday. The Walthamstow-based side have had a solid first campaign this year with plenty of wins in the opening weeks leading to them regularly holding a place in the upper echelons of a very competitive division. They have remained there or thereabouts all of the way through and boast the third highest goalscoring tally in the division as a side quite capable of finding the back of the net. Their run to the final this season has taken in a thumping 10-0 win against Bata United in the quarter-final before they clipped the wings of Epping Forest Falcons in the semi-final, victorious 4-1 to secure their place in the final. Three of their players have made it into double figures this year in regards to goals with Macauley White netting 17 and Ryan Radley scoring 16, these being the men to watch on Sunday morning.
The bookies favourites for this one are Central Colts with a near impeccable record in all competitions this year, sporting just a single defeat to their name. The league matches between these sides have been very close with a 3-1 Colts win followed up by a 2-2 draw in the return match meaning that Highams Park Royals will not be a side to be underestimated. In a footballing climate where the impossible is indeed possible, you wouldn't back against there being a huge shock in the one of the finals this year.
Congratulations to our appointed match officials on this final, a reward for the continued hard work put in by our referees across the season. The recently promoted Mike Iddenden-Smith is the man with the whistle and will be ably supported by fellow promotee Charlie Roberts and Andy Crossley who completes our trio of men in black.
Division 2 Cup Final – 2.30pm Kick-Off
Chingford Athletic vs Flyhouse Athletic
The afternoon final on Sunday sees two of Division Two's top sides meet in the third of our divisional finals as second-placed Chingford Athletic make their first Corinthian final and face league debutants this season in the form of fourth-placed Flyhouse Athletic.
For Chingford Athletic, a side with much pedigree in the local area from their exploits in the Saturday football arena, this season marked a return to the Corinthian League as some of the "old" boys decided to put their boots back on for a Sunday morning. With the mid-season addition of some of senior-level quality to their ranks, the season has been a really successful one so far as they maintain outside (albeit diminishing) hopes of a promotion place coupled with their run to this cup final, their second final as a club this season after their first team were beaten Essex Junior Cup finalists earlier this week. Their run to Sunday's final began in Hainault where they took on Barca with both sides keen to push on to a semi-final. Chingford managed to come through that tough looking tie with a 2-0 win before emphatically dismissing the league leaders, Wanstead United, 5-1 in the semi-finals in a terrific performance. They are a side packed with goals with Michael Mignot having netted 18 goals in just 8 matches this season, adding to 14 from Michael Boahene and Michael Johnson scoring 13 of his own too – a side who like to go big in scoring terms.
For Flyhouse Athletic, they have made a truly successful switch from the Dagenham & District League this season and, at one point, looked as if they were going to be taking over FC Mexico's "cup kings" tag as they reached three cup semi-finals. Although that subsequently only transpired into a single cup final (coupled with a huge fixture backlog!), with six league games still to play, they remain very much in the promotion picture with matches still to play against all of the sides above them so it could still be a very exciting end to their debut campaign with the league. In this competition, they began their run to the final with a thoroughly entertaining nine-goal thriller as they sent the county champions, Upshire, spiralling out of the competition in the quarter-final. In the semi-final, they had to summons up something special as they came from behind to beat Westferry Elite 3-2 to secure their place at Thurrock on Sunday afternoon. The men to watch for Flyhouse are Josh Davis who has found the back of the net on no less than 19 occasions this season along with 13 goals from Joshua Robinson and 10 from Tyler Rothon as another side who have no qualms in finding the back of the net.
This is a mouth-watering match between two very well matched sides you feel. On paper, the higher-placed Chingford Athletic would have to accept the tag of favourites based on their sparkling recent form. But Flyhouse have already shown in previous rounds that they can raise their game for the big occasion and will undoubtedly be creating chances of their own on Sunday. With over 100 goals scored by these sides combined and 75 conceded, we will surely be seeing plenty of goalmouth action!
Congratulations to our appointed match officials on this final, a reward for the continued hard work put in by our referees across the season. The experienced Howard Brown is the man with the whistle in the middle and will be ably supported by Mohammed Ripon and Sazid Asmal from the touchlines.
Other News Articles