Posted
WEEK 14 REVIEW: Round-up of Sunday's league and cup action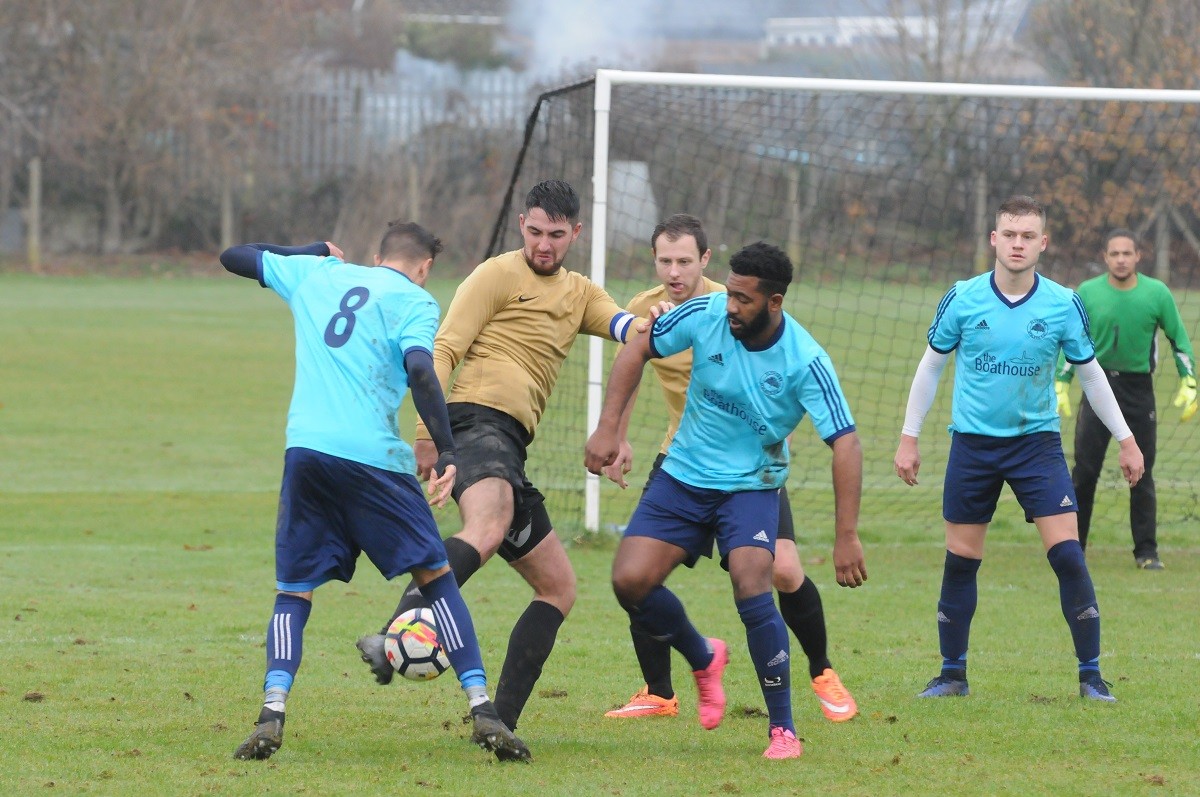 For our latest news and updates, please enter your email address
PREMIER DIVISION
Romford Elite have gone back to the top of the Premier Division table following Sunday's fixtures as they took advantage of rivals slipping back in recording a comprehensive 7-1 win away at Liberty Stars. Joshua Thompson was the hero with a four-goal haul adding to Tyrone Scarlett's brace and Charlie Desmond's effort to confirm the win.
That result was made possible as Warren United secured a fourth victory in seven league matches this season, beating now second placed Emerson Park in a 4-1 win in Barkingside. James Peagram scored twice and one apiece from Sean Green and Daniel Bell rendered a Park effort from Lewis Pether as just a consolation on the day. Warren now move third in the table.
DIVISION ONE
In Division One, Ultimate Vision have opened up a nine point gap at the top of the standings aided by a seventh league win of the season on Sunday, beating Waltham Athletic 5-2 in Chadwell Heath. Ryan Chapman's form continued with another two goals as further efforts from Kieran Ryan, Joe Maskell and Luke Thomas finished things off for the leaders.
FC Mexico missed their opportunity to move second in the table as they went down 2-1 at home against Valentines United in a closely fought match between the mid-table rivals. Rhys Tyrell got the Mexico goal but a brace from Adam Lindsay for United proved the difference on the day to earn a fourth league win of the campaign.
DIVISION TWO
In Division Two, Upshire have gone top of the league for the first time this season as they played host to Dagenham United in Waltham Abbey and ran out 6-2 victors to move above their title rivals. Joseph Williams and Zachary Hayles-Lee got the Daggers' goals but Upshire responded with six strikes of their own to earn a very important win.
This absorbing title battle will continue on for some time yet however with another three sides within pouncing distance should any slip up occur. Chingford Athletic made ground on those promotion places with a hard fought at home to Masterman, cancelling out an Alessander Cook goal for the visitors to win 3-1 and stay fourth in the table.
Second placed Barca were involved in a local derby as London Fire Brigade made the short hop across the track to face their Hainault rivals hoping to bounce back from their defeat a few weeks ago against them. Dylon Bradford netted for Barca but an Enrique Jimenez effort for Fire saw them secure an important point in a 1-1 draw in their quest to move clear of danger.
St Augustines would have been dreading going into their clash against struggling Lonsdale with the Saints a man short for this bottom end of the table encounter. They will be thinking their luck is in right now though as they edged a ten-goal thriller 6-4. Kyran Allen scored a hat-trick to help them on their way with Jack Dalby and Thomas Neale striking too. Aaron Rayner, Anton Gjergji, Kalium Fletcher and Klodion Gjings were the Lonsdale scorers with the consolation goals.
In the division's remaining game, two of the mid-table rivals came face to face as Flyhouse Athletic were visited by Westferry Elite in Hainault. Joshua Robinson and Dre Ferlisi both found the back of the net for Flyhouse but it wasn't enough as Elite scored three of their own in an entertaining match to edge a 3-2 victory.
DIVISION THREE
In Division Three, Ridgeway Rovers are the new leaders as they took full advantage of FC United of Hornchurch being out of league action in recording a hard fought 3-2 win away at Morfdown Elect. Carlo Boamah, Jaden Maloney and Mustafa Riza were the Rovers goal scorers to overcome the efforts of Elect.
Moving up to fifth place in the table were Dagenham United Reserves who took on third placed Alpha in one of the top games of the day. Attempting to build on last week's top performance, Roy Edmans got two goals for Alpha. However it wasn't quite enough as Loui Hazelwood's brace and a Sean Thomas effort carried the Daggers to the 3-2 win.
Goresbrook bounced back well to their disappointing result last time out with a stunning victory away at Lings Elite, returning home with fourteen goals to their name in a 14-0 win. Samuel Berry and Charlie Barrett were both hat-trick heroes with braces arriving through Jake Southam, Liam Coney and William Cox to add to strikes from Kasey Taylor and Robert Park.
Hornchurch Oakmont have pulled themselves further clear of danger with a third league win of the season, beating Roneo Colts 4-0 in Chadwell Heath. The goals were shared amongst Ross Woolward, Luke Newman, Jake Young and George Terry as they continued their improved recent form.
And Asianos Reserves will be feeling a lot better after their performance this weekend as the strugglers secured an important victory in a six-pointer against Alliance United in Dagenham. A solid 4-1 win saw the Leyton side move to a second win and clear from the relegation zone for now.
DIVISION FOUR
Central Colts maintained their significant lead at the head of the Division Four table with a comfortable looking 4-0 win away at Oak Royals. Tunde Olagunju's hat-trick proved decisive with Jimmy Turner also netting to earn the win for the leaders.
Highams Park Royals have moved back up to second place in the table and very much remain in the promotion picture following their victorious trip to Newham Athletic on Sunday. Mitchell-Christopher Edmonds, Sean Gilbert and Sam Jones were the men on target as they secured a vital 3-1 win.
East Ham Inter have maintained their fourth place position in the table as they beat Bata United on Sunday to earn a seventh win in eleven league matches this season so far. Michael Kemp bagged himself the metaphorical match-ball with a hat-trick and Sofyan Khalfi scored twice too to win 5-1 in Rainham.
And completing the league action, a dramatic match saw Grey Area take on Emerson Park Under 21s on Sunday with the small matter of thirteen goals shared amongst the teams on a busy day for goalkeepers. Ronnie Hobbrough scored five of them and one apiece for Ben Musselwhite, Mitchell McCabe, Liam Rooney and Jake Willis completed a 9-4 victory for the Under 21s.
COUNTY CUP
In the London Sunday Junior Cup, the Corinthian League's sole remaining representatives, Leyton Celtic, were on the road once again with a trip to AFC Rose on Sunday with both sides eager to secure a place in January's fourth round. And it was Celtic who took home the honours, scooping a 3-1 win to book a tie against Panathinaikos in January.
CHARITY CUP
In the West Essex Sunday Charity Cup first round, there was an eight goal thriller as Flanders faced up to Senior League opposition in the shape of Waltham Abbey Reserves in East Ham. Abbey were victorious in a 5-3 score line to end Flanders' participation for this season.
Other News Articles