Posted
WEEK 17 REVIEW: Round-up of Sunday's league and cup action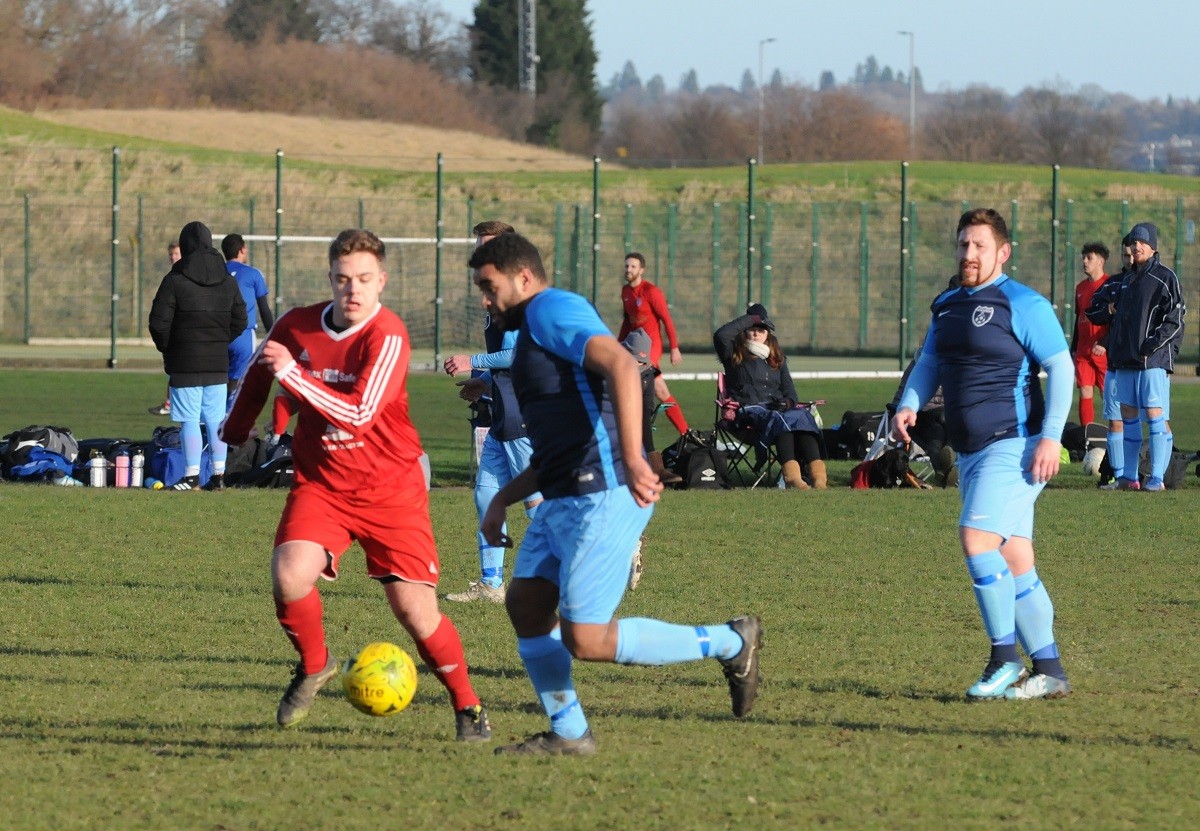 For our latest news and updates, please enter your email address
SPRING CUP
The first matches of 2018 got underway last weekend including the opening match of this season's Spring Cup with Division Four leaders, Central Colts, heading to Newbury Park to face Oak Royals. Colts' return to action saw a continuation of their great season thus far as they saw off the Royals in a 4-1 victory to make the quarter finals of the competition.
PREMIER DIVISION
In the Premier Division, the top two sides came face to face as Emerson Park made the journey to Romford Elite. Elite led early but Emerson Park hit back to score six goals with Lewis Perkins netting a hat-trick and further strikes from Reece Sargent, Christy O'Donougue and Tony Brookes. Elite netted late on but too late to impact on the result as Tony Fraser and Tyrone Scarlett goals accounted for their efforts.
The other side very much in the frame for title honours are Warren United who, with plenty of games in hand, could still apply pressure to the top two sides. Their chances were enhanced this weekend as they beat Flanders in a five-goal thriller 3-2. Goals from Bentley Vancootan, Joe Smallwood and Daniel Bell done the damage to edge the match and take home the points.
DIVISION ONE
The action in Division One this week centred around the three sides at the top with Ultimate Vision, the leaders, travelling to Walthamstow to take on Leyton Celtic who are one of the challengers this year. It was certainly a trip to remember for the visitors who ran rampage over Celtic in recording an 8-0 victory that extends their lead at the top. Ryan Chapman scored a hat-trick, Luke Thomas a brace and further goals from Scott Duke, Joe Maskell and Jonathan Melia.
In the day's other Division One action, there was a cracking match between old rivals Park Tavern and FC Mexico who were both seeking to start their year in a positive fashion. Following a similarly tight match in the opening game between these sides, it once again took just a single goal to win this game with Matt Stanbridge proving the hero to confirm a 1-0 victory for FC Mexico, keeping their side second in the table.
DIVISION TWO
In Division Two, it will have been a weekend to remember for the boys at Masterman who at the tenth attempt, have managed to get themselves a league victory on the board as they took on London Fire Brigade in Hainault. Their 2-0 win, aided by strikes by Nicky Hornsby and Misha Djemaili, closes the gap on the group of sides above them and they'll be hoping that 2018 continues in the same vain.
Moving up to third in the table and to within a single point of top spot, Chingford Athletic done their hopes of promotion no harm at all as they faced Dagenham United in their opening match of the new year. Goals from Michael Boahene, Michael Johnson, John Austin and Samuel Matthews were more than enough to see off the efforts of Dagenham United on the day.
The new year action was also kind to St Augustines who are making inroads up the table, this week with a victory at home against Flyhouse Athletic in Barkingside. A goal apiece from Luke Diebelius, Nathan Hitchman, Thomas Neale, James Pararajan and Matt Scarsbrook overcame three goals from the visitors to complete a 5-3 win.
DIVISION THREE
In Division Three, the leaders Ridgeway Rovers continued their unbeaten run with a Waltham Forest derby match away at Asianos Reserves. The league leaders secured a 3-1 win on the day to extend their lead at the summit to five points.
Second placed FC United of Hornchurch maintain their own pressure on the leaders but didn't get everything their own way as they took on Morfdown Elect. Elect got a lead but United got themselves back in the game and edged the seven goal thriller by the odd goal to win 4-3. Kristopher Brown scored twice and Aaron Hills once for the visitors but United goals from Tom King, Tommy Pidgeon, Shane Cassidy and Charlie Barlow secured the win.
There was an important result at both ends of the table at Wanstead Flats where Alpha took on Alliance United. In a game of few chances, the defences reigned supreme in a goalless draw that saw the sides share the spoils. It was a result at saw Alliance confirm a first league point of the season while halting Alpha's progress towards the summit.
And in the division's final game, there was a big win for Hornchurch Oakmont who were the visitors to Harlow this weekend to take on Lings Elite Under 21s. Nathan Adams and Ross Woolward both scored twice with Luke Newman and Charlie Woods effort rounding off a comfortable 6-0 win to keep their side eighth and in sight of those above them.
DIVISION FOUR
There was plenty of goals in Division Four this weekend with Thames Ironworks Community playing host to Bata United in Plaistow with them looking to close the gap on the promotion places. Thames did just that, securing a 5-1 win that moves them second courtesy of a brace from Reece Lewis and strikes from Liam Tracey-Cesay, Theo Towli and Kurt Smith to complete the win.
Another side who could yet have a big say on the destination of the title this season could be the emerging Emerson Park Under 21s who stay unbeaten following a victory on Sunday and host top of the table Central Colts next Sunday in a real hum-dinger. They'll head into that on the back of a 5-2 victory against Highams Park Royals as doubles from Ronnie Hobbrough and Jake Willis plus an Edward Buchanan effort completed victory.
Continuing a theme of goals, there were seven of them in the clash in Beckton where Custom House Community were up against Grey Area. Custom House goals from Giuseppe Hiranda, Jiri Kucera and Pedro Carvalho proved not quite enough on the day as a Nathan Dennis hat-trick and Calli Barnard effort was decisive in handing a 4-3 win to Grey Area.
Completing the day's league fixtures, East Ham Inter made it eight wins from thirteen league fixtures this year as they took on Epping Forest Falcons at Wanstead Flats. A goal apiece from Sofyan Khalfi and Ellis Barounovitch were enough to secure maximum points in a closely fought match and keeps them fourth in the standings.
COUNTY CUP
It was a busy morning in the county cup competitions with four of our sides in action looking to book quarter final places in the various competitions. In the Essex Junior Cup, there was a tremendous victory for Barking & Dagenham Wanderers who faced familiar opposition in the form of Leigh United who they took on in last season's semi-finals. This year it was the turn of Wanderers to dish out some pain as they inflicted a thumping 5-0 win to make Wednesday's quarter-final draw.
In the Essex Junior Trophy there was mixed success as Upshire made it through to their delayed third round clash, defeating Chelmsford-based Seaxe 6-0 in a comfortable win. They now head on to face Harlow-side Clodan in round three next weekend with round four to follow the week after for the winners.
In a simply unbelievable game at Warren School, Goresbrook overcame an early 3-0 deficit against their Clacton-based opponents, Vikings, to trail just 3-2 at the break. Astonishingly they turned that deficit into a 4-3 lead with half an hour to go with quick second half goals only for the lead to evaporate moments later. And then on the stroke of the final whistle, with thoughts of a freezing extra thirty minutes looming, they sadly turned a Vikings corner into their own net to put an end to their comeback and exit the competition 5-4 with heads held high.
The end was also nigh for Dagenham United Reserves who's own run in this competition had taken in some epic journeys through Essex, stopping off in Wickford this Sunday to take on Premier Athletic. Their run was ended however as they went down 11-3 to their Thurrock League runaway leaders to exit the competition.
Other News Articles