Posted
WEEK 21 REVIEW: Round-up of Sunday's league and cup action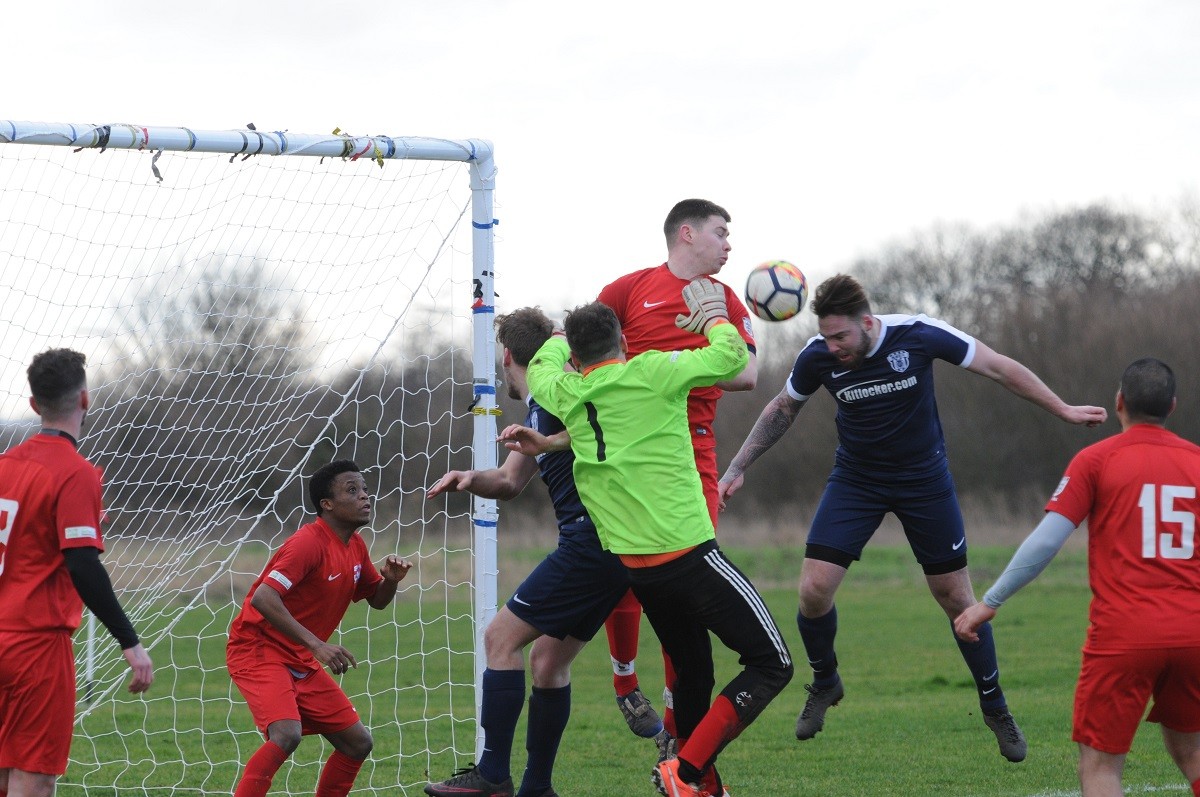 For our latest news and updates, please enter your email address
CORINTHIAN CUP
The first of this season's Corinthian Cup semi-final line-ups was confirmed on Sunday as Romford Elite played host to Warren United in Chadwell Heath with the winner progressing on to face Leyton Celtic in the semi-final. In a closely fought match, it took a very late winner to separate the sides with Warren the beneficiaries in a 2-1 scoreline. Gabriel Ogunwomoju scored the Elite goal with Bradley Gates and James Peagram efforts sending Warren through to the last four.
TROPHYLAND CUP
Another side who have booked a place in a semi-final this season are Flyhouse Athletic who faced Division Three's Goresbrook in a potential banana skin of a tie in the Trophyland Cup quarter final between two well matched sides. The teams shared five goals with Flyhouse scoring the odd goal to make it a 3-2 victory and a place in the semi-final where they will face Wanstead United or Barca.
SPRING CUP
It was also quarter-finals day in the Spring Cup competition which saw four sides in action going for places in March's semi-finals. Highams Park Royals booked their place in emphatic fashion as they smashed ten goals past Bata United without reply to secure safe passage to the semis. Macauley White scored a hat-trick, two from Alfie Bradley and one apiece from Ashley Mills, Frankie Williams, Teddy Johnson, Ryan Radley and Mitchell-Christopher Edmonds to go through.
In a match of somewhat closer competition, East Ham Inter took on Thames Ironworks Community at Wanstead Flats in another of the quarter-finals to be played with both sides eager to extend their cup run to another match. Reece Lewis' brace for Iron proved to be important, scoring both of his team's goals in a 2-1 victory. They will face the winners of the clash between Central Colts and Grey Area in March.
PREMIER DIVISION CUP
It's all change at the top of the Premier Division Cup group stage as Flanders continued their good start to the competition with a second win that catapults them to the summit. They took on Liberty Stars in the Newham derby and ran out comfortable 5-2 winners with a Shomari Barnwell double leading the way, accompanied by goals from Meer Ishanzadeh, Charles Ofor and Abaham Opoku.
Joining them at the top are Emerson Park who, following an opening defeat in the competition, made it two wins from three matches to hold second place on goal difference. In a game of plenty of goal action, they faced Repton Park at the Academy and Rob Clark will remember his morning's work fondly after netting a four-goal haul to go with efforts from Joey Harris and Isaac Edughele, confirming a 6-4 victory.
DIVISION TWO CUP
In the Division Two Cup first round on Sunday, London Fire Brigade took on St Augustines in a Barkingside derby match with the former running out winners over their in-form opposition. Nathan Hitchman was on the scoresheet for the visitors but Fire goals from Enrique Jimenez, Yomi Popoola and David Moore were too much for the Saints as London Fire Brigade booked a quarter-final at Westferry Elite.
DIVISION ONE
Division One's title race just became wide open after this weekend's results which saw thrills and spills amongst the three fixtures. Park Tavern have given themselves a lifeline to avoid relegation as they pulled off a stunning victory away at leaders Ultimate Vision, overcoming home goals from Jack Mooney and Luke Thomas with four goals of their own in a 4-2 win. Shaun Goddard scored two of the Tavern goals with Rodney Sarsah-Wilson and Gozie Ndukwe also finding the onion sack.
Making it an even better day for the sides in the lower reaches of the table were Korona Redbridge who also had an away-day to remember, sending title-chasing Leyton Celtic to defeat in a seven goal thriller. Kieran Hawkes, Ophel Idris and Charlie Saywood were all on target for Celtic but Korona scored four through a Dawid Smolarek hat-trick and a Sebastian Wiklik effort to win it 4-3.
And taking advantage of those defeats to sides around them, FC Mexico made it three away victories from the three matches played on the day as they travelled to Valentines United and came away with a thumping 5-1 victory. Alex O'Halloran scored a hat-trick to pave the way to victory with Tom Terry and Rhys Tyrrell also netting to render a Chris Blohm goal for United as mere consolation.
DIVISION TWO
Down in Division Two, a match which Alan Hansen would certainly be cringing at the highlights saw a goal-filled clash between Chingford Athletic and Lonsdale which contained no fewer than thirteen efforts ruffling the back of the net. Klodion Gjings scored twice and one each for Kalium Fletcher and Emanoyel Ntoi for Lonsdale but their defence was breached on nine occasions as Chingford ran out 9-4 winners.
Football can be a funny game, as proved in the day's other league action between Westferry Elite and Upshire. Just seven days prior, the same fixture, same ground but different competition saw Elite shock their opponents. Roll on a week later and Upshire exacted their revenge in the league as they inflicted a 5-1 defeat on Elite to go a point off the top with a game in hand.
DIVISION THREE
You don't have to be Mystic Meg to foresee an absolute belter of an ending to the season in Division Three with four sides going hammer and tong for the title. The long time leaders, Ridgeway Rovers, finally saw their long unbeaten record come to an end on Sunday as they faced fellow challengers FC United of Hornchurch. Rovers led 2-0 but FC United mounted a comeback to win 3-2 and go top of the table.
The third side who will undoubtedly be in amongst those fighting for honours come the spring time are Dagenham United Reserves who continued on their merry way with a 7-2 win at home to Hornchurch Oakmont. Danny Brown and Sean Thomas both scored twice with George Martin, Gary Adams and Scott Foster goals completing the win that keeps them third with games in hand.
Morfdown Elect overcame the plucky efforts of Alliance United on Sunday to win the Dagenham derby 2-0. With the sides still level at the break 0-0, a big second effort for Elect was needed with Paul Gunn and Darran Pocock goals finally breaking down the Alliance defence as Elect moved up to seventh place.
DIVISION FOUR
Epping Forest Falcons returned to action this weekend with trip to Wanstead Flats to face Newham Athletic with both sides desperate for the points to move up the table. In an entertaining match of six goals, Peter Andrew's brace and efforts from Rory Fairweather and Gary Sare were just enough to get past Newham in a 4-2 win.
And rounding off the league action, Emerson Park Under 21s' assault on the league title sees no end as they beat Oak Royals 12-3 on Sunday in Newbury Park, keeping them in touch with Central Colts with a return match between the sides still to come. Ryan Mitchell scored a hat-trick for Royals but four goals from Ronnie Hobbrough, three from Mitchell McCabe, two from each of Jake Willis and Jack Lakey and a Sam Pearlman effort completed the Park scoring.
COUNTY CUP
Two of our sides were in Essex Sunday Junior Cup quarter final action on Sunday, both going down valiantly after tight matches against south Essex opposition. Barking & Dagenham Wanderers were in Rayleigh to face Academy Soccer and took their opponents all the way to extra-time before conceding a winner to go out 2-1.
In the day's other match, East London Old Boys had to forego home advantage due to the weather and travelled down to Chadwell St Mary to take on a title-chasing Palmers outfit from the Thurrock Sunday League. The Old Boys had the better of the first half chances but failed to convert, then found themselves punished as a goal in each half condemned them to a 2-0 defeat.
Other News Articles