Posted
CUP FINAL PREVIEW: SL Menfica take on St Augustines in Division 1 Cup finale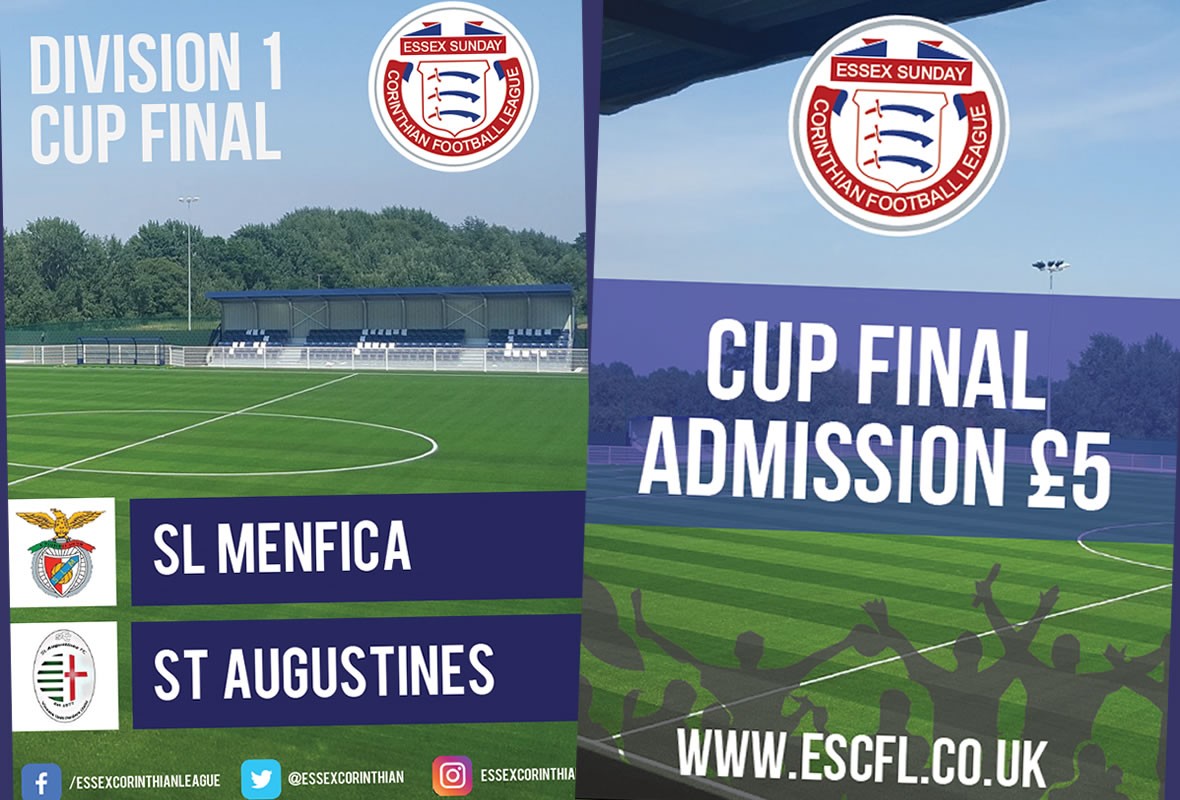 For our latest news and updates, please enter your email address
The Division 1 Cup, and the Corinthian League season as a whole, reach a final conclusion on Friday night as SL Menfica go in search of a league and cup double, taking on St Augustines in the final at Aveley.
There will be bar and refreshment facilities available at the ground on the night which you are all welcome to make use of.
Each club involved has been allocated tickets which they are required to sell so please contact your clubs for tickets in the first instance. We also have a supply of tickets on the turnstile on the day at a cost of £5 each.
We now look ahead to the game and provide some insight into who might be crowned cup winners at full time.
Division One Cup Final – 7.45pm Kick-Off
SL Menfica vs St Augustines
It's been another very successful season for all of those involved with SL Menfica who, factoring in a year off, are on the brink of a fifth piece of silverware in just two years as a club. Following their return to the league following said break, they have simply picked up where they left off and secured the Division One league title at the first attempt, confirming their place in the top flight for next season. In a very competitive division, the team have built their success around scoring plenty of goals in an otherwise low scoring division coupled with a decent defence effort as well. They started their run in the competition with a first round tie against Wanstead Albion, coming through that game in a 5-0 win to book their place in the quarter finals. A familiar scoreline and end result was witnessed in that quarter-final where they put Westferrty Elite to the sword with another 5-0 victory, securing a semi final away at Korona Redbridge. Things weren't quite so straight forward in the semi final but another top defensive performance saw SL Menfica over the line in a 3-0 victory as David Hornsby, James Dobson and Shaun Goddard all netted to send their side to the cup final without having conceded a goal in the competition! When you look at who might be the men to watch, you'd have to mark David Hornsby as one of the key players in their side having netted 26 goals in just 18 games this year while Kris Brown (8) and Jake Muller (7) have also contributed to the tally too in a side where thirteen players have found the back of the net this season!
Making a return to the cup final scene for the first time in in over fifteen years, St Augustines have had a solid season in all competitions following their initially reluctant elevation to the second tier last summer. As a club which has been around for many more years than I can remember, they have been quietly making progress under player-manager Tom Neil's stewardship, culminating in a fifth placed finish in the league this season. It's a particularly remarkable rise given the number of occasions that they have played short of players but still managed to pull out some big results! Nonetheless they have saved their best performances for the divisional cup competition where they took on Valiant in the their opening round tie, a match which saw them run riot with a 7-1 win to their names and a place in the semi-final of the competition. They couldn't have had a much tougher tie in the semi-final as they faced up to Chingford Athletic who, at the time, were fighting on three fronts and on a run of not conceding a goal for a long period of time. But Saints showed plenty of resilience themselves and scored the only goal of the game with gaffer Neil popping up with that effort to send their team to Parkside. A short analysis of the statistics for the group of players indicates that they operate very much as a unit rather than as individuals, demonstrated by the goals being shared around amongst their team. The ever confusing duo of Tom Neale (8 goals) and Tom Neil (7 goals) along with James Pararajan (7 goals) are the leading scorers for the side which tells us that the goals could pop up from anywhere. They're a side that you underestimate at your peril.
Looking at how the sides might fare, SL Menfica go into the clash as clear favourites with their superior league record in their division this season and finishing four places ahead of the Saints. Indeed the fixtures between the two sides this season saw SL Menfica win both clashes with a 5-1 win back in November followed up by a 3-0 win away in April. The fact that St Augustines have made this final should be a clear indicator that that have the game to win on the big occasion and will be well up for the match given their relative lack of success in comparison with their trophy-laden opposition. This will certainly be a very interesting game to watch!
Congratulations to our appointed match officials on this final, a reward for the continued hard work put in by our referees across the season. The up and coming Tommy Breen will be the man in the middle with the whistle and he will be ably supported by Adrian Vernica and Courtney Maitland from the touchlines.
We wish everybody the very best of luck for the cup final and look forward to a terrific match!
Other News Articles