Posted
CUP REPORT: Round-up of the fourth weekend of League Cup action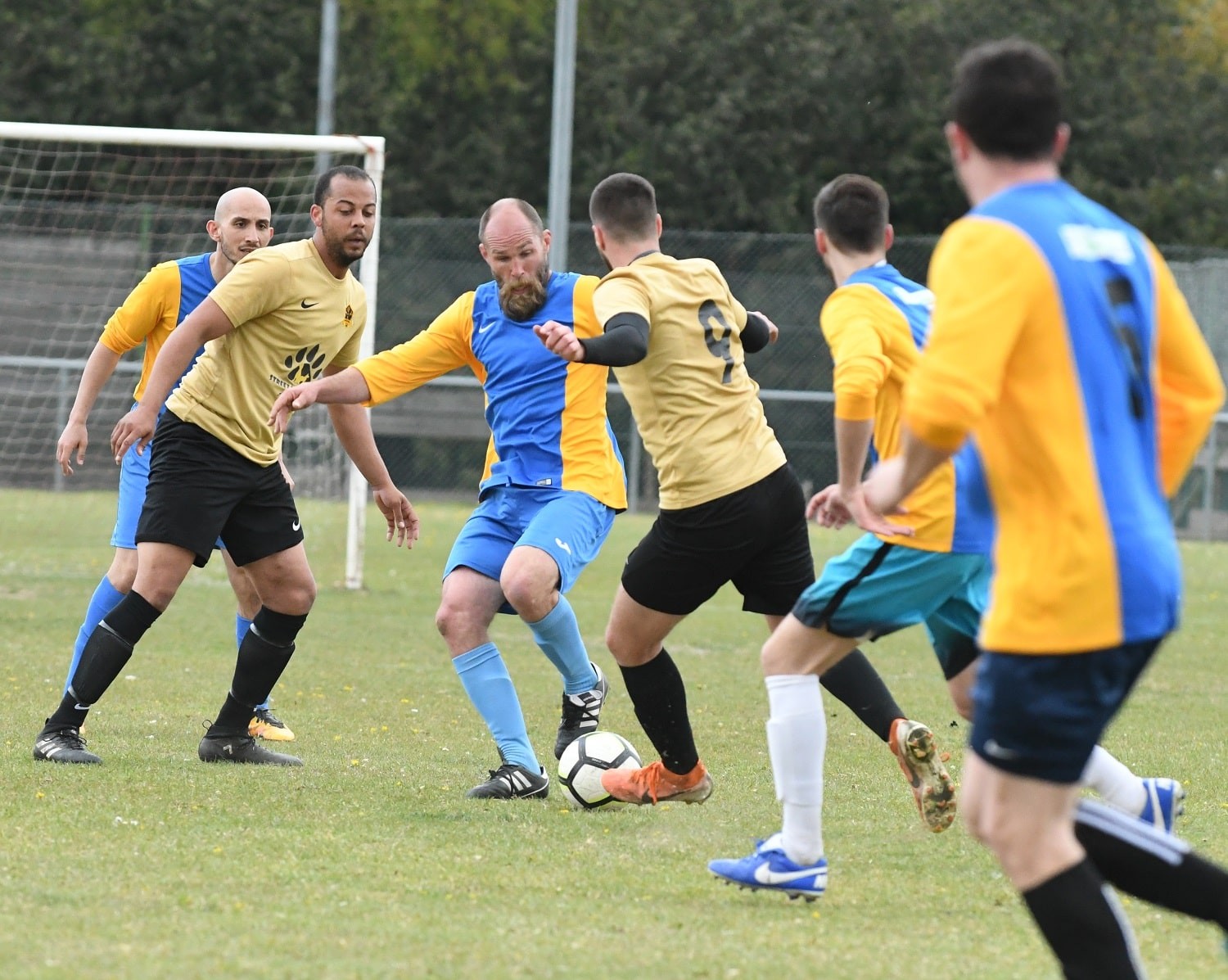 For our latest news and updates, please enter your email address
GROUP A
Things really couldn't be any closer in Group A with two sides now pinned on nine points each, Baiteze Squad now trailing El Valiente on goal difference alone following the former's 4-0 win at home against Flanders on Sunday at Oakside.
The group's other tie saw Secret visit Newbury Park where they faced London Mavericks seeking to open their points account and they did just that. A solid 5-0 win for Secret saw the visitors overtake their hosts to move third in the standings.
GROUP B
The Group B race is still very much on and involving four clubs following some important results over the weekend. Brook Athletic lead the way following their 2-1 win on Sunday away at East Stars in which George Cradock was on target for his side to help them on the way to victory.
The other game was quite eventful with Kulture Klub out of the blocks quickly to establish a big lead against Repton. Liam Adams and Oliver Modeste scored twice each with Marley Sylvester and Juan Florez one apiece. But Repton fought back to level the game at 6-6 by full-time to see both sides take a point.
GROUP C
Things are equally unclear in Group C where Central Colts moved level with the leaders, trailing just by goals scored following a hard fought win as Colts ended Ultimate Vision's perfect start so far. After winning 2-1, Colts stay unbeaten and move above their opponents to keep their dreams alive.
Panda are back in the hunt in the group also after they moved up to fourth with a second win, beating Barking Riverside 3-2 at New River. Bukele Mukudi and Hamid Ibrahim scored for the visitors but Panda goals from Joshua Yoane, Ihsan Ali Saeed and Roy Stevens carried their team to victory.
In another of the Barking derby fixtures, it was the Barking & Dagenham Wanderers variety that came out on top in their clash against Barking on Sunday at Robert Clack. Godfrey Kambaza netted once again for Wanderers as they earned themselves a 2-0 win.
GROUP D
Roose are leading the way in Group D after they ended Abridge Village's unbeaten start to the competition with a 5-2 scoreline in Hainault. That sees them open up a two point gap at the top with a couple of rounds of fixtures still remaining.
Hornchurch Oakmont remain one of the group contenders and now sit second after they took home the points from their encounter against FC Galaxy, winning it 4-2. Luke Newman, Lewis Minton, Billy Collins and Tom Gibson all struck to secure a second group win.
GROUP E
Two sides are going hammer and tong in Group E and will meet this coming weekend with Chingford Athletic A still leading the way after a narrow 4-3 win at the weekend over FC Mexico A. That victory saw them pick up a fourth win and move three points clear.
But Emerson Park now have three wins from three and will go into next week's clash with some confidence on the back of a big victory on Sunday as they returned from a trip to Korona Redbridge with a big 9-2 win under their belts despite home goals from Marcin Sierminski and Arkadiusz Kiraga.
Thames Ironworks Community can't now challenge mathematically but did ensure they will begin to close out their season in some style after a comfortable 3-1 home win against St Augustines. Harry Edelman netted for the Saints but Thames goals from Charles Donald, Benjamin Jeffrey and David Nott were sufficient.
GROUP F
Things remain tight in Group F also where Roneo Colts lead the way presently by a couple of points with one round of games to go in the group. They ensured they will go into the last game just needing a point after beating Frenford 6-2 through a Dwayne Francis-Riley hat-trick, two goals from Kane White and one from Keenan Gravillis.
Eastbrook United will know they need nothing but victory on the final day and that outcome was made possible as they took a point from their clash with FC Mexico B at Barking Park. Keiva King and Liam Brown goals helped make the final scoreline 2-2 and to set things up nicely for next Sunday's showdown with Colts.
GROUP G
The top two sides remain locked on nine points at the top of Group G with Total Football moving to the summit on Sunday following their narrow 3-2 home win against Cobra. Nile Painter scored a hat-trick to counter Cobra goals from Brandon Hubbard and Aaron White to keep Total hopes alive.
Monkhams moved into contention after they earned a big 6-0 win away at Ainslie on Sunday. That result sees the Loughton side go third in the standings with games against the leading pack to come and games in hand.
GROUP H
Leytonstone Athletic have moved closer to securing silverware for the club after they won a hard fought clash away at Chingford Athletic Reserves by the odd goal to move three points clear with a game to play. Joel Momba's effort earned them a 1-0 win and a point next weekend will secure the title.
Romford Athletic Dons will know they must find another win next weekend to ensure they're ready to swoop on any mistake and kept up the pressure with a comfortable 4-1 win away at Young Royals. Chris Ratty's brace was accompanied by strikes from Tom Mitchell and Scott Buckland onto the scoresheet.
United Amateurs will have been pleased with their day's work as they moved up to third in the standings on Sunday following their closely fought 3-2 win away at Titans United. Jamie Rump and Tommy Edwards scored for Titans but United goals from Jake Griffin (2) and Jack Chawner saw the points head their way.
GROUP I
In Group I, Royal Lions have all but mathematically sealed the silverware in the group after extending their winning run with a 7-3 victory at Stow Rovers on Sunday. That win saw them move six points clear of the chasing pack and a point at least next week will settle it for sure.
Valence United sit second in the standings in the chase for runners-up and did that on the back of a goal-filled 6-3 win against Custom House Community. Rowan Newland and James Jacobs braces did the damage with Tommy Abrams and James Field efforts finishing things off.
Dagenham Rangers sit third and with half an eye on second place themselves as they returned victorious from their trip to Newbury Park, beating Singh Sabha Barking 4-1. Stephen Brown scored twice with Aldair Doci and Klodian Meta goals completing the scoring.
GROUP J
In Group J, we congratulate Colebrook Royals Vets who have sealed the title having come from behind against Byron Red Star to score twice late on and seal first place. Adrian John's fine solo opener had given Byron hopes of causing a real shock but Royals fought back and won it 2-1.
That outcome was made possible after East Tilbury Town slipped to defeat away at Barking Reserves despite goals from Peter Kent and Bobby Rusbridge. But two Mofiyinfoluwa Ojolowo goals and single goals from Emanuel Dushanova and Nicolas Bahati gave Barking the crucial victory to aid their hopes of the runner up spot.
Epping Royals will have been pleased with their efforts on Sunday morning as they came away big 8-3 winners from their trip to face Ping City Phoenixes in Walthamstow. Andrew Smith was the star with a four goal performance, Daniel Booker scoring twice and one each from Joshua Reece and Louie Brownlie.
GROUP K
Athletico City have moved themselves to the brink of winning the Group K silverware as they defeated their closest rivals, Royal Lions Reserves. A 5-2 home win was crucial moving three points clear with a round of games to play meaning that anything but a heavy last day defeat should do.
Thames Ironworks Community Reserves ensured they go into the last set of fixtures with a runners-up place to go for after they returned home with the points from their clash against Woodford Green United. Momoh Vandy scored twice and Harry Parker once to help Thames secure the points in a 5-3 scoreline.
COUNTY CUP
Hatch Lane ensured themselves of a place in the last eight of the London Sunday Junior Cup on Friday night as the Senior Division front-runners defeated London All Stars in a high quality contest in Ilford. A 3-1 win for Hatch sees them travel to face B Young Stars in the quarter finals in a couple of weeks time.
In the London Sunday Challenge Trophy, FC Ballr were up against fellow YouTube outfit Spartans in Sunday's action with a trip south of the river. In a game of five goals, it was Spartans who edged the contest 3-2 as FC Ballr saw their valiant effort ended at the quarter final stage.