Posted
CUP REPORT: Round-up of the second weekend of League Cup action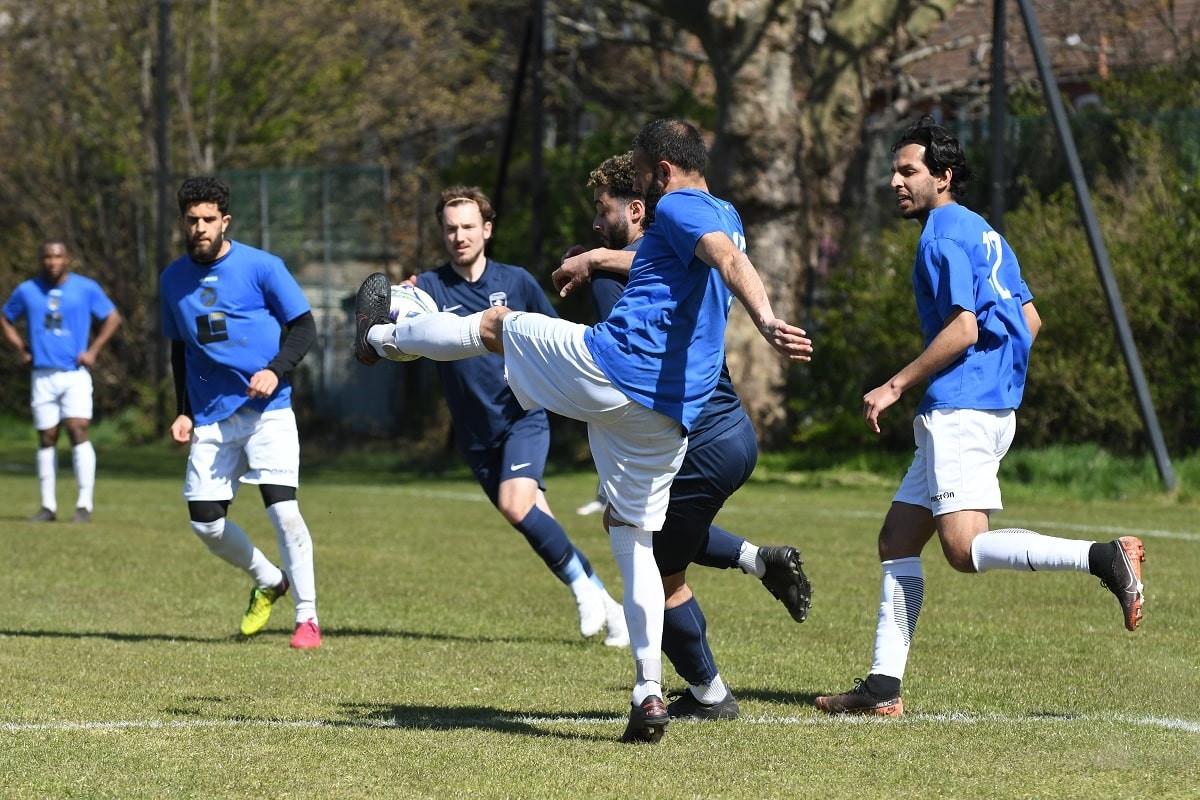 For our latest news and updates, please enter your email address
GROUP A
El Valiente remain in pole position in Group A as they followed up their opening win last week with a second this time around as they defeated local rivals, Flanders. Matthew Ball and Aaron Marston both netted twice, Joe Thomas with the other goal to take maximum points home with them on the day.
The side just behind the leaders are Baiteze Squad and they made it two wins from two also with a 3-1 home victory against London Mavericks. On the back of a good county cup win in midweek, Baiteze followed that up with domestic cup victory to sit second in the group on goal difference.
GROUP B
The early runners in Group B are Repton Park who scooped a second win of the competition, earning a comfortable away victory on Sunday in Barkingside against East Stars. That win, a 4-0 scoreline, saw them move three points clear at the summit though the chasing club does have a game in hand on them still.
That side with a game in hand are FC Ballr who opened their cup campaign with a solid win on Sunday as they entertained Warren United at Castle Green. Daniel Brock, Adebola Sotoyinbo, Kojo Apenteng and Joseph Wright were all on target, Harry Agombar netting the Warren consolation in an eventual 4-1 scoreline.
After defeat in the first round of games, Brook Athletic opened their points account with a win away on the road against Kulture Klub in Walthamstow. Fidan Fejzi got on the scoresheet for Klub but two goals from George Cradock and a Samir Lee strike earned Brook the win and a move up to third place in the standings.
GROUP C
Things couldn't be much tighter in Group C where two sides are locked at the top, Gants Hill holding a slender advantage on goals scored. They earned that on the back of a late winner in their fixture against Barking & Dagenham Wanderers. Wanderers had fought back from behind twice in the game but a late Hill penalty gave them a 3-2 win.
Central Colts lie just a couple of goals behind as they made the trip to Panda who themselves had won well in game one. It was a tight game between the two teams but Colts eventually scored the only goal of the game to win it 1-0 and move second.
There was a first win in the group for Barking Riverside who bounced back from their defeat in week one to earn a 2-0 victory against local rivals, Barking. A goal apiece from Terence De Souza and Ansalem Obi were enough on the day to edge past their opponents at Parsloes Park and take the win.
GROUP D
It's a similarly tight picture at the top of Group D where Hornchurch Oakmont lead on goals scored and faced a real battle against second placed Valentine United, a game which ended 2-2. Martin Swanwick and Tom Gibson both scored for Oak but Ben Bickford and Jay Dale goals levelled things up for the visitors to leave the sides locked at the top.
Three sides sit a point further back with Theydon in fourth after they opened their account for the competition with a 1-0 win at home against FC Galaxy in a tight game. A single goal was enough to separate the sides with Theydon the beneficiaries of that moment in the game to take an important win.
Roose got back to winning ways, overcoming their opening day defeat to earn a 2-1 win in a home clash against AC Milano in Hainault. A Jack McQueen effort plus a first club goal from Bill Cox Junior saw Roose edge the tie and stay well within firing range of the top clubs in the group.
GROUP E
In Group E, the top of the table side are Chingford Athletic A who have started well in the competition with two opening wins and they beat fellow high flyers, Thames Ironworks Community, on Sunday in a 3-0 scoreline. That win saw Athletic move three points clear at the top with still a further three rounds of fixtures to play.
FC Mexico A got themselves back in the hunt for silverware after they picked up a first win, beating winless Korona Redbridge in their game in Barkingside. Jaroslaw Szklarczyk netted for the hosts but his efforts proved in vain as the Mexicans earned a close 2-1 win to sit fourth in the standings.
GROUP F
Two sides remain locked together at the top of Group F where Eastbrook United head up the standings on goal difference, aided by their most recent win, a 4-0 home victory against Alpha. Callum Harris, Jayde Abraham, Keiva King and Liam Brown all found the back of the net to give United the win.
Just a point separates the two sides who came face-to-face in mid-table as Frenford were up against FC Mexico B at The Drive. And that gap remained at full-time as the sides battled for a 2-2 draw, that being Frenford's second draw in two games. Both sides will be keen to open their wins account soon to challenge the front runners.
GROUP G
The goals flew in in Group G where there was a dominant performance from Total Football in Loughton as they put Jaffna to the sword in a 13-0 scoreline. Nile Painter scored four for the hosts with braces from Chris Atkinson, Rowan Nijjar and Carl Parson. The remaining efforts were scored by Mahnu Bhabutta and Aaron Dadzie to keep their side top.
Theydon Green will certainly pose a threat in the group and they made it two wins from two with a 7-2 win on the road as they beat Ainslie at Wadham Lodge. Kailem Gayle scored twice for the hosts but a Ben Brookes quartet of goals plus two Noah Friend efforts done the damage in reply for Green who sit second on goal difference.
The final game saw Cobra make the journey up to Waltham Abbey to face one of the season's front-runners, Upshire Forest. Jordan Riches netted for Cobra but Riley Bowers got on the Upshire scoresheet to see the sides finish level at 1-1, opening both sides' points account in the process.
GROUP H
The leaders in Group H are Leytonstone Athletic who made it two wins from two in the group with a victory over second placed United Amateurs on Sunday. Alfie Bangs bagged a goal for United but goals from Harry Burton and Ben Jones were the difference on the day for Athletic who earned a 2-1 win.
Romford Athletic Dons gained ground on the sides above them after recording a first win in the group over the weekend, winning 4-1 at home against Titans United. Scott Buckland netted two of the goals with Matthew Buckland and Chris Ratty rattling in the others to end Titan's unbeaten start to the competition.
It was also a great morning's work for Young Royals who added themselves to the list of clubs locked on three points in the group after they came through a five goal thriller at home against Chingford Athletic Reserves. Royals earned themselves a 3-2 win to move fifth in the standings and maintain their chances of silverware.
GROUP I
Royal Lions are top of the pile in Group I and continued their good start with a big 7-1 win against Dagenham Rangers in East Ham. David Olodude, Makan Fofana, Reuben Popoola, Charlie Burns, Randy Adele, Darren Wellington-Smith and Olatunja Oshodi-Glover all got on the scoresheet to keep their side in pole position.
Custom House Community are sitting in second spot in the group as they picked up a first win the group, beating Stow Rovers 4-2 in Beckton. Taiwo Oshinyemi scored both of the Stow goals by Custom House scored four of their own to maintain their hopes in the competition ahead of a big game this weekend.
Valence United are another of the sides amongst the chasing pack and they sit on three points also following a big win on Sunday at home against Singh Sabha Barking. Rowan Newland continued a profitable season with another hat-trick, Jordan Cook scoring twice also to give United a 5-2 victory.
GROUP J
In Group J, it's Colebrook Royals Vets leading the way with another win under their belts as they added to their opening victory with a 3-1 win away at Epping Royals on Sunday. Louie Brownlie grabbed the Epping goal but two Terry Ellis efforts plus a Danny O'Driscoll goal were enough to see Colebrook to a second win.
One of two sides closest in the chase are East Tilbury Town who made it four points from two games so far, their latest result being a closely fought draw at home against Byron Red Star. Derek Carver and Danny Crandle scored for Town with Alfie King and James Thorne goals accounting for the Red Star efforts, their second draw in the group.
After an opening draw, Barking Reserves sit just behind the leaders and came through a tough tie away at Ping City Phoenixes, edging the game 3-2. Barking goals from Andre Di Lieto, Samuel Oramadike and Nicolas Bahati were sufficient in the end to get their wins account open in the competition.
GROUP K
It's a tight affair at the head of the Group K standings where Royal Lions Reserves lead the way on goal difference. They were visited by Epping Forest Falcons on Sunday and came through with a 7-1 win, helped by a Jai Cheung brace along with goals from Junaid Naveed, Sunny Malone, David Onyekaba, Jason Tokenge and Nika Koridze.
Athletico City have certainly performed strongly since the restart and they picked up another win, this time defeating Thames Ironworks Community 4-1 in Beckton. Isaiah Green netted for Thames but two goals from Sunny Kambo and one apiece from Heman Gopeenauth and Brandon Simmons were the difference.
Woodford Green United bounced back strongly from their narrow opening defeat last week to beat Mansfield Rangers on Sunday in Walthamstow. Frank Whitcher continued his fine form in front of goal with yet another effort to add to his hat-trick last week while Jake Magson's goal for Rangers was not quite enough in the end as Green won it 2-1.