Posted
CUP REPORT: Round-up of the third weekend of League Cup action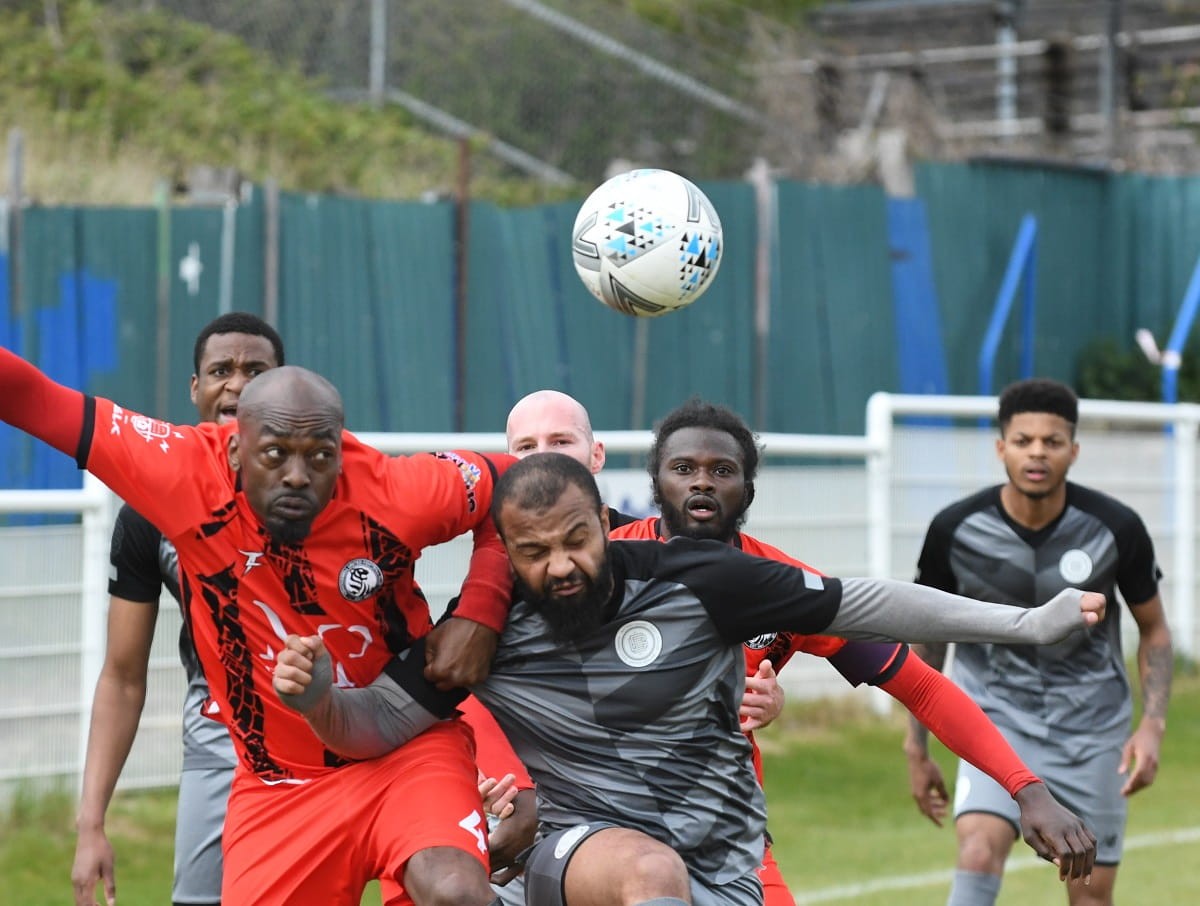 For our latest news and updates, please enter your email address
GROUP A
El Valiente are continuing to set the pace in Group A of the competition after they defeated Secret to move three points clear. Joe Thomas scored twice with Sam Edwards, Aaron Marston and Joe Tousent efforts giving them a comfortable 5-1 victory at Mayesbrook Park.
London Mavericks took advantage of results around them to move up to third in the standings after picking up their first points of the group so far. They returned home victorious from their trip to Barkingside where they faced Flanders, winning the contest 2-1.
GROUP B
There are now three teams locked on six points in Group B with Kulture Klub adding their name to the list of title chasing sides after beating East Stars 5-2. Liam Adams scored twice with Andrew Steadman, Mohamed Abubakar and Marley Sylvester all netting to win it for their side.
Also level on points at the top, Brook Athletic scooped a second win of the competition after they took maximum points in their home clash against FC Ballr. Mitchell Collymore and Tom Canham both found the back of the net to see Brook record a 2-0 victory in an intriguing group.
GROUP C
It's a similar story in Group C where just a point separates the top three sides, Gants Hill still leading the way by a single point after another 3-2 victory, this time against Panda. Zain Khan and Hamzi Sowaidan both netted for Panda but it wasn't quite enough to take anything from the game.
Ultimate Vision remain one of three sides unbeaten but were involved in an entertaining game in Aveley, eventually prevailing 6-4 against Barking. Aaron King scored a brace, Justin Lopes and james Hobday also scoring for the Blues but UV braces from the experienced Tom Richardson and Ryan Chapman plus a Nathanael Joseph goal took the points.
Barking Riverside complete the trio of leading sides as they made it to third in the standings on the back of a 5-3 home win against Barking & Dagenham Wanderers. Dami Edun, Nnanna Okoli, Leithan Brimah, Joe Meader and Stephen Osho netted the River efforts with Matt AcKee, Godfrey Kambaza and stalwart Ricky Brown grabbing the Wanderers' replies.
GROUP D
Anything is possible in Group D right now with five sides separated by two points with Roose leading the way after Sunday's terrific away win at FC Galaxy. Shaye McKenzie La Rose scored two while Calli Barnard, Joseph Kelly and Benny Messanvi efforts rounded off an important 5-0 win.
The team sitting second are Abridge Village who have two wins from two so far and look set to feature in the silverware race, aided by their latest victory, beating Hornchurch Oakmont 3-2 at the Village Hall. Jake Clarke, Kurt Freeney and Leon Adeyemi goals done the damage, countering a Tom Gibson brace in reply.
And if that wasn't already enough goals, try another ten. A quite incredible scoreline in Barkingside saw Valentine United finish level at 5-5 against Theydon. Jordan Mullings scored a hat-trick and Tyrone Scarlett two for United with Chris Walling (2), Dion Bishop, Albert Hellen and Robbie Carter levelling proceedings.
GROUP E
Chingford Athletic A continue to set the pace in Group E as they earned a third win on the bounce, beating Korona Redbridge 5-2 at Old Parkonians. Dawid Pietras scored twice for Korona but a goal apiece from Ronan McGoldrick, Jack Newbury-Neale, Rhyce Tokeley, Sam Smith and Charlie Thompson sent the points home with Chingford.
Emerson Park remain well in touch at the top with a game in hand and had to fight hard to maintain that position, beating Thames Ironworks Community in a 3-2 scoreline. That saw Emerson stay within three points of the leaders with three games to go.
Also picking up a second win in the group, FC Mexico A put themselves into a good position to challenge as they saw off St Augustines in Emerson Park in a closely fought 2-1 result. That took their points total to six and will hope for other results to go their way in the remainder of the competition.
GROUP F
In Group F, a mouth watering final two weeks is in store with two clubs racing clear of the rest, headed by Eastbrook United. The leaders stay clear on goal difference but had a touch battle to come through against Frenford, winning 2-1. Heavenly Bende and Junia Charlton both netted to overcome Joel Opara's effort for the hosts.
Roneo Colts lead the chase and remain level on points with United following a third win for themselves, aided by another solid performance on Sunday, edging past Alpha in a 1-0 scoreline at Robert Clack. James Smith's goal was the difference between the sides on the day to Colts hopes alive.
GROUP G
It's Theydon Green with the upper hand in Group G following an entertaining victory against Total Football in the Loughton derby on Sunday. Green overcame Total strikes from Jonathan Bluff, Chris Atkinson and Nile Painter with goals of their own from Josh Steele, Max Jessop, Noah Friend and Ben Harris to win it 4-3.
Cobra are the other side unbeaten in the group so far and they moved third on the back of a solid home win against Ainslie as Ryan O'Connell struck twice in front of goal to hand victory to the Dagenham based outfit who can still challenge for the silverware.
Just a point further back from the top three, Monkhams rose to mid table on Sunday, collecting their first points in the group with a home win against Jaffna in Loughton. That result, a 3-0 victory, carried Monkhams away from the bottom but in need of some results to go their way to press for honours.
GROUP H
Leytonstone Athletic are doing their utmost to grab some honours themselves in Group H as they recorded a third successive win in the group with victory away at Titans United in Dagenham. Efforts from Harry Burton, Dominic Crichlow and Joel Momba proved pivotal in securing a 3-0 scoreline to sink Titans.
Romford Athletic Dons will still have much to say before the group is out and keep in touch with the leaders after bagging a big 5-2 win on Sunday against Chingford Athletic Reserves. Chris Ratty rattled in four goals and Terry Burdge one to make things interesting at the top still.
And what a couple of weeks it has been for Young Royals who have now picked up two wins on the bounce after a turgid opening, defeating United Amateurs in a 2-1 scoreline to move up to third in the group, themselves still in touch with the top. Avinash Vithiyananthan and Ginojan Jesurajah scored the important goals, Jake Griffin with the United consolation.
GROUP I
In Group I, Royal Lions remain three points clear and look favourites to take the honours in the group with three wins from three in the group thus far, the latest a 6-2 win against Custom House Community. Randy Adele was in particularly hot form with a hat-trick with teammates David Olodude, Charlie Burns and Olatunja Oshodi-Glover also continuing their scoring touch.
Singh Sabha Barking are second in the group and still to face the leaders on the last day. They scooped a second win with a narrow 1-0 victory at home to Stow Rovers to keep things interesting. Karam Lalli's goal proved decisive and separated the teams on the day.
Dagenham Rangers earned their first points of the group, coming out on the right side of an eight-goal contest against local rivals, Valence United. James Field, Jordan Cook and the prolific Rowan Newland netted for United but Rangers strikes from Stephen Brown, Aldair Doci, James Scotcher, Klodian Meta and Loli Veshta made it 5-3 for their side.
GROUP J
Colebrook Royals Vets' late season form has been quite astonishing and they kept themselves in pole position for honours with a third consecutive win, beating Barking Reserves 3-1. Joe Cole, Steve Summers and Ben Sitki goals were sufficient to render Samuel Oramadike's goal as just a Barking consolation.
East Tilbury Town know they still have things within their control with the leaders still to face on the last day and they will be buoyed on by their most win, a 5-1 win at home against Ping City Phoenixes. Bubby Rusbridge was in fine form with a hat-trick, Roberto Rosero and Sam Wilkins scoring the others to win it.
The remaining game saw Byron Red Star take on Epping Royals, the former having drawn both opening games so far. It was perhaps therefore not too surprising to see them add another to their tally with Bradwell John and Michael Dekson scoring for Star. A Liam Draycott effort for the Royals ensured it finished 2-2 and the sides settled for a point apiece.
GROUP K
In Group K, two sides are set for a big showdown in the remaining two rounds of fixtures with Athletico City presently leading the group on goal difference, aided by Sunday's 3-1 win at Mansfield Rangers. Sunny Kambo, Ryan Khan and Heman Gopeenauth scored for City to render Ben Styles' strike as just consolation.
Woodford Green United could still have a big say in the race after they moved third on the back of a second win of the competition, this time taking maximum points home with them from their trip to Epping Forest Falcons. Frank Whitcher was in hot form once again with another goal, Beau Striebig, Aidan Butler and Zac Overton scoring the others in a 4-2 scoreline.
COUNTY CUP
As games of football go, you'd have needed to go a long way to better the quality on display in Sunday's London Cup clash at Oakside where Baiteze Squad were up against the famed south London side, Kenningwell United, both sides stacked with non-league talent. After Baiteze missed a crucial penalty early in the second half, Kenningwell took a lead from a set-piece before Teniola's towering header made it 1-1. A shootout was needed and nobody looked like missing until the very last spot kick was saved by the United stopper, sending them through.
Other News Articles