Posted
Glorious West Essex Charity Trophy victory for Royal Albert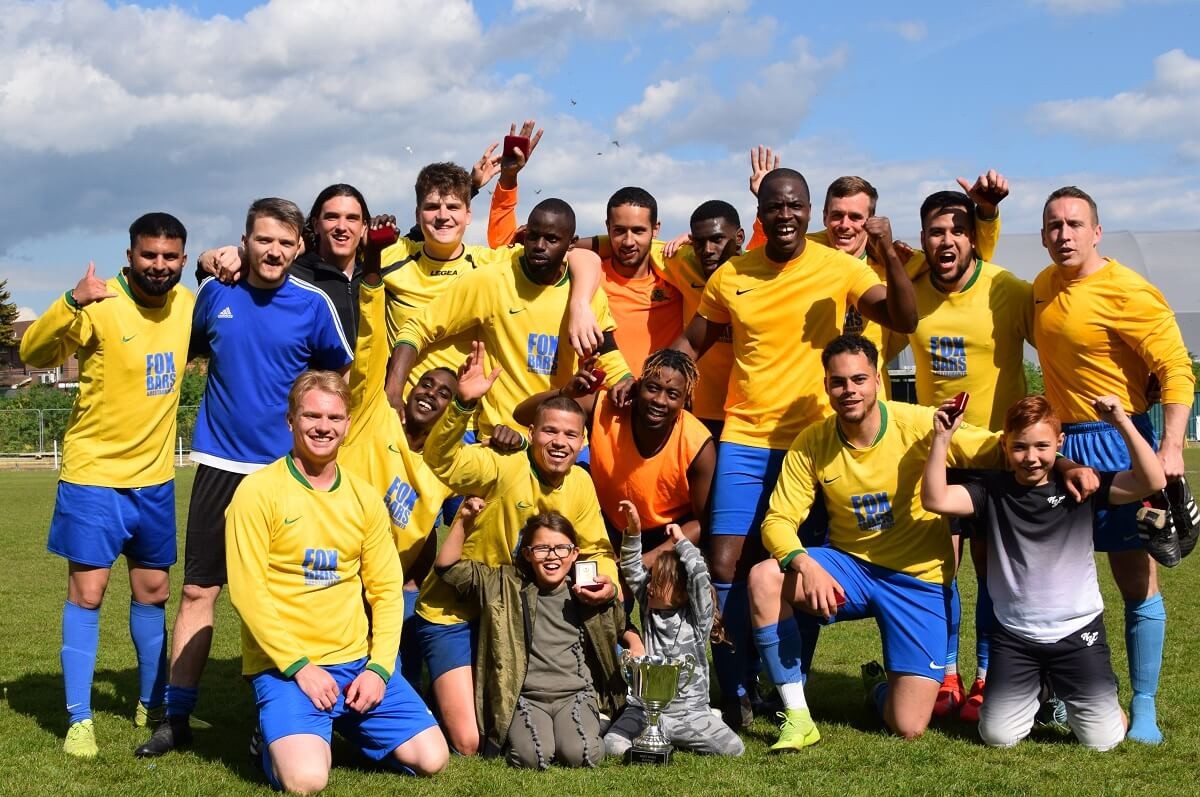 For our latest news and updates, please enter your email address
Congratulations to Royal Albert who won the West Essex Sunday Charity Trophy on Sunday against Walthamstow Avenue at a sun-kissed Oakside Stadium.
Adam Richardson and Peter Dudley from East London Radio were present on the day and reported on the match:
A three-goal blitz in the final fifteen minutes of the first half ultimately saw Royal Albert to West Essex Charity Trophy success after victory over Walthamstow Avenue at Oakside, completing a cup double in the process.
Albert had come into this final off a fifth placed finish in Division Two of the Corinthian League and had also won the Essex Sunday Junior Trophy in early April, so they were going for a second Trophy of the campaign.
For Avenue, they finished seventh and some twelve points behind their opponents in the same Division, but an average season could be turned into a decent one with cup success here. Albert though were probably the favourites prior to a ball being kicked.
The game started rather quietly and the first effort at goal didn't arrive until the tenth minute when Avenue fired an effort over, but they came so close to taking the lead when a defender diverted the ball onto his own post from close range soon after.
Albert then went down the other end and fired a long-range effort over, before they got into a good position inside their opponents' box but could only slice an effort wide of the near post.
Avenue then went down the other end and saw the Albert keeper make a decent stop before getting up to stop the ball going over the line, but Avenue then saw their keeper have to come off after being poked in the eye from an attacker when challenging for a forward ball.
After a five-minute delay the keeper was replaced, and this seemed to affect Avenue who fell behind almost immediately after the restart as a corner was turned home from close range just past the half hour mark.
And only three minutes later Albert were awarded a penalty after a foul inside the box, and they converted this chance to double their lead. Albert were now well on the front foot and almost made it three when a cutback was sent wide of the near post, but right on half time it was three when a corner to the near post was flicked in by an unfortunate defender and the favourites had a three-goal cushion at the break.
Half Time Walthamstow Avenue 0 Royal Albert 3
Avenue knew they needed the next goal to try and get back into this contest, and they immediately sent an effort towards the Albert goal, but it was straight at the keeper, before Albert lofted just wide at the other end as they looked to end this contest once and for all.
Avenue then saw a cross back flicked towards goal, but again it was straight at the keeper, before they then failed to convert a corner in a spell that saw Avenue applying plenty of pressure on the Albert goal.
The Albert keeper then almost gifted Avenue a goal back when his sloppy clearance hit an attacker and went into the side netting rather then the goal itself, before Avenue then flashed a corner across the six-yard box but saw no one manage to get on the end of it.
Sure enough though, after all the Avenue pressure, Albert went up the other end and netted a fourth to pretty much seal the contest just past the hour mark, when a ball forward was controlled and then brilliantly volleyed into the far corner. It was tough on Avenue who should have had at least a goal back by that point.
Albert then sent a dangerous ball into the box which was just about punched clear by the keeper, and from that corner a loose ball was blocked by a defender, before Albert then flashed an effort wide of the far post as they looked for a fifth.
With eight minutes remaining though, Avenue did find a goal back to show for their efforts, when a quick free-kick caught out the Albert defence and allowed an effort to be fired into the far corner via the keepers foot, and they almost found a second soon after when they saw a goal bound effort blocked before the loose ball was somehow fired over. If that had gone in who knows what could have happened?
Albert though were dangerous in attack too and almost added a late fifth when a close-range header was kept out, but Albert took the spoils in this one to complete a cup double for the season.
Full Time Walthamstow Avenue 1 Royal Albert 4
Other News Articles