Posted
WEEK 1 REVIEW: Round-up of the opening day Corinthian action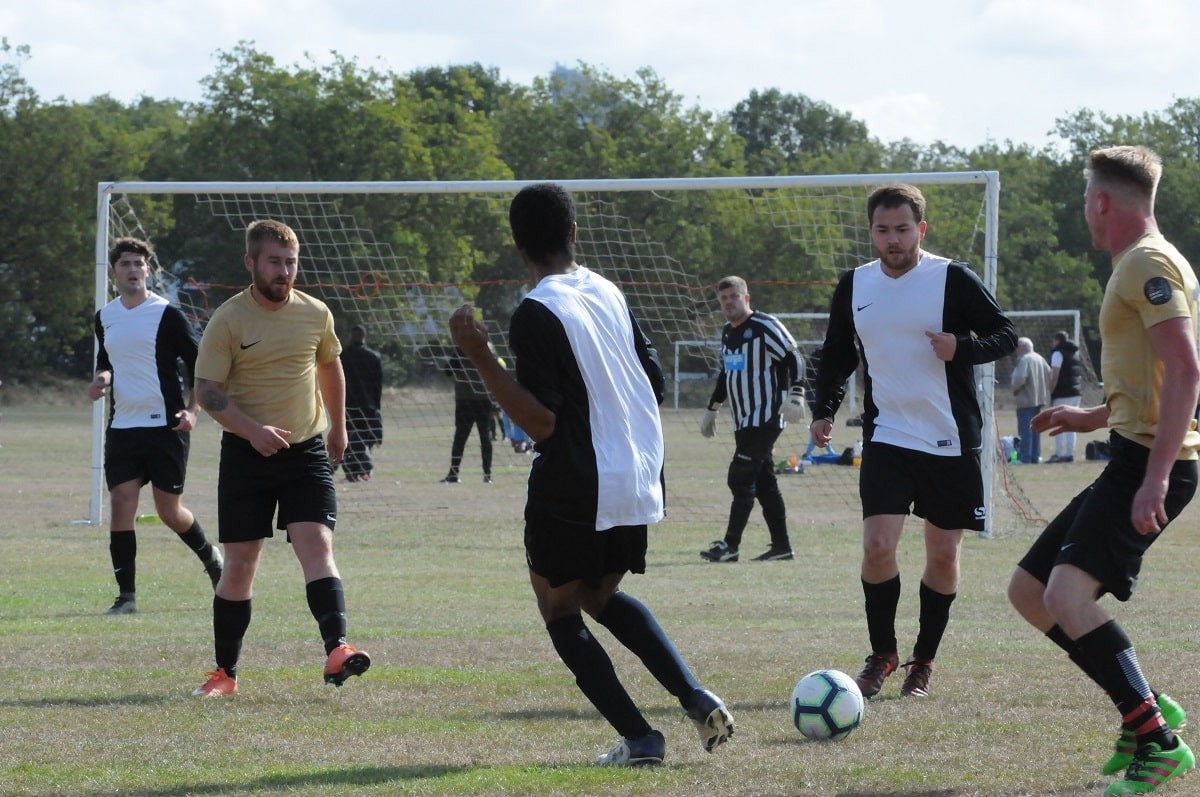 For our latest news and updates, please enter your email address
The new Corinthian League season finally dawned on Sunday as an extensive opening fixture list kicked off 2019/20 in style.
PREMIER DIVISION
In the Premier Division, one of the eagerly awaiting clashes saw new recruits, Elda, hosting last year's runners-up in the form of El Valiente. As astonishing contest at Oakside saw the teams share twelve goals between them. Sam Edwards and Ricky Field each bagged braces for the visitors along with efforts from Kane Malon and Mike Finneran. But Elda showed their credentials with a Joey May double and further efforts from Remi Nelson, Patrick Duggan, Jack Jeffries and Calvin Poku completing the scoring in a 6-6 draw.
The league champions, Repton Park, started their defence of the crown with the visit of Romford Elite to Loughton, one of the few sides to defeat Park last season towards the end of the campaign. Tyrone Scarlett scored for Elite to open his account but Repton carried on the good work they started last season by scoring three of their own to run out 3-1 winners on the day.
Also securing maximum points on the opening day were Ultimate Vision who, after avoiding the drop last year, started the new season with a win at home to Barking & Dagenham Wanderers. Ricky Brown got himself on the Wanderers scoresheet only for Jack Mooney and Jordan Rodway goals to secure a 2-1 Vision win, placing them second in the early season standings.
DIVISION ONE
Division One saw a glut of goals, starting in Waltham Abbey where two of the league's debutants met in an eight-goal thriller. West Abbey were one of those sides and they saw their three goals scored via a Reece Clarke brace and a Jack Biggs effort. But Oceana will also have been impressed with their opening day performance as Jesse Jones scored a hat-trick, accompanied by Jack Williamson and Jamie Hart efforts in a 5-3 win for the visitors.
And if eight goals wasn't enough for you, there were nine in Chigwell where Colebrook Royals' long-awaited return to the Corinthian League brought about an incredible nine-goal thriller at home to promoted Kulture Klub. Dean Florence scored twice for the visitors with Mohamed Abubaker and Fabio Nunes also scoring but their efforts proved in vain as the Royals netted five to win it 5-4.
The action didn't end there as over in Emerson Park, cup finalists St Augustines, were the early season visitors to FC Mexico A who were on the rebuild following the drop from the top flight. And both sides were in fine fettle in front of goal as Joe Ewenson, Sam Prince and Ian Tucker netted for the Mexicans while Jaden Maloney, Damien Muretti and John Sullivan scored for the Saints to take a share of the points in a 3-3 draw.
There was another positive performance from a debutant club at this level where new YouTubers, KLIK, made their long-awaited debut under their new brand following promotion as Dagenham United last season. They were up against Brook Athletic on the opening day and have goals from the prolific Sean Thomas and Thomas Carter to thank for a 2-1 victory, getting their new venture off the ground in winning style.
Completing the action in this division was a clash between two of the established clubs at this level as Chingford Athletic looked to carry on their great form of the last season as they were visited by Valentine United on the opening day. Jordan Mullings scored for the visitors but Athletic will have been the happier of the teams as they scored three to net a 3-1 win to open their account for the season.
DIVISION TWO
Goals were also the order of the day in Division Two where Hornchurch Oakmont take top spot after a thumping opening day win against the new side, Roose. Harry Amoah and Uros Vakanjac were the men on target with Roose's first ever competitive goals although Oakmont. Lewis Minton and Thomas Gibson bagged braces with Ellis Marsh, Luke Newman and Bobby Cass completing the scoring in a 7-2 win for last season's Division Three Cup finalists.
Moving into second place are the newly formed Chingford Athletic Reserves as they faced an experienced Barking side at Mayesbrook Parl. Charlie Surridge scored twice and Aaron King once for the hosts but their efforts were undone by two Chingford substitute braces from Omarni Green and Scott Watkins with Tom peace and Duane Foster goals steering the visitors to a 6-3 win.
It was a morning to remember for relegated Wanstead Albion who found their feet quickly at this level up against last year's Division Three champions, Thames Ironworks Community. Michael Jay scored a crucial hat-trick for Albion, combining with Max Catherall's single goal to render a Reece Lewis effort for Thames as mere consolation on the day in a 4-1 win for Wanstead.
One of the hot favourites coming in to the season this year were Central Colts who have been in some excellent form in pre-season so far. They were up against Goresbrook, renewing old rivalries from a couple of years back. On the day, the two teams could not be separated with Ansel Abrams' goal for Colts levelled up by Liam Coney's effort on his return to Goresbrook, seeing the contest end 1-1 and a point apiece.
Completing the Division Two action was a tight contest between two of the league's newest recruits with Abridge Village the hosts to a Frenford side. In a tightly contested battle, there proved to be little between the sides but Abridge will have been the happier of the teams to edge the match in a 2-1 win, both sides seeing much optimism for a positive campaign ahead.
DIVISION THREE
It was a busy morning in Division Three with twelve of the thirteen sides in action, many of whom were making their debuts in the competition. In another division containing a plethora of goals, Barking Riverside are the early leaders as they won 5-1 at home to Theydon. Salem Said scored twice and Kwame Rennalls, Bukele Mukadi and Leithan Brimah one apiece to see their side to maximum points.
Two of the new clubs met at Wanstead Flats where Blackwall Rovers came out winners in their early season contest against Havering Well. Connor Wilson grabbed Well's maiden competitive goal but Ryan Hippolyte's brace in reply plus a Daniel Stevenson effort handed a 3-1 win to the impressive Rovers who could be in contention this year. Well will hope for a big reaction in their next outing at the weekend.
West Essex go level in second after an opening day win as they followed up some decent pre-season form with a 3-1 win away at promoted Newham Athletic. George Fairhead, Ola Ogunwamide and Harry Rouse grabbed the West goals with Jason Taylor getting the Newham consolation effort in what is likely to be a very competitive season at this level for many sides.
The other promoted side, East Ham Inter, also faired well in their first outing at this level although they didn't do things the easy way in their meeting with Alpha at Wanstead Flats. Inter raced into a 2-0 half-time lead to all but end the contest. But they had to withstand a revitalised Alpha outfit in the second half as Kai Brown's goal scoring form continued into a new season, scoring both goals. Inter held out eventually to record a 3-2 win.
The remaining two games saw some barnstorming draws as debutants, Chigwell United, met one of the league's oldest members, Lonsdale, in a thoroughly exciting match in Chigwell. Noel Killeen scored twice for United with Paul Sauvary and Charlie Cole goals completing the scoring but Kalium Fletcher netted twice in reply for Lonsdale with Craig Daley and Klod Gjinaj efforts rescuing a 4-4 draw and a point each.
Not to be undone, there was a similarly entertaining match-up in Dagenham where hosts Roneo Colts were visited by E4 Rangers in week one. Remi Awosamywa, Ryan Mallett, Ryan Radley and Charlie Parry all found the back of the net for Rangers but Colts were able to match that with four goals of their own to end yet another high-scoring 4-4 draw on the opening weekend.
DIVISION FOUR
The early leaders in Division Four are Roneo Colts Reserves side who had a debut to remember in the league as they romped to a 10-0 win away at Titans United at Old Dagenham Park. Bobby Port came off the bench to score a hat-trick with Rorie McKenzie, Kane White and Dwayne Francis-Riley goals doing the damage, completed by a strike from Jeffrey Nketia.
Ping City Phoenixes' first match at this level following relegation couldn't have gone much better as they took all three points in their clash at home against debutants, Romford Athletic Dons. It all went swimmingly for James Dolphin who scored a hat-trick with an Ezra Waterman effort rounding off the scoring. Dons netted three of their own in reply but that proved not quite enough on the day as they go in search of their first points next weekend.
Asianos Reserves made real strides in 2018/19 and started this campaign with much enthusiasm, a trip to league debutants, Upshire Forest Reserves, awaiting them on the first day. In an end-to-end contest, Haydn Essam scored the Forest goal but his effort was just a consolation as Ali Jalo, Naeem Monsur and Razaan Safqat scored the goals for Asianos in reply in a 3-1 victory.
Completing a trio of sides locked in the top spots in the table are Monkhams who just missed out on promotion last year and could be a side to watch against this time around. They were up against the promising Ridgeway Rovers Under 21s who make their step up to adult football following a very successful year at the under 18s age group last year. Monkhams just edged this one on the day, winning it 2-0 to take the points.
Completing the action in Division Four, there was another side making their league bow as United Amateurs took a short trip to Dagenham to take on a new-look Bretons Manor side at Castle Green. There was just one goal to separate them on the day as Jack Chawner's strike secured the points for the visitors in a 1-0 scoreline.
DIVISION FIVE
The early season leaders at the head of the league's newest tier are Cobra who made a very quick adjustment to open age football with the visit of Woodford Green United to Old Dagenham Park on Sunday, both side's maiden fixtures in the competition. Aaron White scored four goals for the hosts, Ousman Bangura bagged a hat-trick, Henry Sleight scored two and Bradley Johnson rounded off a comprehensive 10-0 win.
Moving into second place, Custom House Community's first match of the season saw them with a trip to Newbury Park to face Keith Park Rangers, the latter making their league debut. Bernard Appiah scored twice for Custom House with Sultan Chaudhury and Jack Field efforts seeing them over the line in a 4-0 victory.
Also securing an opening day win were Epping Forest Falcons who were faced with the challenge of Eastern Avenue who were making their first outing in the open age football world. Falcons edged what appeared to be a competitive match as Peter Andrew and Rob Noakes goals earned their side a 2-0 win, offering much encouragement for the season.
Completing the weekend's football action, and by no means a boring contest, we end the report with a seven goal thriller in Epping where two of the league's new sides, Total Football and Singh Sabha Barking, came head to head. Armaan Heer, Karam Lalli and Rizwan Ahmad scored for Singh Sabha but Total efforts from Ali Cayir, Aaron Dadzie, Sachin Bawa and Nile Painter edged this thriller 4-3.
Other News Articles