Posted
WEEK 10 REVIEW: Round-up of Sunday's league and cup action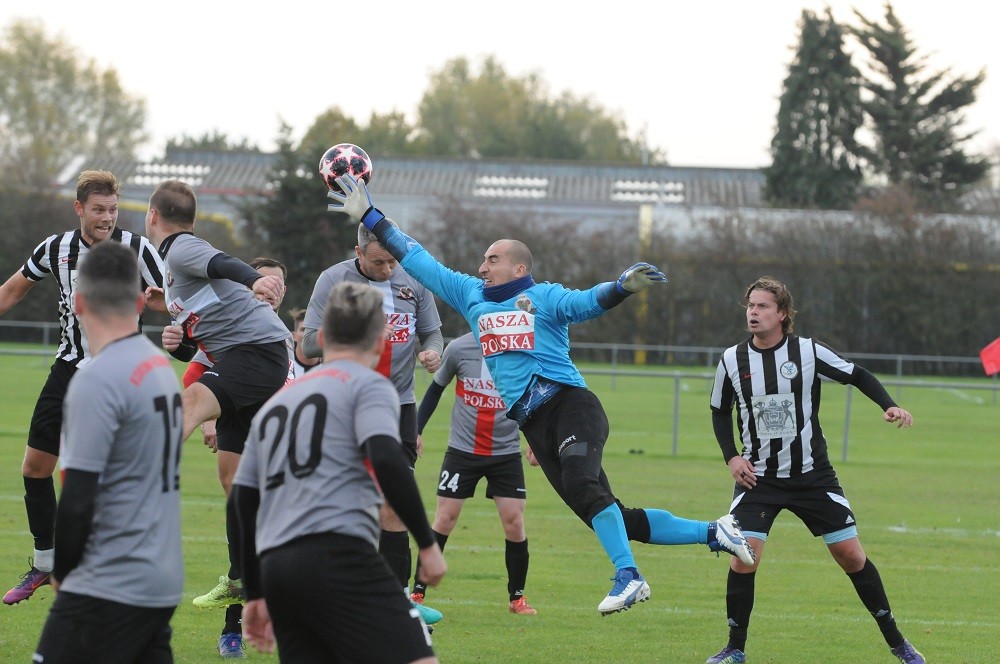 For our latest news and updates, please enter your email address
CORINTHIAN CUP
The November football action kicked off with two very interesting looking ties in the second round of the Corinthian Cup. Division One Valiant were looking to renew old rivalries as they played host to Romford Elite in Hainault. Reece Bridgeman and Billy-Jack Wright were each on the Valiant scoresheet but Elite romped to an 8-2 victory in the second half with braces from Chris Bird and Tyrone Scarlett plus goals from Ben Bickford, Charlie Desmond, Joshua Thompson and Louis Window
The day's other cup action saw two close neighbours do battle as Barking & Dagenham Wanderers faced up to fellow top flight side Brook Athletic in the Newbury Park derby. Wanderers' recent form has been good and they will be pleased with their morning's work as they ran out comfortable 5-2 victors to book a place in the quarter finals.
TROPHYLAND CUP
There was a mouthwatering clash in the day's Trophyland Cup clashes as high-flying Division Four leaders, Woodford, made the trip to Dagenham to face an equally high-flying Division Two side in the shape of Dagenham United. A game of eight goals saw Jake Silk, Charlie Saywood and Michael Taylor all net for Woodford but Sean Thomas responded with a hat-trick for United with Connor Kain and Ricardo Teixeira efforts rounding off a 5-3 win for the hosts.
And there was also another high-scoring clash in another part of Dagenham where Dagenham United Reserves were at home at Castle Green against the visiting Hornchurch Oakmont with both sides looking for a place in round three. Jay Simmons scored twice for the Daggers but Hornchurch goals from Ross Woolward, Bobby Cass, Thomas Gibson and Ellis Marsh completed a 4-2 Oakmont victory.
PREMIER DIVISION
In the Premier Division, El Valiente took advantage of the leaders being out of action to close the gap at the top to just two points as they faced up to an Ultimate Vision side in Chadwell Heath. Two goals from an in-form Sam Edwards and one apiece for Ryan Stowell and Aaron Marston proved the difference as the El Valiente completed a 4-0 win.
Warren United were able to exact a degree of revenge on Sunday for a recent defeat as they made the journey down to East Ham to face Flanders. In a closely fought contest between the two sides, there was just a single goal to separate the two teams in a 1-0 scoreline which came courtesy of a Daniel Bell goal for Warren, having scored four last weekend for his side.
DIVISION ONE
SL Menfica remain two points clear at the top of the Division One table after they reigned supreme in their home league fixture against St Augustines. David Hornsby scored two of the Menfica goals with Shaun Goddard, Jack Barraclough and Jake Muller netting the others in a 5-1, rendering Thomas Neale's effort as just consolation for the Saints.
It was a battle between second and third in Waltham Abbey where Chingford Athletic missed the chance to stay top as they went down to a single goal against Ridgeway Rovers. Rovers returned home with a narrow 1-0 win, moving them up above Athletic into second place although both remain very much in the promotion picture still.
There was a second league win of the season on Sunday for Valentines United who picked up a comfortable victory at home against Westferry Elite. Shaun Gibson scored twice for United with Jonathan Day. Jimmy McCann and Charlie Fiander scoring the others in a 5-1 scoreline. Daniel Martin was the man on target in reply for Elite.
Completing the action in Division One was a terrific contest between Korona Redbridge and Virtue in Hainault. Korona led early and extended that lead to take a 2-0 scoreline into the break through goals from Artur Hajduk and Sebastian Wiklik. But Virtue bounced back to score twice and level up the contest in the second half to take a share of the spoils in a 2-2 draw.
DIVISION TWO
There are new leaders at the top of Division Two as Barking became the latest side to top the standings following a late winner in their clash away at London Fire Brigade, After a closely fought contest, it took a late Ben King goal to finally separate the two teams as Barking moved to the summit, opening up a three point gap in the process.
Goresbrook are now up to second themselves as they secured a fourth league win of the campaign with a 4-2 victory of their co-tenants, Lonsdale, in Chadwell Heath. Gary Lynch and Aristid Ndokaj both scored for Lonsdale but David Webster netted twice for Goresbrook and one each for Charlie Barrett and William Cox to win it 4-2 for their side.
Bretons Manor have moved up to fifth placed in the table after they also recorded a fourth league win, Walthamstow Avenue being the visitors to Castle Green on Sunday in their latest fixture, A goal apiece from Greg Bowles, Sam Cooper, Chris Crowe and Kane White were enough for Manor to record a 4-0 victory and take home the points.
It was also a big morning for Ferns Seniors who finally were able to record a league victory much to their relief I am sure. And it will be a memorable result as they overcame previously top of the table FC Kulture Klub in a 2-0 win. Tyler Rothon and recent signing Liam Coney got the goals to raise their spirits.
DIVISION THREE
E4 Rangers have moved up to third in the table in Division Three as they took advantage of results for teams around them to secure a third league win of the season. Macauley White was on fire once again with a hat-trick with Ben Hodgson scoring twice and one each from Ashley Mills and Jimmy Turner to win 9-1 away at neighbours Ping City Phoenixes.
There was a very interesting clash between leaders Central Colts and an in-form Thames Ironworks Community side at the weekend as Thames were looking to renew their rivalries of last season which saw them beat Colts in the cup final. In a closely fought match, the sides couldn't be separated with the match ending 1-1.
The remaining action from the division came from the borough of Waltham Forest where West Essex were taking on Roneo Colts with both sides starting the day in the bottom half of the table. The defences were on top of this one with the two teams failing to score meaning that one of those rare goalless draws was the eventual outcome.
DIVISION FOUR
East Ham Inter have moved up to third place in the Division Four standings, overtaking their opponents, Grey Area, on Sunday with a narrow 3-2 win at Wanstead Flats. That Inter win saw them secure a fourth league win of the season and go one point ahead of Grey Area with a game in hand still.
Moving up to ninth place were Custom House Community who took on Thames Ironworks Community Reserves and were involved a closely fought contest. Just a single goal eventually separated the two teams at the Terry Mac Stadium with Custom House the beneficiaries in a 1-0 win for them.
Oak Royals opened their points account for the season with a difficult looking trip to face Monkhams in Loughton. Mark Levy got on the scoresheet for ten-man Royals but Aaron Francis scored for Monkhams to ensure both teams took home a point each from the contest which ended 1-1.
COUNTY CUP
Repton Park's bow in this season's Essex Sunday Premier Cup competition was a short-lived affair as they made the difficult long trek up the A12 to visit Clacton-based Viking Flag. They were probably raising the white flag by full time as Repton slipped to a disappointing 11-2 defeat.
In the Essex Sunday Junior Cup, FC Mexico's run in the competition this season came to an end as they were beaten at home by Harlow-based New Town Rangers. Mexico went down to a 4-2 defeat, enabling them to maintain their focus now on the domestic competitions!
There was better news in the London Sunday Junior Cup where Asianos Reserves had a difficult looking trip south of the river to face Wheatsheaf Athletic and were involved in an entertaining nine-goal thriller. The match was eventually settled by the odd goal in Asianos' favour, winning through to round three in a 5-4 win.
AC Milano Reserves saw their run in the competition come to an end as were away in north London, taking on Barnet Sunday League side, FC Lokomotiv Thunder. AC went down to a 5-1 and will now look to continue their good start to the season in the league.
CHARITY CUP
In the West Essex Sunday Charity Trophy, Royal Albert are through to the quarter finals of the competition as they avoided any kind of slip up against Division Four side and previous holders of the trophy, Alliance United. Albert were 7-3 winners to set up a home tie against St Augustines.
In the day's other Trophy action, Masterman exited the competition at the first hurdle as they were defeated at home against Loxford Lions in Newbury Park. There was a just a single goal in it as the Lions won 1-0 to take their place in the quarter-final.
Other News Articles