Posted
WEEK 12 REVIEW: Review of Sunday's league and cup action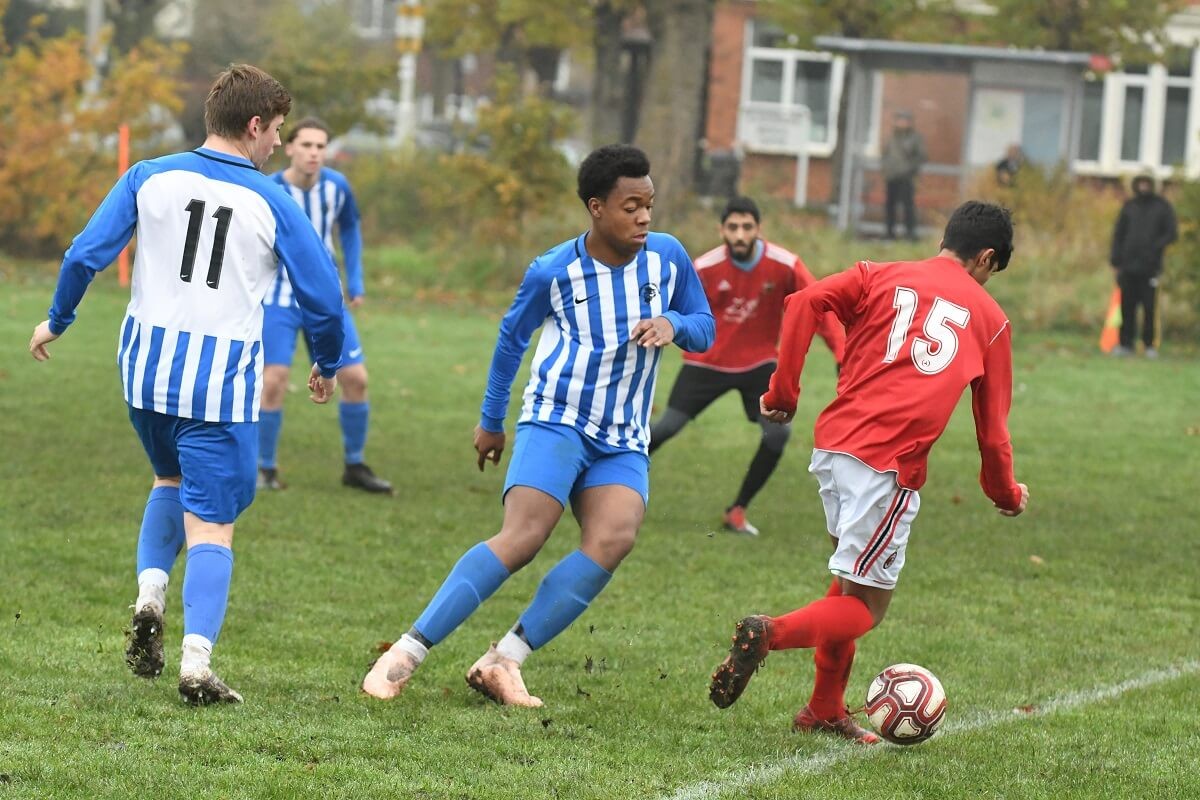 For our latest news and updates, please enter your email address
TROPHYLAND CUP
Roneo Colts have booked their place in the last sixteen of the Trophyland Cup competition as they overcame a potential banana-skin tie against Division Four side, Inter Ladzio. But Division Three's Colts secured their safe progress with a James Pottle brace plus goals from Tommy Harber, Billy Anness and Charlie Dann to win the tie 5-0.
PREMIER DIVISION
Things couldn't be much tighter at the top of the Premier Division with Flanders putting themselves amongst the front-runners this season on the back of a big win against Warren United on Sunday. Dan Bell got on the scoresheet for Warren but his efforts were in vain as Flanders scored six goals themselves to run out 6-2 winners.
Ultimate Vision have moved into the top half of the table as they earned a hard fought win against relegation threatened Barking & Dagenham Wanderers in Newbury Park. Ryan Chapman returned to the Vision side and was amongst the goals, scoring both of the efforts for his Ultimate Vision side who won 2-1 on the day.
DIVISION ONE
The top three sides have opened up a gap on the rest in Division One with KLIK remaining the leaders towards the festive break, aided by a 2-0 home win on Sunday against Brook Athletic at Old Dagenham Park. Sean Thomas certainly knows his way around the pitch and netted both goals in the win to keep them six points clear.
You suspect that the top two will be favourites to battle it out this season and Colebrook Royals are certainly having no trouble in front of goal themselves. They were 7-1 winners on Sunday against St Augustines with Mark Wright, Jamie O'Hara and Alfie Calderwood amongst the big names on target with Chris Stowe scoring the other goal. James Pararajan's consolation goal accounted for the Saints reply.
Next week's fixture against Chingford Athletic could give a great indication of where the sides stand with Athletic warming up for that clash with an incredible 6-4 win on Sunday against FC Mexico A. Jack O'Neil, Muijib Ayoola, Gary Adams and Rhys Tyrrell all netted for Mexico but Michael Mignot scored a hat-trick in reply, Patrick Clarke scored twice and Alex Foss once to swing their match in Chingford's favour.
There was a first league win of the season for Kulture Klub on Sunday as they came from behind in their game against Oceana to pick up a 5-1 win at Douglas Eyre in Walthamstow. Joseph Belcher had given his side the lead but Klub showed their credentials by scoring five in reply, a result which carries them up to eighth in the table.
Also moving up a few places, Valentine United have had a mixed start to the season but managed to secure a second league victory on Sunday as they hosted West Abbey at Old Parkonians. West's recent form made this a close battle but Valentine eventually pulled through to win it 2-1 and go up to seventh place.
DIVISION TWO
Just four points separate the top five in Division Two where leaders Walthamstow Avenue slipped to a first defeat on Sunday, going down 4-1 at home against Hornchurch Oakmont. Martin Swanwick scored twice with goals from Lewis Minton and Thomas Gibson making it five wins from six games for the Romford based side.
The team in second place are Central Colts but they missed the chance to really cut the gap at the top as they beaten at home by unbeaten Goresbrook in Dagenham. Charlie Morris scored twice for the visitors with Liam Coney netting the other in a 3-1 scoreline, keeping their side in involved in the promotion race with a number of games still in hand.
Making the most of the sides above them dropping points, Abridge Village keep their hopes of silverware well within sight, moving to just a point of the promotion places with a game in hand following their victory on Sunday against Chingford Athletic Reserves. Leon Adeyemi scored both of the goals for Abridge to make it five wins from their nine league games following this 2-0 scoreline.
FC Mexico B moved themselves away from danger at the other end of the table as they pulled off a terrific win in an entertaining game against local rivals, Roose. A seven goal thriller between the teams saw Mexico win 4-3 to pick up just a second league win and move up a place to tenth in standings.
The entertainment didn't end there as a humdinger was witnessed at the Flats with Frenford the visitors to take on Wanstead Albion. In a game which had appeared to have been won late on by Albion through goals from Aidan Bailey and Kane Parson, Frenford showed great character to rescue it at 2-2 with Tiwa Osifuwa and Kyron Chiedozie goals levelling it up.
DIVISION THREE
Two of the top three met on Sunday in Division Three with Barking Riverside going to Chigwell United as leaders of the division. The two sides were well matched on the day in a game of real quality but Barking will have come away the happier, taking a 3-2 victory to further boost their title credentials.
Lonsdale's recent run of form hasn't gone unnoticed and they have crept up to fifth in the table following the weekend's fixtures, helped by a 2-0 victory against East Ham Inter, having lost heavily to the same opposition quite recently. They got their payback with this latest win, moving up a number of places as a result.
Also shifting up some places, Alpha had a good result on Sunday as they met local rivals, Blackwall Rovers in their clash at Wanstead Flats. Andre Graham, Brentton Barrett and substitute Ross Chilvers all got on the scoresheet to give Alpha a 3-1 win on the day against their co-tenants.
DIVISION FOUR
Asianos Reserves have gained ground on the promotion places in Division Four, moving up third following a 3-0 home win on Sunday against Ridgeway Rovers Under 21s. The hosts were comfortable victors in a result which sees them move to within two points of second spot, albeit from more games than their rivals.
Monkhams are up to fifth in the table as they took on Titans United in Loughton on Sunday with just three points between the sides prior to kick off. That was slashed to mere goal difference by full time as Monkhams romped to a 5-1 win on the back of a Sam Snell brace plus goals from Charlie Thomas, Matthew Acons and Tom Overton. Theodore Williams was the man on target in reply for United.
Sitting handily placed in the mid-table region, United Amateurs picked themselves up a fourth league win of the campaign over the weekend as they made the trip to Walthamstow to take on Ping City Phoenixes. Jack Crump, Jack Chawner, Luke Howell and Jake Griffin all found the back of the net to win the game 4-2 in favour of their side.
DIVISION FIVE
Total Football maintain their stranglehold on the title race in Division Five, maintaining their five-point gap at the top with a hard-fought win in Dagenham against the free-scoring Cobra side. Aaron White netted for Cobra but Total goals from Adam Gomes and Carl Parsons were crucial in earning their side the 2-1 win to keep them clear.
There was a real humdinger at Wanstead Flats where third placed Eastern Avenue were the hosts to Custom House Community in a seven-goal thriller. The goals were certainly flowing towards the back end of the game where it looked as though Avenue had secured a point with a late equaliser, only for Custom House to go strike in the dying moments to win 4-3. Tazbith Shak, Richard Akinyebo and Bankole Fadami goals account for the Avenue efforts.
The form of Ridgeway Rovers Under 21s Reserves suggests they should there or thereabouts come May time and they were victors once again this weekend, beating Thames Ironworks Community Reserves to stay unbeaten in the league. Regan Marshall scored twice with Reece Boultwood and Sanchez Bolessa goals making it 4-0 to the Rovers.
Goals were the order of the day over in Newbury Park too where Singh Sabha Barking went fourth in the table on the back of a narrow 3-2 home victory against East Tilbury Town. Charlie Clarke and Sam Wilkins got the Town goals but Singh Sabha responded with Vikramheet Singh, Indervir Virdi and Kulmir Bhakar efforts making it a 3-2 win in their favour.
Epping Forest Falcons are back into the top half of the table, taking advantage of results around them to go fifth on the back of a 5-0 home win on Sunday in the El Ashico derby against co-tenants Woodford Green United. That win saw Falcons wrap up a fourth league win while Green will be hoping to improve their form post-Christmas.
ESSEX SUNDAY PREMIER CUP
It was a tremendous day for our clubs in the Essex Sunday Premier Cup with Elda securing their place in the last sixteen with a terrific home win against New Town Randers. The Harlow based side had a tough time down in Loughton as Elda wrapped up a 5-0 victory to go through to a mouth-watering away game against Stanford Town in January.
Joining Elda in the next round will be SL Menfica who came through a tough trip to Hullbridge Sports on Sunday with the Aveley side edging a high-scoring 5-3 win on the day. The reward for that victory is a place in the last sixteen against Combination side, Global, who saw an end to Repton's campaign last week.
Other News Articles