Posted
WEEK 12 REVIEW: Round-up of all the league and cup action from the weekend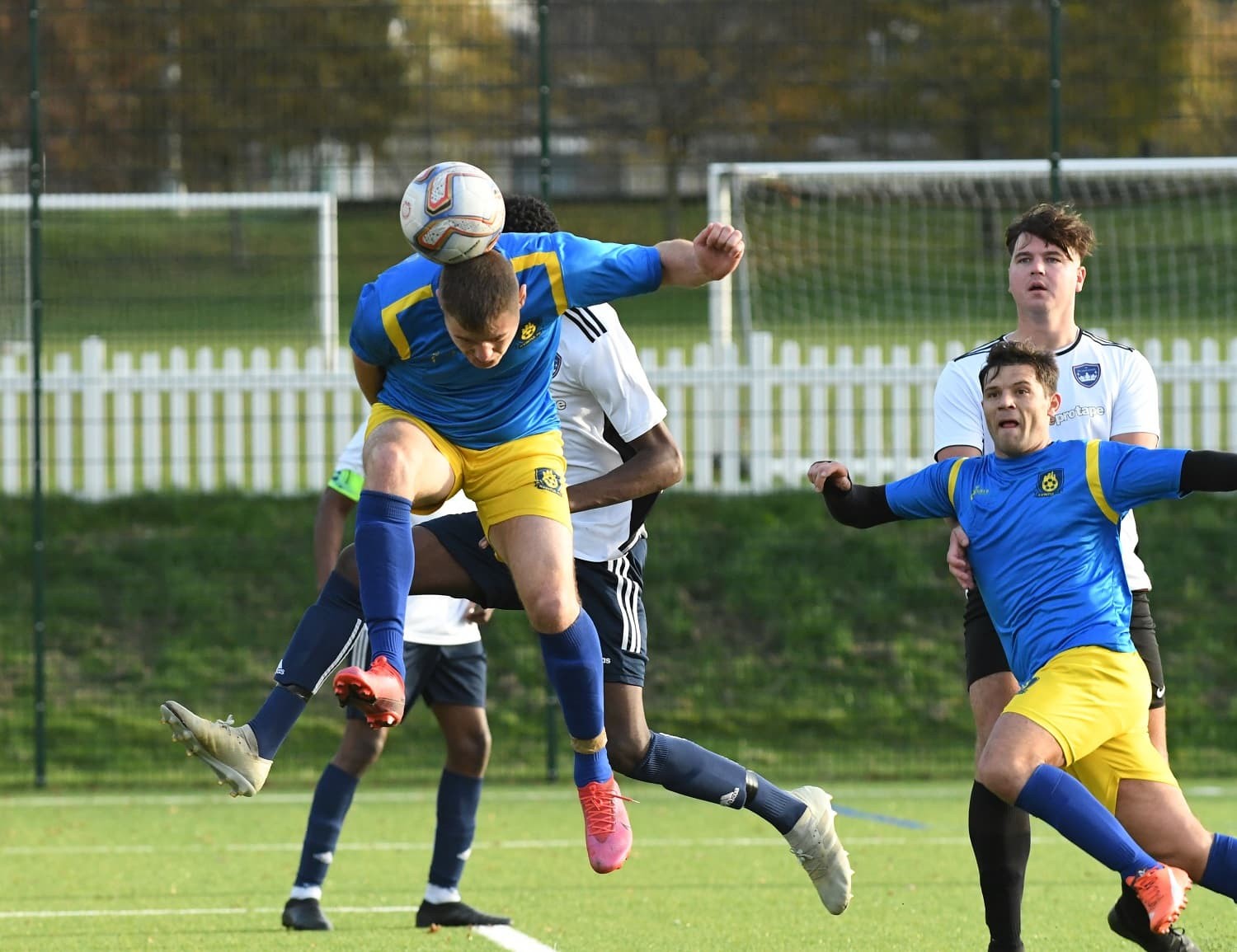 For our latest news and updates, please enter your email address
CORINTHIAN CUP
The Corinthian Cup action continued to serve up it's fair share of thrills and spills as Roose caused one of the shocks of the competition so far by putting out top-flight East Way Athletic. Two goals from Shaye McKenzie-La-Rose and another from Jack O'Connor were enough to give the Premier Division side a 4-2 victory and a place in round two.
In the second round action, there was a cracking game down in Chigwell where Hatch Lane where the visitors to take on Baiteze Squad with the latter seeking revenge after a league reverse earlier in the season. And it was Baiteze who will have come away the happier of the two teams with a 2-0 victory to go through to the third round.
Division One's high-flyers Oceana made the trip to Senior Division opposition in their own cup tie with El Valiente the hosts. The more senior side had the best of the action however and ran out comfortable 5-1 victors with Tom Parsons the Oceana scorer for their consolation effort and Paul Barry (2), Bradley Fields, Eugene Sago and Muamar Osman bagging for Valiente.
TROPHYLAND CUP
In the second round of the Trophyland Cup, the results went with the form guide with Debden Sports Reserves putting in an emphatic performance to beat Goresbrook, winning 8-0 with two goals from Chris Harper along with strikes from George Bird, Harrison Andrews, Joseph Cloake, Jacob Payne, Jamie Rones and Joseph Lane.
Joining Debden in the third round are Ainslie who mirrored their first round performance with a 1-1 draw against Singh Sabha Barking for whom Matthew Stedman was on target for the latter with their goal. And in the shootout, it was Ainslie who once again held their nerve with keeper Small in fine fettle, Ainslie winning 3-2 from the spot.
There was some third round action in Barkingside where Korona Redbridge were paid a visit by Eastbrook United with a quarter final place on offer for the winners. In a close game, it was eventually settled by the odd goal in three with Heavenly Bende and Junia Charlton both netting in a 2-1 United win. Iosif Sfanzar netted the Korona goal in reply.
ENDEAVOUR CUP
There was one shock in the Endeavour Cup where United Borough overcome top of the table Belfry Reserves in the all-Division Five tie to put themselves through to the quarter finals of the competition. The sides finished level at 1-1 with Alex Robinson on target for the hosts and Jake Griffin for Borough who subsequently held their nerve from the spot to win the shootout 3-1.
It was a slightly more routine performance for Custom House Community who avoided a potential slip-up against lower division opposition with London Legacy the visitors to Beckton seeking to cause an upset. And despite a Rommel Wilson effort for London, two Jamie Wooster goals plus one apiece from Jack Field and Esley Liwala sent the Dockers through to the last eight.
SENIOR DIVISION
There were plenty of goals in the Senior Division where United Dian got back to winning ways as they were visited by Alliance Stars in the Hainault derby match. Prince Diantomba's hat-trick paved the way, Joey May struck twice and further efforts from Bostry Bansende and Awat Kiflyesus finished off the game 7-3 in their side's favour.
The second fixture saw a seven goal thriller as Secret and London Mavericks battled it out over in Hornchurch with the game being edged by the hosts in the end. Eden Nelson, Luke Thomas, Declan Nche and Joseph Connor were the Secret scorers to give their side a third league win, lifting them to within three points of the top half.
PREMIER DIVISION
In the day's Premier Division action, Brook Athletic continued their dominant start at the top of the table, extending their league to seven points with a 3-1 away win against Barking & Dagenham Wanderers. Malik Donaldson struck twice and Justin Clarke once to help Brook earn themselves another three point haul.
DIVISION ONE
There were three games in Division One where Theydon Green made up ground on the league leaders, bouncing back from defeat last time out to earn themselves a 4-0 win against Chingford Athletic to close the gap at the top to three points with a game in hand. Harry Boyd-Walker came off the bench to score twice with Ben Brookes netting the other to secure victory.
Remaining third, FC Galaxy sit a few points back from the two promotion chasing sides but kept up their own quest with a solid 3-1 win away at Barking as the sides met over at Parsloes Park. Joe Blewitt scored for the Blues but Eduard Bica's double and a Mihai Mareniuc effort saw the points head back home with Galaxy.
Perhaps saving the best for last, a nine goal thriller completes the third tier action where FC Mexico A and AC Milano combined for a classic in Hainault. Azair Patel scored twice for Milano with Nesar Torkamani, Nadeem Khankhara and Umar-Farooq Zinga getting the others to edge the game in a 5-4 win. Nathan Wilson scored two in reply for the Mexicans alongside strikes from Matthew Harvey and Tariq El-Hafidi.
DIVISION TWO
There are new leaders in Division Two where St Augustines have gone top on goal difference, taking advantage of Eastbrook being in cup action by winning 5-0 to lead on goal difference. FC Mexico B were the side to be defeated as Callum Daniels (2), Olamide Dele-Adeniyi, Aaron Francis and Jaden Maloney strikes were more than enough to earn the points.
Royal Lions A remain in fourth place in the table and just four points off the leaders as they picked up win number five this season with a narrow win against Frenford in Hainault. Randy Adele and Reuben Popoola goals were the difference between the sides, cancelling out a Tiwa Osifuwa goal for Frenford.
Just behind Lions sit Thames Ironworks Community who kept themselves in the top half with a terrific win against East London Harriers over at Flanders. Jeffrey Nketia scored twice which, combined with Liam Tracey-Cesay and Tayo Felstead efforts, gave Thames a 4-1 win, overcoming an Owen Tribe strike for Harriers.
The theme of goals continued in the division's final game where Asianos and Total Football, placed seventh and sixth respectively, played out an entertaining 3-3 draw in Walthamstow to earn both sides another point. Carl Parsons, Fahed Gani and George Ridley efforts accounted for the Total goals to keep them four points clear of their opponents.
DIVISION THREE
Six points separate the top eight sides in a crazy Division Three, with just one between first and fourth as Alpha jumped up around five places to go clear on goal difference along following a 4-3 win on Sunday at home to Monkhams. Kai Brown scored twice with Conor Wallace and Roy Edmans efforts seeing them edge the contest.
Sixth placed Upshire Forest are in-form and moved to within just three points of top spot as they took down the previous leaders, Leytonstone Athletic, in a 4-0 scoreline to pick up a fifth league win. Luke Robinson was in the goals again with a brace, Dan Roult and Oliver Campbell efforts completing the scoring for Forest.
You're always guaranteed goals with Dagenham Town games and this weekend proved no exception as they recorded another eight for their tally with a big 8-1 win away at Mayfield Kings who had been seeking to extend their recent winning record. Dylan Brown scored a hat-trick off the bench, adding to strikes from Ben Bickford, Chris Bird, Joseph McEnroe and Callum Ibe. Marilisio Rodrigues struck the Kings goal in reply.
Imperial Row will have looked at their weekend's fixture with a little trepidation but put in probably their best performance of the season to defeat promotion chasing Higham Hill in Walthamstow. Row were 4-2 winners on the day with Jake Andrews netting two and one each from Andre Daley and Darren Summers. Billy Jago and Daniel Fitzsimons goals accounted for the Hill consolations.
And there were goals aplenty in the division's final game which saw Inside Success and Windmill Warriors combine for a total of twelve goals in their epic contest. Inside Success scored seven with Quam Deen (2), Shemar Morris, Tommy Oseni, Abdifatah Ali, Taiwo Shomuyiwa and Halameen Agbaje all netting. Ross Braybrooke struck twice in reply alongside Harry Meader, Billy Barker and Yaw Ofori-Darko goals.
DIVISION FOUR
Ultimate Vision Reserves have gained ground on the sides above them in the division, taking advantage of other results to go fourth, aided by a terrific 3-1 away win at local rivals, Titans United. The Old Dagenham derby went the way of Vision who picked up a fourth league win courtesy of goals from Reece Kelly, Thomas Preston and Stephen Brown.
There was also a good win for Chingford Athletic Reserves who sit fifth with four league wins of their own, their latest endeavours seeing a hard fought 2-1 win as they defeated Raphael Park Rovers in Romford. Jake Crump got on the Rovers scoresheet but efforts proved in vain in the end as Chingford leapfrogged their opponents in the table.
Lonsdale produced perhaps their best performance of the season with a local derby win at home on Sunday against third placed United Amateurs who are looking in a strong position for promotion. But Lonsdale have other ideas and edged a nine-goal thriller, winning 5-4, despite United goals from Billy Biggs (2) and Luke Howell.
It was also a great morning's work for another of the sides at the wrong end of the table where Romford Athletic Dons pulled out a fine performance to take down an in-form Ace Athletics side in Hainault, winning 5-1. Chris Ratty is a man who knows where the goal is and he struck a hat-trick with Scott Buckland scoring the other two.
DIVISION FIVE
Colebrook Royals Vets have closed the gap on the leading side to just a point as they took full advantage of the top side being in cup action to run in a solid 3-1 victory in Hainault against Royal Lions B. Paul Noonan is in good form and he scored twice, alongside a Thomas Sellers goal, to confirm a seventh league win of the season.
It's been a good month for Eastern Avenue who are now third in the table following the weekend's action, this time putting ten goals away to defeat Young Royals at the Flats. Ginojan Jesurajah scored twice and Avinash Vithiyananthan once for Royals but hat-tricks from Miguel Conceicao and Boamah Kwakye, two from Kai Rawlins and one each from Cieran Lennon-Hunte and Thomas Harford made it 10-3 at full-time.
There was also an impressive win for Byron Red Star in Hornchurch with a terrific win against Dagenham Rangers to open up a three point gap on their opponents. Ryan O'Connell (2), Adrian John, James Thorne, Perry Robinson and Nathan Casey goals accounted for the Red Star efforts, confirming their fifth league win.
At the other end of the table, there was an incredibly important result for Ultimate Vision A who had a six pointer on Sunday against Athletico City and put in a top performance to run out 3-0 winners on the day. Matthew Burke, George Matthew and Ryan Maun were the scorers to give Vision the win they desperately wanted.
DIVISION SIX
At the half way mark in Division Six, Mansfield Rangers have really put in a shift and will be pleased with their efforts, opening up an eight point gap at the top as they produced a 5-0 winning performance against Ivory United at Douglas Eyre. Charlie Weston, Jack Cousins, Tommy Jeffries, Kemston Allen and Jake Magson all netted to take the win.
Valence United Reserves have closed the gap on the promotion places to just a single point after they secured maximum points in their home clash against an in-form Woodford Green United side, defeating the seventh placed side 5-2. Keenan Mitchell put in a top performance to bag himself a hat-trick, along with goals from Kamal Mahoney and Jo Megege which earned their side victory.
The race for promotion is a real contest at present and Colebrook Royals Reserves form part of a number of a group of clubs keeping chase, their chances improved following a 3-0 home win on Sunday against Royal Lions C. James Rose, Dylan Fagan and Jamie Meakin done the damage though it took late goals to finally finish it off.
Another cluster of clubs has formed in the bottom half with just four points separating fifth down to tenth with Ping City Phoenixes and Epping Royals meeting on Sunday to try and break out of that group. Those sides were well matched and finished level at 2-2 with Joseph Boswell's brace helping Royals pick up an important point.
COUNTY CUP
There was quite terrific performances from our clubs in the Essex Sunday Premier Cup with four out of five safely through to the last sixteen, the biggest winners being Flyhouse Athletic who faced a daunting trip to Halstead Town, but returned with a huge 9-2 win under their belts in impressive style.
Also winning after a long away day were Abridge Village who overcame a shortage of players to take Athletico Maldon all the way to a 4-4 draw in a topsy-turvy game. And in the shootout, it was Abridge who held their nerve to win it 4-2.
A pair of 4-1s complete the winning action with Belfry the first of those having secured victory against Benflica who had travelled up from the south east of the county for this game. But Belfry's cup pedigree saw them safely through to the last sixteen.
Over in Chigwell, there was a tough looking clash for Avintul who had Combination side JK Silvertown in their way of a place in the next round. An energetic performance was more than a match for their side and they went through as 4-1 winners.
The only reverse for one of sides saw Barking Riverside taking on Rayleigh Town at Castle Green on Sunday, a game which saw the south Essex side prevail and book a place in the next round, winning 3-2 to end Barking's interest in this competition.
Other News Articles