Posted
WEEK 16 REVIEW: Review of Sunday's league and cup action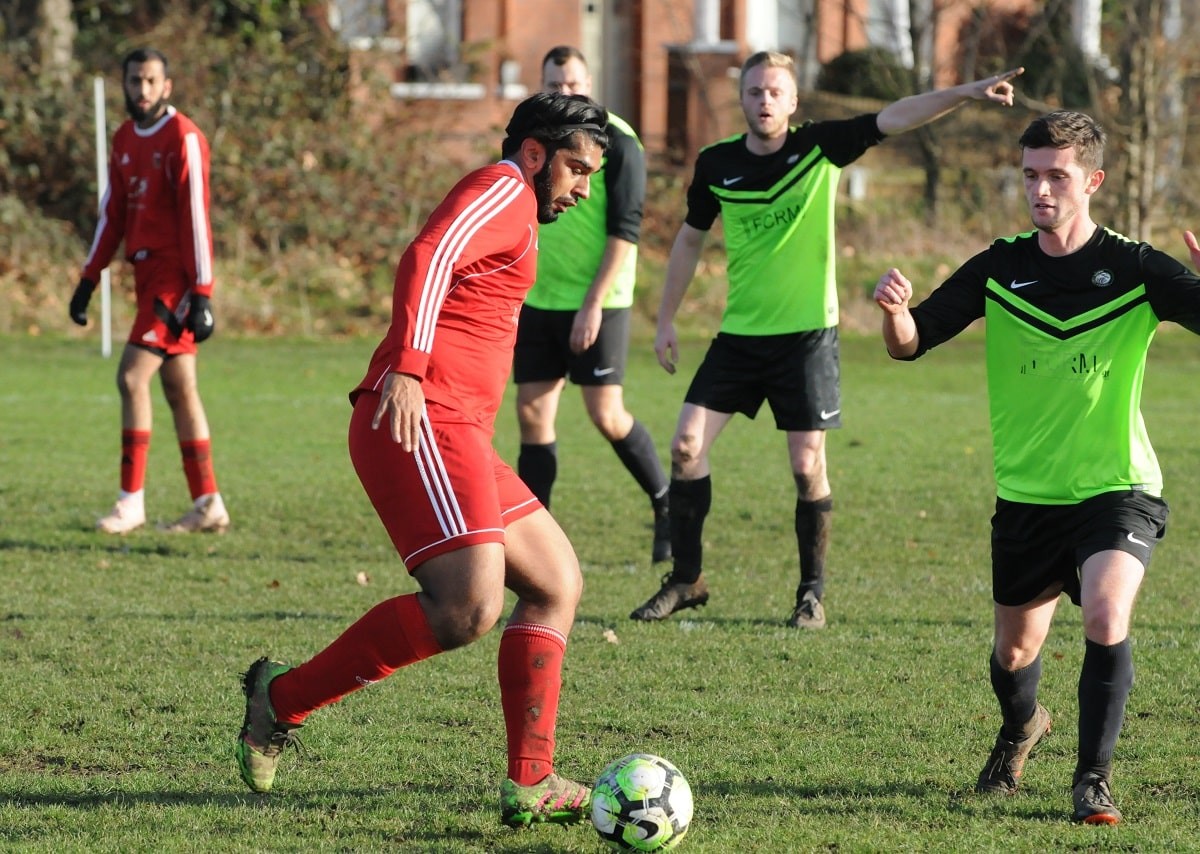 For our latest news and updates, please enter your email address
PREMIER DIVISION
There was a big shock in the Premier Division on Sunday as the long time leaders, Repton Park, slipped to a first league defeat of the season, going down to an in-form Barking & Dagenham Wanderers side at home in Loughton. Daniel Gibbs notched two goals on debut with Liam Roney and Alex Leslie also finding the target in a 5-2 win. Jobe Ambrose and Jesse Spearing got on the scoresheet in reply for Park.
The day's other top flight action came in Newbury Park where FC Mexico were the visitors, taking on hosts Brook Athletic with both sides seeking crucial points to steer themselves clear of the dropzone. Lee Lashley scored twice for Brook but Mexico goals for Tom Terry and Ian Tucker saw the sides take a share of the spoils each in a 2-2 draw.
DIVISION ONE
If goals are your thing, you could have done worse than attend the clash between Valentine United and St Augustines as the two sides combined to produce a nine-goal thriller on Sunday in their local derby. Thomas Neil's brace plus a strike from namesake Thomas Neale and Vasile Batranu accounted for the Saints' efforts but Charlie Fiander's hat-trick in reply for United plus efforts from Jimmy McCann and Jonathan Day edged their side to a 5-4 win.
The other Division One match-up saw third placed Ridgeway Rovers make the trip to Wanstead Flats to face a struggling Westferry Elite side with Rovers knowing that a win would cut the gap at the top and leave them well placed for a title assault in the second half of the season. They achieved that goal, earning a 1-0 win to secure a seventh victory of the season.
DIVISION TWO
In Division Two, three teams are now locked on 21 points at the very top with just goals scored separating the top two. Barking moved to the summit with a big win away at Bretons Manor, sending the Dagenham side to a 6-1 defeat aided by doubles from Danny Cook and Abu Garba. Jordan Cook and Charlie Surridge netted the other goals to ensure victory and make their Christmas dinner taste even better this year!
Keeping up their own chase of the league title, Dagenham United will be fighting on all fronts in the new year as they secured a final win of the calendar year with victory away at London Fire Brigade in Hainault. Sean Thomas continued a profitable year in front of goal with another hat-trick with Loui Hazelwood scoring the fourth to render David Ellis' effort as consolation in an eventual 4-1 win for United.
DIVISION THREE
The gap at the top remains at four points in Division Three with Central Colts still leading the way following a hard fought win away at Alpha on Sunday. Humzah Qumar and Kai Brown scored the hosts' goals but Colts responded with four strikes of their own to win it 4-2 and pick up a ninth league in twelve this season.
The Thames Ironworks Community form continues to demonstrate that this will be an interesting title chase in the fourth tier but they had to work hard to take home the points in their clash against E4 Rangers. Jamie Mayho and Ryan Radley both netted for E4 but a Liam Tracey-Cesay brace and a Paul Scanlan goal edged this five goal thriller in favour of Thames, 3-2 the final scoreline.
Showing some good recent form in the run-up to Christmas are Roneo Colts who made it four wins from ten so far this campaign as they recorded a 2-1 win in the Dagenham derby away at Dagenham United Reserves. Jay Simmons got on the United scoresheet with an effort but a James Pottle double for the Colts saw them to an important win, closing the gap on the mid-table sides above them.
That mid-table pack now includes a West Essex side who picked up an important win before heading into the festive break as they took maximum points away against local rivals, Ping City Phoenixes. In an exciting game of nine goals, Max Marshall scored twice with one apiece from Connor Brathwaite, Jack Newbury-Neale and Harry Rease doing the damage and carrying West to a 5-4 win.
DIVISION FOUR
Game of the day in Division Four has to be the epic contest at Wanstead Flats which saw top of the table rivals East Ham Inter take on Woodford. In a classic contest between two forward thinking sides, East Ham Inter established a 4-1 lead going into the last quarter and seemingly heading to three points. But a late Mohammed Zaker hat-trick and goals from Charlie Saywood and Jake Silk saw Woodford pull off the most almighty of comebacks to win it 5-4, breaking Inter hearts.
Also having a good morning to round out their year, Asianos Reserves came from behind in their match against Epping Forest Falcons to run in seven goals in an eventual 7-1 win. That result, Asianos' sixth league win of the season keeps them very much in the promotion picture if they can carry in that form into the second half of the season.
There was a stunning result in Newbury Park where Oak Royals put aside their inconsistent form of recent times to secure a hugely important victory at home to Custom House Community. Daniel Gotobed scored twice with Daniel Lister, Charlie McGinley and Ryan Mitchell goals seeing Royals to a 5-3 win, taking them off the bottom and up two places to tenth in the table.
The final match of the day, and the year, saw an East London derby as Thames Ironworks Community Reserves looked to expand their points tally with a trip to West Ham to face mid-table AC Milano Reserves. It will be AC who will have been happiest with their efforts, securing a 3-1 win at home to consolidate their position seventh in the table.
Other News Articles