Posted
WEEK 16 REVIEW: Round-up of Sunday's league and cup action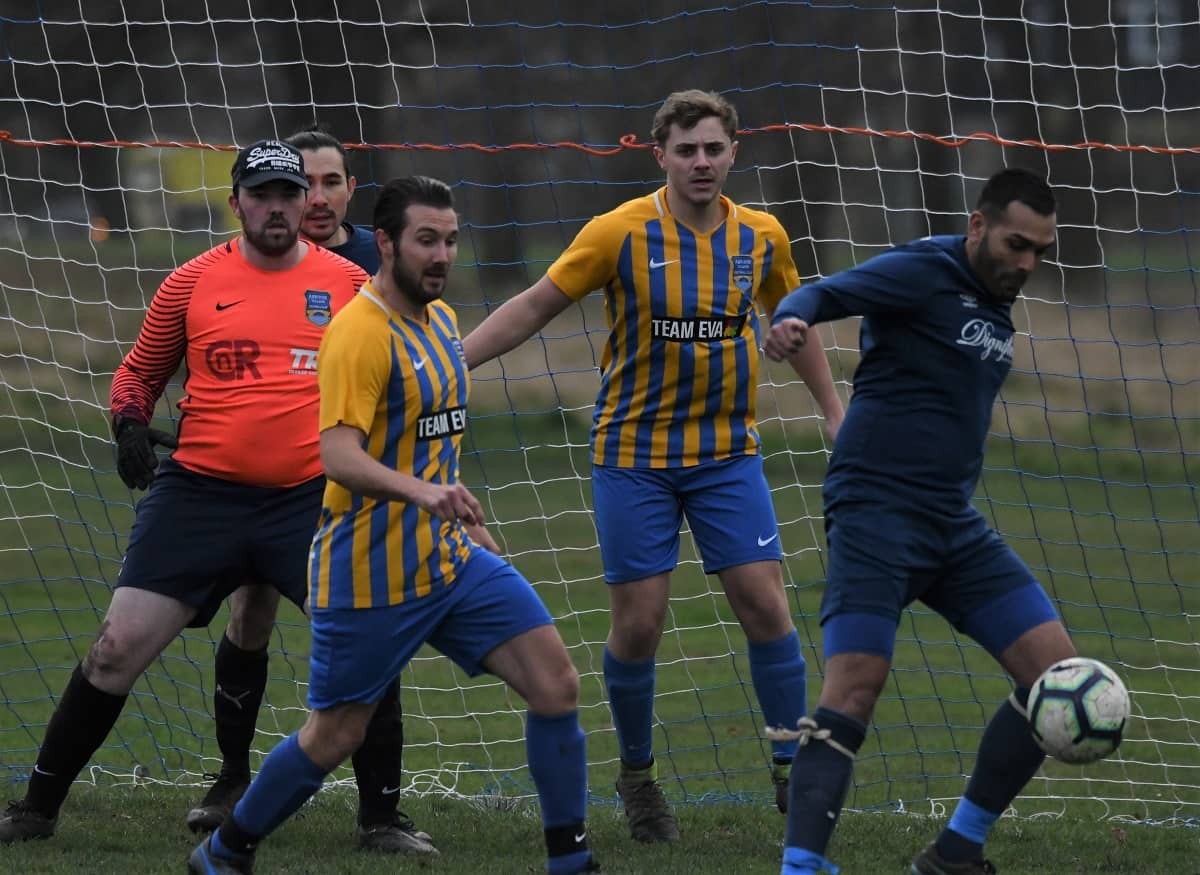 For our latest news and updates, please enter your email address
CORINTHIAN CUP
The new year's action got underway on Sunday with a second round tie in the Corinthian Cup where there was a shock of sorts, Roose overcoming a six place deficit to send Division Two leaders, Walthamstow Avenue, out of the competition. Harry Amoah, Calli Barnard and Charlie Hawes scored the goals to see their side through to the quarter finals in a 3-0 win.
DIVISION FOUR CUP
The Division Four Cup action got underway for another season with the holders, Asianos Reserves, in action as they defended their title with a home tie in round one against Inter Ladzio. Jay Crews got on the scoresheet for Inter but his effort wasn't quite enough as Asianos scored twice themselves to record a 2-1 victory and a place in the quarter finals once again.
PREMIER DIVISION
There are new leaders at the top of the Premier Division as Flanders rose to the summit following a 3-2 win away at Warren United in Barkingside. James Peagram and Sean Green were both on target but Flanders done enough to earn the win through a Derrick Osei hat-trick which, combined with results elsewhere, saw them move top.
The previous leaders, Repton Park, saw their grasp on top spot loosen as they were beaten away at a vastly improved SL Menfica side. Two goals from Shaun Goddard, one each from James Dobson, Jack Barraclough and Rodney Wilson were enough to carry them to the victory, winning 5-3 to move fourth in the standings.
Also making a big move up the table, Elda are up to third as they secured a fourth league win of the season, beating Asianos 7-1. Braces from Eljay Worrell and Tommie Turner set them on their way with Stanley Dady, Tyron Thomas and Patrick Duggan goals completing the win, preparing them well for a tough test in the Essex Sunday Premier Cup next week.
There was also a big movement from El Valiente who climbed up from ninth to fifth in the standings, coming from behind to earn a 9-1 win against Ultimate Vision. Rohan Francis scored five of the goals, Sam Edwards got two with Joe Dady and Kane Malone efforts rounding things off in comprehensive fashion.
DIVISION ONE
In Division One, KLIK have opened up a six point gap at the top of the table as they returned home with all three points on Sunday from their clash against Oceana at Old Dagenham Park. Jesse Jones scored for the visitors but a Thomas Carter hat-trick plus further goals from Loui Hazelwood, Jay Hazelwood and Ricardo Teixeira sent KLIK to a 6-1 victory.
Another game featuring plenty of goals, Kulture Klub and Valentine United combined for eleven goals with Klub running out 8-3 victors in their match in Walthamstow. Dean Florence scored four with Cassidy Igwe and Afolabi Obafemi both netting to twice to render Valentine strikes from Jonny Day, Chris Jennings and Josh Robinson as just consolation.
Brook Athletic started their new year with a good result as they moved themselves away from trouble with a 5-1 home win in Newbury Park against West Abbey. Goals from Brandon Ferdinand, Kyle Thompson, Samir Lee, Lee Lashley and Lorenzo Ramsey were enough to earn themselves the points as they climb to sixth place.
In a quiet game by the standards set on Sunday, there were just the three goals in the clash between St Augustines and FC Mexico A with the Saints ending the contest as the happier of the two sides with a 2-1 victory under their belts. James Pararajan was on the scoresheet, helping his team move out of the relegation zone.
DIVISION TWO
Central Colts have moved to within two points of the summit in Division Two as they returned to action with a 5-2 home win against Chingford Athletic Reserves. A pair of goals from Gabriel Ogunwomoju plus strikes from Kane Greene, Bill Rix and Kevin Ituko were enough to earn the points in a seventh league victory of the season.
With games in hand, Goresbrook are nicely placed currently and they made their move up to the heady heights of third place following their successful trip to FC Mexico B over the weekend. Charlie Morris scored a hat-trick with Liam Coney and Alfie Wiseman goals sending their side to a 5-1 win.
Wanstead Albion are another side on the move and they are now up to fifth place after a recording a fifth league win in ten so far this season, seeing off the efforts of Barking in a 7-2 scoreline. Harry Prince and Michael Jay both scored twice supplementing efforts from Bradley Laudat, Scott Hill, Emmanuel Okunja and Daniel Bazely. Ben King and Charlie Surridge grabbed the Barking goals in reply.
In the day's remaining action in the third tier, then man Abridge Village made the trip to Wanstead Flats to take on Thames Ironworks Community with the latter to make up lost ground as they struggle against the threat of relegation. The sides couldn't be separated on the day however with a 1-1 draw seeing the sides settle for a point apiece.
DIVISION THREE
There's no change at the top of Division Three following the opening games of the new year as Barking Riverside made it nine from nine with a 5-1 away win on Sunday against Roneo Colts in a local derby. Charlie Dann grabbed the Colts goal but a Bukele Mukudi hat-trick plus efforts from James Case and Oussama Bennani sent the points home with Barking.
E4 Rangers remain just four points off the pace and will hope to cut this deficit in the second half of the season. They kept up the pressure with a solid 4-1 home win against East Ham Inter. Remi Awosamya's brace sent them on their way with Louie Webster and Joseph Bowles goals completing the scoring.
A few points further back from those leading sides, Chigwell United are handily placed in third position, aided by their successful return from the festive break, earning a 3-0 home win against Newham Athletic. That fifth win of the season keeps them well in touch at the top while Newham will hope for an urgent upturn in form.
Moving up to fourth place, Blackwall Rovers were another side to record a fifth league win over the weekend as they took on co-tenants Alpha in the battle of the Flats. Bobby Hammersly done the damage for Rovers, scoring both of their goals overcoming a late Kai Brown consolation in a 2-1 scoreline.
There was a county cup quarter final dress rehearsal in Walthamstow on Sunday where West Essex played host to Theydon with the two sides due to meet again in a fortnight's time in the big one. Theydon will go in with much confidence as they secured a third win of the season, sending West Essex to their first league defeat of the campaign. Jack Morgan scored twice with James Carter grabbing the other in a 3-0 win.
Completing the action in Division Three, Havering Well were big winners in their home clash on Sunday against Lonsdale where the hosts comfortably ran out 5-1 victors. Kalium Fletcher scored for the visitors but his efforts proved not quite enough as Joe McDermott and Billy Franklin scored twice each, adding to Albert Carley's effort.
DIVISION FOUR
Bretons Manor have given themselves a little bit of breathing space in Division Four as they done what they needed to secure a ninth league win on Sunday, seeing off Titans United in a narrow 1-0 scoreline. Sam Cooper scored that all-important only goal of the game to give them a three point gap at the top in the title race.
That outcome was made possible after Roneo Colts Reserves fell to just a second league defeat of the season, going down 6-3 against Monkhams in Loughton. Bobby Port scored a hat-trick for Colts but they proved not quite enough as the hosts picked up an important win in the race for promotion.
Moving up to sixth place, Upshire Forest Reserves picked up an important points haul with a home win on Sunday against Romford Athletic Dons. A single goal from Sam Tulley proved enough for the hosts to earn a fifth league win of the campaign while Dons will be aiming to improve their points tally in the coming weeks.
There was plenty of "excitement" in the divisions final game where Ridgeway Rovers Under 21s played host to United Amateurs in Walthamstow, both sides looking to improve their league positions. But they had to settle for a share of the spoils with a 3-3 draw the outcome of a drama filled match as Abubakar Garba scored twice and Jake Griffin once for United.
DIVISION FIVE
It's as you were in Division Five following Sunday's results with Total Football making it nine wins from eleven this campaign with a 3-1 home victory against Keith Park Rangers. Ricardo Everiste got on the Rangers scoresheet but Nile Painter's brace changed the picture of the game, Sachin Bawa scoring the other to take home the points.
Ridgeway Rovers Under 21s Reserves are making this a real title race and kept up their pressure on the leading side with a big home win against Eastern Avenue. Two goals each from Regan Marshall and Rhys Clements paved the way with Sanchez Bolessa's goal helping them over the line in a 5-2 scoreline.
In third place, Cobra started the second half of the season much like the first with another win under their belts, this time seeing off the efforts of a plucky Woodford Green United side in a narrow 2-1 scoreline. Alfie Dove and Jamie Hill both got on the scoresheet to confirm a seventh league win for the visitors.
Singh Sabha Barking are loitering with intent in fourth place presently and with games in hand could still enter the promotion race. They continued a largely positive season with a 3-2 home win on Sunday against Thames Ironworks Community Reserves. Kulmir Bhakar scored twice with Taranjit Birring netting the other to take the points home with them.
Completing the day's football action, East Tilbury Town have shown some decent form either side of the festive break and they got things back underway in style this year, beating sixth placed Epping Forest Falcons in a 2-1 scoreline. That result sees Tilbury cut the gap on the sides above them to just a single point with ambitions of breaking into mid-table.
Other News Articles