Posted
WEEK 17 REVIEW: Round-up of Sunday's league and cup action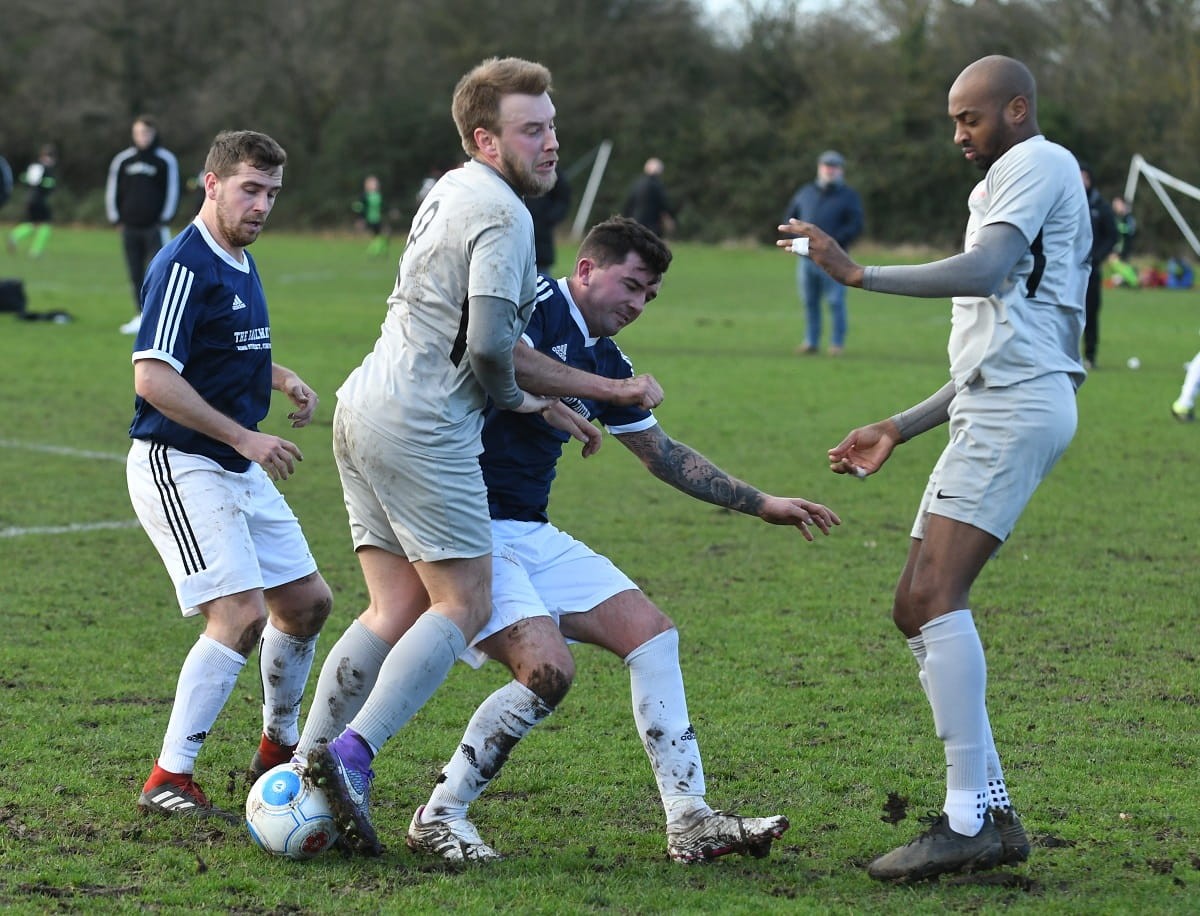 For our latest news and updates, please enter your email address
TROPHYLAND CUP
Monkhams have booked a place in the quarter finals of the Trophyland Cup and now lie just two wins away from a place at Dagenham & Redbridge as they provided tbe shock of the round in beating West Essex. Valerio Phipps scored twice and Matthew Acons once to overcome their higher league opposition in a 4-0 scoreline, heading on to play Alpha.
PREMIER DIVISION CUP
Another side booking a place in the quarter finals, Asianos have secured a place in the last eight of the Premier Division Cup competition, seeing off the attempts of Barking & Dagenham Wanderers in their clash. Nick Read grabbed the Wanderers goal but efforts were in vain as Asianos won 3-1 to book a place against SL Menfica.
DIVISION ONE CUP
In the weekend's Division One Cup action, Korona Redbridge were up against Brook Athletic in the first round with very little between the sides in the league. And so it proved in this game too with Korona winning by the narrowest of margins, Tomasz Cenin and Patryk Jurczyk netting the crucial goals, replying to a Louis Abraham consolation goal for Brook to win it 2-1.
DIVISION THREE CUP
There were plenty of goals in the Division Three Cup where E4 Rangers and Roneo Colts combined for a twelve-goal thriller. Remi Awosamya and Eli Fanga netted twice with Ryan Radley and Ben Hodgson scoring once apiece for E4 but James Pottle's hat-trick, Danny Marshall's brace and a Charlie Dann single for Colts levelled it at 6-6 after extra time. Rangers held their nerve in the shootout to win this epic encounter 5-4.
Barking Riverside extended their form from the league into the cup on Sunday as they took on Blackwall Rovers at Castle Green. Oussama Bennani scored twice for Barking with Dami Edun and Bukele Mukudi once apiece to overcome the efforts of the visitors in a 4-1 scoreline. That result sets up a quarter final against Chigwell United for Barking.
The remaining tie of the day in this competition was a five-goal thriller in Hainault where East Ham Inter came from two goals behind against Havering Well to level up the game through strikes from Sofyan Khalfi and Stanley Green. But Well won it late on 3-2 with Joe McDermott, Albert Carley and Billy Franklin goals seeing through to the quarter finals.
DIVISION FOUR CUP
In the Division Four Cup, there was further first round action as Roneo Colts Reserves bounced back well from their recent indifferent form to overcome an in-form Upshire Forest Reserves side in Dagenham. Sam Tulley struck for the visitors but Colts goals from David Kilminster, Kane White and Jeffrey Nketia secured a 3-1 win on the day for their team.
DIVISION FIVE CUP
The inaugural Division Five Cup ties took place on Sunday with Custom House Community and Eastern Avenue combining once again in a high-scoring thriller in east London. Eoin Coughlan scored a hat-trick for Avenue but his efforts were not quite enough as Custom House scored four goals themselves to record an epic 4-3 win, heading into the quarter finals against Total Football.
The other side through to the last eight are East Tilbury Town who were up against Woodford Green United on Sunday in Dagenham. Sam Wilkins scored twice for Town to set them on their way with Anthony Hunt and Harry Smith efforts accounting for the others in a 4-1 victory, setting up a clash away at Keith Park Rangers next month.
PREMIER DIVISION
Flanders strengthened their grip on the league title race on Sunday with a big win on the road away at Ultimate Vision. Ryan Chapman and Tim Conroy scored for the hosts but Shamari Barnwell's hat-trick was pivotal in reply along with Yaya Bamba, Prince Mensah and Derrick Osei all on the scoresheet too in a 6-2 win.
DIVISION ONE
KLIK have moved into a position to strength in their own title race after were comprehensive victors in their battle at home against rivals Colebrook Royals on Sunday. Sean Thomas scored a hat-trick for the league leaders, Loui Hazelwood netted twice and Jay Hazelwood once to earn themselves a big 6-0 win, leaving them nine points clear albeit with Royals having three games in hand.
Kulture Klub are loitering with intent just outside of the promotion places after they made it five wins in eight this season with a big 7-1 win against FC Mexico A over the weekend. Carl Cumberbatch grabbed the Mexican's goal but Klub are on fire at the moment and scored seven of their own to move fourth in the league table.
Also on the climb, Valentine United put in a big shift in their game against third placed Chingford Athletic, earning themselves a 6-0 win in the process. Two goals from Chris Jennings and one each from Burt Cardy, Jonny Day, Jordan Mullings and Charlie Fiander done the damage to move fifth in the standings.
Oceana eased the pressure on them in the relegation battle as they came through 2-1 winners in an important game against West Abbey. Jack Williamson and Ronnie Rouse were the goalscorers for Oceana to see them over the line, a result which lifts them up to eighth place in a congested middle to lower end of the table.
DIVISION TWO
The race remains well poised in Division Two where Walthamstow Avenue still lead the way by two points but had a real humdinger on their hands on Sunday as they travelled to Waltham Abbey to take on Chingford Athletic Reserves. James Lee-Legon and Jack Saunders both scored for the hosts but Avenue won it 3-2 through goals from Ben Jones, Bradley O'Donovan and John Pluckrose.
Unbeaten Goresbrook are sitting third with games in hand and strengthened their position with a big win away at Abridge Village on Sunday. Leon Adeyemi got the Abridge goal but his efforts were in vain as Liam Coney netted a hat-trick, adding to a Charlie Morris brace to win it 5-1.
Moving up to fourth place, Hornchurch Oakmont are still keeping in touch with the top sides but they had to overcome a tough battle with a visit to Wanstead Albion over the weekend. Michael Jay and Harry Prince both scored for Albion but Oak strikes from George Terry, Mitchell Collett and Joseph Hyatt saw them over the line in a 3-2 win.
Frenford are also on the move and moved off the bottom for the first time in a few weeks as they took all three points from a close game against eighth placed Roose in Hainault. In a seven-goal thriller, Kyran Chiedozie scored twice with James Rowlatt and Daniel Francis completing the scoring to win it 4-3, securing just a second league win of the campaign.
The remaining game in the third tier came from Mayesbrook Park where Barking were up against Thames Ironworks Community in a crucial game at the bottom end of Division Two. Barking came through quite comfortably in the end with Daryn Copsey, Ben King, Aaron King and Joe Blewitt scoring the goals in a 4-0 victory, closing the gap on sides above them.
DIVISION THREE
In Division Three, Chigwell United have moved level on points with the promotion places, coming through a tough encounter with Alpha to earn maximum points. Kai Brown scored twice for Alpha but his efforts proved not quite enough as Chigwell picked up a 3-2 win, their sixth league win of the season.
Lonsdale had a good weekend and moved to the dizzy heights of fifth place in the table as they earned themselves a 5-0 win against struggling Newham Athletic. Kalium Fletcher and Ervis Elezi scored twice each with Michael Desmond scoring the other to help side to take home the points.
DIVISION FOUR
There was little between the sides in the two Division Four clashes where Ping City Phoenixes made the journey to Hainault to face Romford Athletic Dons. The sides settled for a share of the spoils with a 1-1 draw the outcome, Scott Buckland netting the goal for Dons to move them up a place in the table to ninth.
The other game came from Dagenham where seventh placed Titans United were the hosts to take on fifth placed Asianos Reserves, just three points separating the teams in the standings prior to kick off. That difference remained by full time with neither side able to overcome the other, the teams netting one each in a 1-1 draw.
DIVISION FIVE
Epping Forest Falcons have moved up to fourth place in Division Five following a 1-0 away win on Sunday as they travelled to Keith Park Rangers in Newbury Park. Jamie King scored what proved to be the only goal of a close game, enabling Falcons to record their sixth win of the season so far.
It was a big morning for Thames Ironworks Community Reserves who pulled off a terrific win, overcoming previously fourth placed Singh Sabha Barking in a 2-0 win at Wanstead Flats. That win helped Thames close the gap on the sides above them to three points, moving them well clear of the bottom of the table.
At the other end of the standings, Cobra were on the road as they faced up to the league leaders, Total Football, in Woodford. In a game of four goals, the two sides couldn't be separated with a 2-2 draw the outcome. Jamie Morris and Aaron White scored for Cobra, overcoming Total efforts from Jevan Rana and Nile Painter.
ESSEX SUNDAY PREMIER CUP
It was a big morning for two of our clubs in the county cup competitions with Elda returning home from their trip to Basildon with a quarter final place under their belts, beating Stanford Town in a close game, 1-0. That result sees them book a place in the last eight against Global next month.
The other game came from Aveley where SL Menfica were up against Global with both sides showing some good form going into the game. Previous competition winners, Global, came through as comfortable winners, securing a 6-2 victory to set up an intriguing last eight tie in the coming weeks.
Other News Articles