Posted
WEEK 17 REVIEW: Round-up of Sunday's opening action of 2019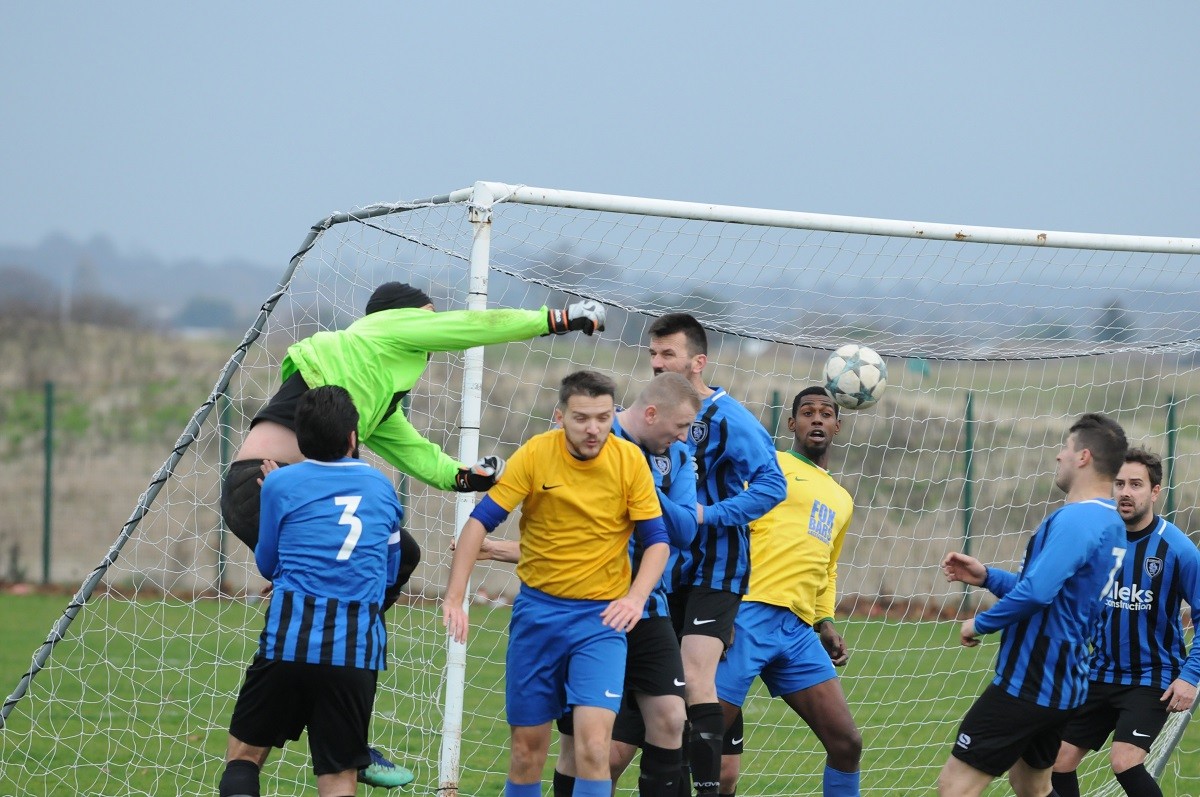 For our latest news and updates, please enter your email address
TROPHYLAND CUP
After a fortnight of festivities, it was back to action for a number of sides with the day's Trophyland Cup action seeing Lonsdale and Royal Albert fighting it out for a place in the quarter finals of the competition. The first half saw Lonsdale lead through Arjan Gjergji's strike and they could have been further ahead but for missed chances. Albert rode out the storm and missed a penalty to level it up before eventually doing so late on. They then took the game in the extra thirty minutes to run out 3-1 winners after extra time.
PREMIER DIVISION
Goals were the order of the day in the top flight with twenty nine efforts finding the back of the net in the four fixtures played. Repton Park were the highest scoring side on the day as the new league leaders won their battle against Brook Athletic 7-3 to go top. Jesse Spearing scored four with George Johnson's brace and a Ross Fraser goal confirming the win. Kyle Thompson scored twice and Brandon Martin once in reply for Athletic.
Second placed Romford Elite missed the chance to stay ahead of the rest as they were involved in an epic contest against Ultimate Vision in the most local of derby matches against their pitch sharers. Joshua Thompson scored two for Elite with Ben Bickford and Chris Bird notching the others but a Ryan Chapman hat-trick plus a Joseph Morris goal were enough to level this thriller at 4-4 to share the points.
Remaining very much in the mix for the honours are El Valiente who also had a very local derby, winning "away" at co-tenants Flanders to move into the top three. Ricky Field scored twice on his debut with Kane Malone and Aaron Marston also finding the back of the net to render Kweku Gyasi's effort for the hosts as just a consolation in a 4-1 scoreline.
Completing the day's top flight action, there were six goals shared in the game in Barkingside where FC Mexico made the trip along the A12 to take on Warren United. Stalwart James Peagram scored twice for his side and Sean Green once but a Rhys Tyrrell double and a Joe Ewenson effort levelled up the contest at 3-3 as the sides departed with a point apiece.
DIVISION ONE
In Division One, SL Menfica are the leaders once again as they took advantage of Chingford Athletic's lack of activity to move above them by a point, aided by a huge 2-0 victory away at third placed Ridgeway Rovers. The all-important goals came from the boots of Kristopher Brown and Jake Muller who helped their side to a ninth league win.
Moving up to fourth place in the table, St Augustines were 2-0 winners themselves on Sunday in their own local derby at home against Korona Redbridge. They had Thomas Neale to thank for the victory as his two goal haul carried his side to the win that sees them continue their challenge in the top half of the table.
There was an important morning's work for Wanstead Albion who continued the fight and spirit shown in the backend of 2018 as they recorded a second league win of the season, beating Valentine United 3-1 at the Flats. Josh Russell scored the United goal but Albion strikes from Calum Bailey, William Hession and Joshua Flynn earned their team the points.
DIVISION TWO
Dagenham United lead the way in Division Two on goal difference after they recorded their eighth league win in nine league games to stay just ahead of Barking. That was assisted but a massively important win as they beat third placed FC Kulture Klub 3-1 in Walthamstow. Connor Kain, Garry Shea and Sean Thomas were the difference as their goals counteracted a Fabio Nunes effort for Klub to take the points.
Barking stay well in the chase however with their latest win, a victory against London Fire Brigade seeing them just behind by a single goal albeit from one game more than the leaders. Abu Garba got the all-important only goal of the game to settle this one 1-0 against an improving Brigade side who had shown some good form before the festive period.
And as mornings go, Walthamstow Avenue have certainly experienced worst days as they kicked off 2019 with a victory to give them much hope for the remainder of the campaign. They were 4-0 victors against a struggling Goresbrook outfit as Jordan Brown scored a hat-trick and Jack Peters the other in a confidence boosting win.
DIVISION THREE
Central Colts remain the leaders of Division Three entering the new year and extended that lead at the summit to seven points with a hard fought victory at home against Dagenham rivals, Roneo Colts. The sides were separated by just a single goal with Colts of the Central variety the beneficiaries of that effort to earn a 1-0 victory.
Hoping to start the new year in a positive fashion, Alpha arrested a pre-Christmas slump in form as they also picked up a narrow win from their trip to Walthamstow to take on E4 Rangers. Tim Dye and Ben Hodgson were both on target for Rangers but Dominic Crichlon scored twice and Kai Brown once to win it 3-2.
The theme of closely fought contests extended to two further matches where Dagenham United Reserves secured a hugely important win away at Hornchurch Oakmont. The relegation threatened side edged a five-goal thriller 3-2 with Jay Simmons and Tom Mason on the scoresheet to move just a point away from safety.
And completing the division's action, seventh faced eighth in the league as West Essex looked to continue their good form of the second quarter of the season, hosting Masterman. Connor Brathwaite scored two for West who had to come from behind but Masterman had other ideas as Lewis Foster netted two and Robert Lyons and Daniel Cutts both got on the scoresheet to win it 4-3 late on.
DIVISION FOUR
With both of the top two sides out of action on the opening weekend of 2019, that presented a chance for third placed Grey Area to close up the gap on the leaders and they did just that. They didn't get things all their own way however as opponents Thames Ironworks Community Reserves netted twice through Jeffrey Nketia. But Grey goals from Joe Humm, Moyo Oba and Connor Frost were the difference in the end in a 3-2 scoreline.
Also making ground on the promotion places, fourth placed East Ham Inter moved to within five points of the top two sides as they battled to a closely fought 1-0 win away at Custom House Community in Plaistow. The only goal of the game came from Adam Bessadi, securing Inter a sixth win of the campaign in the process.
Monkhams stayed sixth in the standings as they picked up a comfortable victory on Sunday at home to fifth placed Asianos Reserves in Loughton. Cameron Perryer and Valerio Phipps scored the goals that scooped their side a fifth league win and gave them a great start to the new year.
Recent form for Oak Royals has seen them shoot out of the bottom two and they extended their unbeaten record with another big win, this time seeing off the efforts of Alliance United in Newbury Park. Ryan Mitchell was the side's hero with a hat-trick with Daniel Gotobed and Daniel Lister helping themselves to goals too in a 5-1. Harry Smith got the Alliance goal in reply.
Completing the weekend's football action, Epping Forest Falcons and AC Milano Reserves were both back in action and keen to begin 2019 with some positive results to kickstart their campaigns once again. A tight game saw the sides finish level on the day at 1-1 with Ryan Lawless netting the Falcons effort, helping his side to a share of the spoils.
Other News Articles