Posted
WEEK 18 REVIEW: Round-up of all the league and cup action from the weekend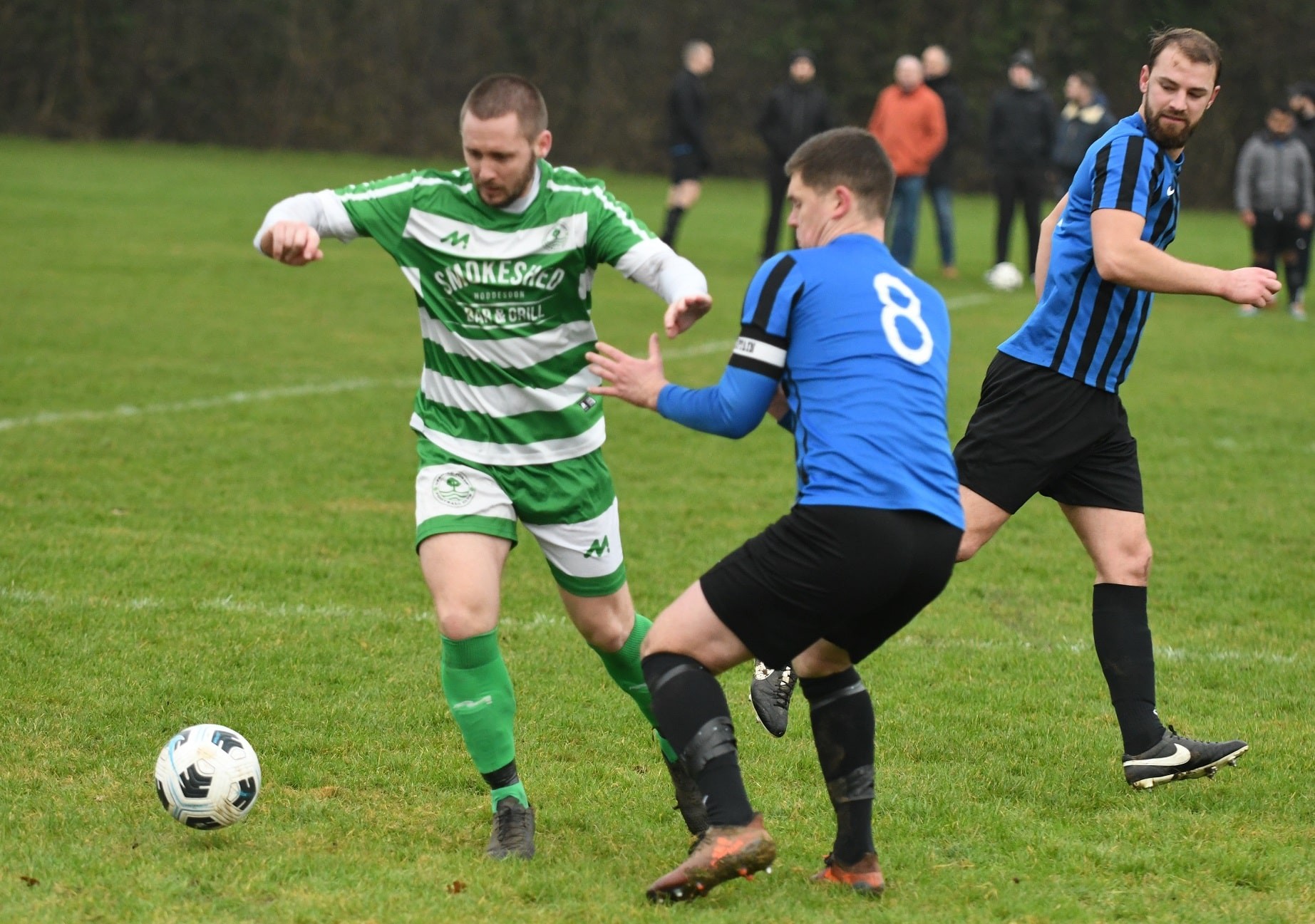 For our latest news and updates, please enter your email address
SENIOR DIVISION
London Mavericks earned themselves a hugely important win in their quest to avoid the dreaded drop this season as they returned home with all three points from their trip to Hainault to face United Dian. Mavericks edged the game 2-1 to earn just a second league victory but crucially moving themselves to within three points of safety.
PREMIER DIVISION
There was a terrific game in the second tier where league leaders Brook Athletic got themselves into a strong lead only for Flyhouse Athletic to fight back. But it was Brook who eventually edged this seven goal thriller as Tom Canham's brace plus singles from Tyrell Holder and Brandon Martin won it 4-3 for the visitors.
Roose are up to second in the table in a very hotly contest chase for the promotion spots as they fought hard to earn maximum points from their trip to Dagenham to take on Barking Riverside at Castle Green. Roose were 2-0 winners on the day to secure a fifth league victory and keeping the Hainault side well in contention.
Another Hainault team in with a strong shout of a promotion push are Belfry who followed up their county cup exploits last weekend with a big win in the league this time, coming away with all three points in a 4-1 home victory against East Stars. Reece Hewitt netted a double with Charlie Fautley and Lewis Warren goals completing the scoresheet.
DIVISION ONE
Abridge Village have closed the gap to third place to just four points following the weekend's results after they took maximum points from their home fixture against AC Milano. Leon Adeyemi was the man who made the difference, scoring both of the Abridge goals on the day with Mohamed Kidia striking in reply for AC in a 2-1 scoreline.
There was a huge result for the FC Mexico A side who moved off the bottom and indeed into a place of safety for the time being after they took maximum points against sixth placed Chingford Athletic. Tariq El-Hafidi scored twice for the Mexicans with Sam Bowles netting the other to earn their side a crucial 3-1 victory.
DIVISION TWO
In Division One, Roneo Colts stay top of the pile by a point as they overcame a tough test in the form of Royal Lions A at Robert Clark, edging a close game by the odd goal in a 2-1 win. A goal apiece from James Smith and Dwayne Francis-Riley proved just enough on the day as Colts kept themselves in the hunt with an eighth league win of the season.
Chasing just behind, and with games in hand, St Augustines remain the bookies favorites for the title for the time being after an entertaining eight goal contest against East London Harriers in Chingford. Charlie Cole scored twice and Frankie Worboyes once for the Harriers but two Saints goals from Callum Daniels and one each from Jack Dalby, James Edelman and Aaron Francis saw their side win it 5-3.
Asianos are up to sixth placed in the table as they scooped a fifth league win of the season on Sunday with an impressive away win against fourth placed Thames Ironworks Community at Flanders. A goal apiece from Adnan Haji, Matthew Hamilton and Naeem Monsur were the difference in the end to take a 3-1 victory and continue their outside quest for honours.
Sitting just behind Asianos, seventh placed Total Football added a fourth victory to their record this season, taking all three points from their trip to Barkingside where they faced second bottom Korona Redbridge. Just a single goal was enough to separate the teams with Mahnu Bhabutta's goal for Total enough to hand them a 1-0 win.
In the day's crucial battle between two of bottom three sides, it was Frenford who will have ended the day the happier as they put daylight between themselves and opponents, FC Mexico B, having secured a 2-0 home win at The Drive. Daniel Francis and Adam Andrade were the scorers on the day to pick up the hosts' third win of the campaign.
DIVISION THREE
With other sides involved in cup action over the weekend, Dagenham Town took advantage to move within three points of top place as they earned a 3-1 win away at Imperial Row over at Belhus Park. James Hutton was on target with the Imperial goal but this proved just consolation as Dagenham ran in a seventh league win of the season.
The day's other contest saw a shock result as sixth placed Inside Success took all three points off title challengers Alpha in a local east London derby fixture. Success combined with their opponents to produce an eleven goal contest, coming through to win 7-4, this being their fifth win from twelve so far this campaign.
DIVISION FOUR
The league leaders in Division Four, Singh Sabha Barking, ensured they stayed top for another week as they returned home from Walthamstow with all three points, defeating hosts and third placed Ainslie in a 3-1 scoreline. Jason Ajoodha, Karam Lalli and Rajan Sangha all netted for the visitors to take them to a ninth league win.
Ultimate Vision Reserves moved themselves into the top five of the table after a great result against second placed United Amateurs as the sides met over at Old Dagenham Park. Luke Howell got himself on the United scoresheet but it wasn't quite enough as Vision edged the contest in a 2-1 scoreline to keep them well in the frame for a promotion push.
Also at Old Dagenham, there was a seven goal thriller in the game between hosts Titans United and their visitors, Chingford Athletic Reserves, who could only be separated by a single goal by full-time. A valiant performance from Titans saw them get close to a side fifteen points better off but in the end it was Chingford who took the points to stay fourth in the table.
There were six goals in another high scoring contest in Hainault where Romford Athletic Dons were taking on seventh placed Raphael Park Rovers. The teams couldn't be separated on the day with the game ending 3-3. Scott Buckland's hat-trick for Dons kept them well in the game with Cieran Fox, Jake Li and Charlie Moore strikes levelling it for Rovers as the teams shared the points.
A similar outcome was achieved in the game between eighth and ninth placed Ace Athletics and Lonsdale who met in Hainault seeking to move clear of any relegation dangers. They began the game a point apart and finished it that way as a 1-1 draw was produced. Kalium Fletcher scored the Lonsdale effort with Jay Simmons on the Ace scoresheet.
DIVISION FIVE
Colebrook Royals Vets have moved eleven points clear of the chasing pack in Division Five following the weekend's results as they took maximum points against second placed Belfry Reserves to put them well in the driving seat. Omar Mahmood and Thomas Sellers were the men on target ahead of a critical league game against another rival this weekend.
Custom House Community are up into third place in the table, taking advantage of sides around them being in cup action to move up on the back of a hard fought 4-3 victory against Athletico City in Beckton. Two goals from Jamie Wooster set them on their with was Robert Wooster and Shawn Pires also netting. John Hubbard, Sunny Kambo and Heman Gopeenauth struck the City consolation goals in reply.
The biggest winners of the day in the division were Byron Red Star who put in a terrific performance to defeat United Borough 7-1 at Hylands Park, moving into fifth place as a result of that outcome. Ryan O'Connell scored twice adding to efforts from Alfie King, James Thorne, Adrian John, Bradwell John and Richard Oduwole in an impressive showing.
Dagenham Rangers will have been pleased with their efforts also as they faced bottom of the table Young Royals in their game at Barking Park, the hosts taking away the points in a crucial 4-1 win. James Scotcher scored twice with Ronnie Bryan and David Macauley also striking to ensure the points went the way of their team.
It was sixth versus eighth in the division's final game which saw Royal Lions B on the road with a trip to Eastern Avenue where the sides met at the Flats. Lions started the game with an eight point deficit on their opponents but that was cut to five by full time as the visitors secured a strong 4-2 win to cut the gap on the sides above.
DIVISION SIX
Game of the day in Division Six saw the top two sides in the division meet with Valence United Reserves facing a trip to league leaders Mansfield Rangers. The sides started with a four point gap between them but Rangers edged a close game 2-1 to move seven points ahead of the rest as Billy Happe and Claudius Edwards goals countering a Keenan Mitchell strike for Valence.
Royal Lions C have moved to within five points of second place with a game in hand following their sixth league win of the season. They entertained a struggling Epping Forest Falcons side at Hainault Rec knowing a win was vital to continue their charge for a promotion place. Lions were 3-0 winners however in a strong showing to add to their points tally.
Ping City Phoenixes moved themselves away from the sides below them in the middle of the table after a strong away performance at Epping Royals which saw them confirm a 4-2 win. Eren Yurtseven scored twice and Esat Yurtseven once for Ping to set them on their way, Ezra Waterman scoring the other to complete the scoresheet.
The final league game of the day was a battle between seventh placed London Legacy and eighth placed Ivory United who went head-to-head in Newbury Park. The sides began the game with the same number of points and almost identical goal differences. It was perhaps therefore not too surprising that the teams finished level on the day with a rare 0-0 draw the outcome.
NATIONAL CUP
In the outside competitions, the big game of the day came from Mayesbrook Park where a crowd in excess of 2,000 turned up to witness a second round clash in the FA Sunday Cup between hosts Baiteze Squad and their visitors SE Dons. A sparkling first half performance saw Baiteze lead 3-0 at the break before a Dons fight back got them close. A 3-2 win was the outcome however for Baiteze who booked a place in the last sixteen.
COUNTY CUP
There were some crucial county cup ties for our sides with some great outcomes once again. Oceana put in the performance of the day as they returned home from their trip down to Stambridge with an Essex Sunday Junior Cup quarter final place confirmed as they defeated Corinthians Reserves 5-0, securing a quarter final against fellow Corinthian side, Theydon Green.
In the Essex Sunday Junior Trophy, four further sides were on the road with Valence United coming from behind to win their tie against Ramsden Scotia late on, netting themselves a 2-1 win to make the draw for the last eight of the competition where they now face Parsonage Leys Reserves.
Joining Valence in the last eight will be Higham Hill who were part of a terrific game at Pitsea Athletic. Despite doing a man down early on, they battled to a 3-3 draw at full-time which saw the game go to a shootout which was won 5-4 by Hill as they booked a trip to South Woodham Ferrers next month.
Over in Chelmsford, Upshire Forest made the journey to face Eagle & Hind of the Chelmsford Sunday League and went behind in first half stoppage time. But a second half fight back saw them level in terrific fashion and were unfortunate not to nick it late on, eventually losing 3-2 in the shootout.
The day's final game saw Colebrook Royals Reserves epic run in the competition come to a halt, the eighth tier side were perhaps the lowest ranked side to ever reach this stage of the competition but saw opponents, Brays Athletic Reserves, in sparkling form a they won 9-0 to send Royals out.