Posted
WEEK 19 REVIEW: Round-up of Sunday's league and cup action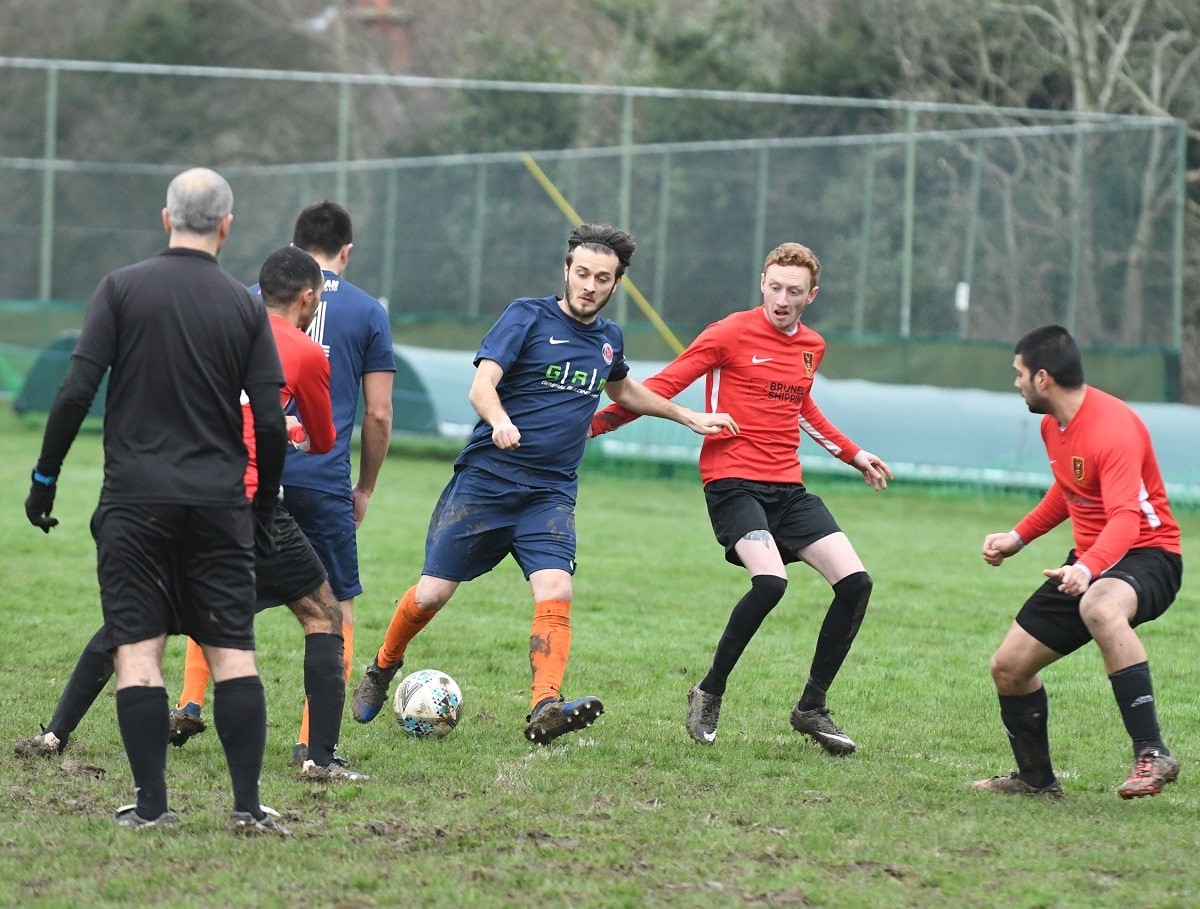 For our latest news and updates, please enter your email address
CORINTHIAN CUP
There was a thrilling match in the Corinthian Cup on Sunday as two of the elite sides, Asianos and SL Menfica, met in Walthamstow for a place in the quarter finals. Asianos came from behind to edge a seven-goal thriller 4-3 with Yaaseen Patel, Lewis Jones, Masum Hussain and goalkeeper Addis Hussain all on the scoresheet!
DIVISION FIVE CUP
In the Division Five Cup, Singh Sabha Barking had a tough looking trip to Walthamstow as they headed to title chasing Ridgeway Rovers Under 21s Reserves. Kulmir Bhakar got on the scoresheet for Barking but his efforts proved not quite enough as Regan Marshall scored twice and one each from Tommy Hill, Guilherme Ramalho, Sehraan Hussain and Jahed Akhtar secured a 6-1 Rovers win.
PREMIER DIVISION
The lead at the top of the Premier Division remains at just a single point as Flanders retained their slender advantage with an excellent away win on Sunday, overcoming the reigning champions, Repton Park, in a 3-0 scoreline. Shomari Barnwell's efforts in front of goal brought him a brace with Emmanuel Ossai netting the other.
Positioned just behind the leaders, El Valiente will give strong chase once again this year to haul in the leaders and they done their chances no harm with a solid 5-0 win at Ultimate Vision in Chadwell Heath. Billy HIckford scored a hat-trick for his side with Aaron Marston scoring twice also to hand their side the victory.
And you can't discount the side sitting in third, Elda, who are just a single point further back. They racked up a sixth league win in nine this season on Sunday with a win away at Barking & Dagenham Wanderers. Tommie Turner scored twice for the county cup quarter finalists with Steven Starkey grabbing the other.
DIVISION ONE
In Division One, there is no change at the top of the table as both of the top two sides recorded victories. KLIK face a trip to Barkingside to take on Korona Redbridge but came home with maximum points from their trip as Sean Thomas scored twice and Jay Hazlewood netted the other in a 3-0 win.
At The Grange, there was a five goal thriller as St Augustines made the short trip to Chigwell to face title chasing Colebrook Royals. Thomas Neale and Sam Prendergast goals had given the Saints a sniff at an upset but Royals rallied to comeback and win the game 3-2 which saw them keep up the pressure on the leaders.
Brook Athletic's decent run of form continued as they cemented their place in the top half of the table for another week at least, earning a big 7-1 victory away at Oceana in Hainault. Samir Lee and Lorenzo Ramsey were both at the double scoring twice, adding to strikes from Daniel Brewster, Mitchell Collymore and Lee Lashley.
DIVISION TWO
The big game of the day in Division Two came from Castle Green where league leaders, Central Colts, were up against one of their biggest rivals for the title in Walthamstow Avenue. But Colts will have been the happier of the sides at full-time as Ricky Rix, Kevin Ituko, Tayo Joseph, Kielechi Imachukwu and Tunde Olagunju all netted in a massive 5-0 win.
Moving up to third in the table are Hornchurch Oakmont who continued another decent season with a seventh league win as they overcame the efforts of Frenford in a competitive fixture. Tay Chambers scored for Frenford but Thomas Gibson netted one of the replies for Oak who edged the encounter 2-1 on the day.
The middle of the table couldn't be much closer with Wanstead Albion taking advantage of other results around them to make a climb to fifth place on Sunday as they returned home with all three points from their clash with FC Mexico B. Harry Prince led the way with a brace as Calum Bailey and Bradley Laudat goals confirmed a 4-1 win.
Chingford Athletic Reserves were also on the move, coming off the back of a poor run of form to take all three points from their home fixture against Thames Ironworks Community in Waltham Abbey. Michael Hay and Scott Watkins both netted for Chingford as they picked up a 2-1 victory to reignite their season.
It was a big morning for Barking also who steered themselves further clear of any potential relegation issues with an important victory at Abridge Village. Aaron King was on target for both of the Barking goals as they recorded a 2-1 win, their fifth league win of the campaign which also saw them move up a place to ninth.
DIVISION THREE
There were goals galore in Division Three with twenty-five of them in just three fixtures. The highest scoring game came from Dagenham where Roneo Colts entertained East Ham Inter at Robert Clack with the sides combining for an eleven-goal encounter. Charlie Dann scored a hat-trick, Tommy Harber and Danny Marshall scored twice with Teddy Payne's goal wrapping it up 8-3, overcoming two Sofyan Khalfi goals and a Kulbir Singh strike.
Not far behind the entertainment there, Chigwell United and E4 Rangers reached double figures two with the sides combining for a ten-goal thriller. Ryan Mallet scored twice for Rangers with Ryan Radley and Remi Awosamya efforts accounting for their goals but United scored five of their own as the sides settled for a share of the spoils in a 5-5 draw.
Moving up to fourth in the table, Alpha made their move up the table in a game of just the four goals as they took on close rivals, Newham Athletic. Kai Brown is in a hot streak of form and he scored twice for the hosts with Dominic Crichlow and Stefan Kilron netting the others in a 4-0 victory.
DIVISION FOUR
There were some big results in Division Four over the weekend where second placed Bretons Manor slipped back slightly in the title race with just a second defeat of the season as Titans United secured a important 1-0 win at Old Dagenham Park. Ricky Phillips scored the all-important sole goal of the game to hand his United side a fifth league win of the season.
Roneo Colts Reserves however, missed the chance to really put that result to good use as they were held to a hard fought draw away at Romford Athletic Dons. Scott Buckland scored for the hosts but Jeffrey Nketia got on the scoresheet for Colts to draw 1-1 and take a point from the contest, moving clear at the top by a point.
The biggest winners in the division on Sunday were Ridgeway Rovers Under 21s who came out on top of the big Walthamstow derby at home against Ping City Phoenixes. Gus Lawrence and Cane Sullivan both netted braces, supplementing further strikes from Harley Hillman, Joseph Sambridge and Sonny White in a 7-1 victory.
And it was also a good morning for Upshire Forest Reserves who overcame the disappointment of defeat for their first team the previous day by taking all three points form their trip to Wanstead to face Asianos Reserves. George Oake was the hero with a hat-trick with debutant, Stanley Massaro netting the other in a 4-2 win.
DIVISION FIVE
Total Football have moved six points clear in the race for the Division Five title helped in no small way by a comprehensive 9-0 win on Sunday away at Thames Ironworks Community Reserves. Nile Painter and Sachin Bawa were both hat-trick heroes with Chay Westall, Jevan Rana and Carl Parsons goals completing the win.
Moving up to second place were Cobra who took full advantage of sides around them not being in action to record a big 8-1 win from their trip to Keith Park Rangers. Henry Sleight scored a hat-trick, Nail Kadri and Aaron White bagged braces and Alfie Dove got the other to render Corey Buffham's strike as just consolation.
Eastern Avenue continue to look northwards in the league table and cemented a place in the top four for another week at least with a comfortable win away at East Tilbury Town in Dagenham. Eoin Coughlan's form continued with another goal with Thomas Harford and Elvin Koonjul scoring the others in a 3-1 victory.
Completing the day's action, there was an eight-goal contest over in Beckton where Custom House Community were the hosts to an Epping Forest Falcons outfit who started six points clear of their opponents. Kalbir Singh, Richard Noakes and Jamie Lewis all scored for Falcons but the hosts scored five of their own to run out eventual 5-3 victors.
ESSEX SUNDAY JUNIOR TROPHY
It was a massive day for two of our clubs in the Essex Sunday Junior Trophy where Theydon and West Essex met in an all-Corinthian quarter-final. In difficult conditions, Theydon led twice but saw West Essex eventually run out 8-2 winners, booking a place in the semi-final against Boca Jogabonitos in a couple of weeks time.
WEST ESSEX SUNDAY CHARITY TROPHY
Last but not least, Goresbrook continued their excellent season that will end at some stage in the summer hopefully given their pile-up, adding a West Essex Sunday Charity Trophy win to their recent successes, overcoming Hainault Athletic in a 4-1 win. They now head on to face Barking Riverside in the next round.
Other News Articles