Posted
WEEK 2 REVIEW: Round-up of Sunday's football action in the Corinthian League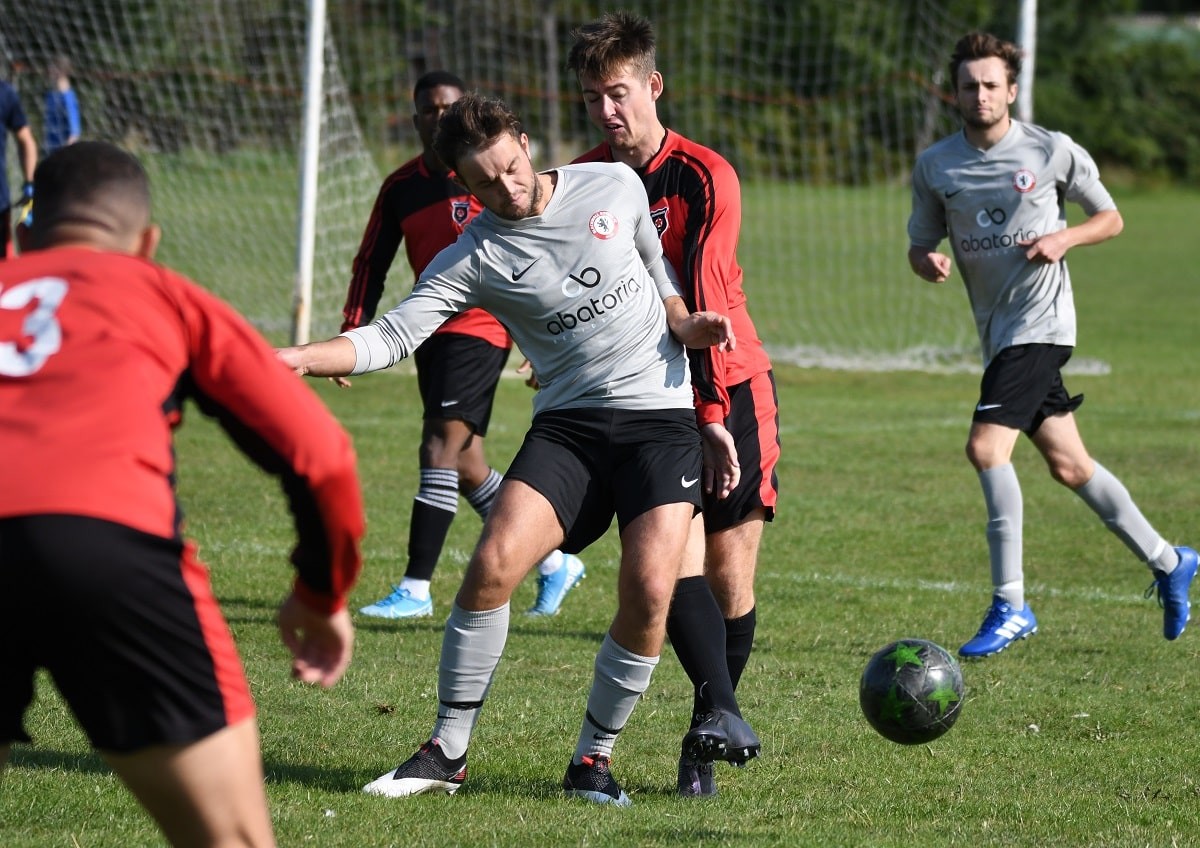 For our latest news and updates, please enter your email address
SENIOR DIVISION
League new boys, Baiteze Squad, remain top of the table after two weeks of the season but were held to a draw on Sunday as they came up against Hatch Lane in Walthamstow. Reside Coxi-Sebastiao got on the scoresheet for Baiteze but Hatch also netted through Jermaine Francios to take a share of the spoils in a 1-1 draw.
The mysteriously named Secret made their league debut this Sunday, taking on another of our debutants this season with East Way Athletic the first visitors to Newbury Park. Braces from Aaron Blair and Tom Harvey, plus an Eden Nelson goal, made it a 6-1 winning start for the hosts.
The day's other top flight game came from Rainham where newly promoted KLIK were making their bow in the top division and gave a real game to one of last season's title chasers, Flanders. The game ended 2-2 in the end with the sides sharing the goals and the points to open their respective points accounts.
PREMIER DIVISION
After two games of the season, Brook Athletic lead the way at the top of the Premier Division as they made it two wins from two with a big 8-2 win over Ultimate Vision. With Vision's defence having held out to a scoreless draw last week, Brook's attack were well on top in this game as they moved to the top of the pile.
Not far behind the leaders on goal difference are Barking Riverside who have also made a terrific start following promotion to this level and followed up their opening day win with a 6-2 victory against Barking & Dagenham Wanderers, courtesy of goals from Bukele Mukudi (2), Leithan Brimah, Oussama Bennani, Ansalem, Obi and Stephen Osho. Reece Povey and Godfrey Kambaza scored the Wanderers goals in reply.
DIVISION ONE
The new leaders in Division One are AC Milano who took advantage of the previous leaders slipping up to move top, following a 4-0 home win over Oceana at West Ham Park. The league new boys will be pleased with their efforts as they recorded this opening victory through braces from Lukman Hasan and Mohamed Kidia.
Valentine United are third in the standings following a big 4-1 opening league win of the season after they beat Abridge Village, a side who had made a real statement in week one themselves. Jake Fenton, Jay Dale, Lloyd John and Tyrone Scarlett all scored for United to render Aaron Gurney's goal as just a consolation in the end.
Also making a winning start to the new campaign, Barking got underway in a positive fashion, defeating Hornchurch Oakmont in an eight-goal thriller. Tom Gibson was in the goals for Oak with a brace, George Terry scoring the other. Their efforts proved insufficient as Justin Lopes (2), Michael O'Brien, Kastriot Vata and Joe Blewitt all netted for Barking in a 5-3 scoreline.
DIVISION TWO
It's two from two in Division Two for the returning Royal Albert who have made a positive start to the campaign, this time seeing off Chigwell United in a 5-1 win away in Waltham Abbey. Owen McKelvey struck for United but Bradley Smith, Sam Turpin, Eric Gaspar, Shane Wallace and Tony Shaw goals completed the victory for the visitors.
Also making a good start this year are Thames Ironworks Community who despite having to come from behind in their opening games, have two wins from two as they returned from FC Mexico A with all three points in a 2-1 scoreline. Sam Chinegwundoh and Kyle Oxley were the scorers for Thames to take the points home with them.
Theydon exacted some revenge on Sunday as they put last season's county cup quarter final defeat to West Essex behind them to take the points in this year's league fixture. The Theydon Bois based outfit were 4-1 victors on the day to go fourth in the table after their first completed fixture of the season.
DIVISION THREE
Roneo Colts have had a good start to the season, following up their opening day win with a 4-2 victory in week two as they beat Alpha in Dagenham. Bryan Paredes and Dwayne Francis-Riley both netted twice for Colts to secure the victory that sees them move clear at the top.
In fourth place, Blackwall Rovers started their season in a winning fashion as they edged past a very decent Monkhams side to record a 2-1 victory up in Loughton. Danny Bird and Tony Mowles both scored for the "Tunnels" with a powerful late free-kick from the hosts proving just a consolation.
Over in Barkingside, FC Mexico B got over their opening day reverse to make it victory in week two as they beat one of the winners last week, Jaffna. A couple of familiar names were on the scoresheet for the Mexicans with Sam Bowles and Charlie Dann goals accounting for their tally in a 2-0 scoreline.
DIVISION FOUR
Total Football are top of the standings in Division Four as they made it a win and a draw from their opening two games, beating Titans United 6-1 in Dagenham. A goal apiece from each of Mahnu Bhabutta, Jonathan Bluff, Rowan Nijjar, Carl Parsons, Aaron Dadzie and Fahed Gani were sufficient to take their side to a big win.
Trailing just behind on goal difference are Upshire Forest who also have four points from two games following a hard fought home victory on Sunday over Romford Athletic Dons. Luke Robinson and Ross Vasquez-Hyde scored the goals for the hosts as the Waltham Abbey-based side earned a 2-1 win on the day.
Theydon Green opened their league account with a victory as the debutants won 4-1 on Sunday in their first game in Loughton against Leytonstone Athletic. George Burton scored for Athletic but tow Ben Harris strikes plus goals from Max Jessop and Joseph Cloake handed Green the points.
The remaining game in this division came from Waltham Abbey where Chingford Athletic Reserves came through a really tight game at home against Eastern Avenue to take the points in a 1-0 win. Jamie McMeakin scored the only goal of the game which proved to be enough to take victory.
DIVISION FIVE
The leaders in Division Five after two weeks of the season are Custom House Community who made a solid start to the season with a 3-0 home win over Barkingside-based debutants Fairlop Rovers. Edward Sabeng scored twice and Thiago Silva once as the visitors earned a win.
Just behind them on goal difference are Dagenham Rangers who bounced back well from their opening day reverse to take all three points against debutants, Colebrook Royals Vets, at The Grange. Aldair Doci scored twice with Luke Slater, Ronnie Bryan and Honest Agbonifo also netting for Rangers to win 5-1.
There was a great opening victory of the season for Ping City Phoenixes who got started with a 4-2 away win at week one victors, Stow Rovers. Justin Scott and Bamir Ceka scored for Rovers but two goals each from Reece Ricekts and Ezra Waterman done the damage for Ping to hand their side maximum points.
Sitting fourth in the standings after one game of the season are Singh Sabha Barking who made a solid start at home to Tekkers Vets on Sunday in Newbury Park. Taranjit Birring scored both of the Barking goals as they won 2-0 on the day to get their new campaign started in a positive fashion.
Completing the action from this division, there was a six-goal thriller in Dagenham as Valence United were visited by Royal Lions in the latter's first game in the league. Rowan Newland certainly had his Weetabix on Sunday, scoring all three of the Valence goals but his efforts were balanced out by two Lions goals from Darren Smith-Wellington and a Nika Koridze goal, the game ending level at 3-3.
DIVISION SIX
In Division Six, the division is led by East Tilbury Town who made it four points from six so far, following up their opening day draw with a high-scoring victory at home against Mansfield Rangers in Dagenham. Jack Cousins and Jake Magson scored the Rangers goals but Walid Awadh, Danny Crandle, Peter Kent, Roberto Rosero and Charlie Rusbridge goals for Town gave them a 5-2 win.
There was a great debut in open age football for Barking Reserves who made the transition from youth football to great effect on Sunday, beating Byron Red Star 4-0 over in Hornchurch. Alfie Bellotti scored twice with D'jean Holland and Rexh Dushanova also finding the back of the net to start their season in style.
And another team who will have been very pleased with their opening efforts in adult football are Epping Royals as they started their maiden campaign in the league with a 3-1 win over Thames Ironworks Community Reserves at Stonards Hill. Andrew Smith, Joseph Bothwell and Fraser McCarthy grabbed the goals to set them on the way to victory.
DIVISION ONE CUP
It was semi-final day in last season's Division One Cup competition as last year's finalists, St Augustines, went in search of another final appearance against Korona Redbridge in Barkingside. And Saints' will have been pleased with their morning's efforts as they won 2-0 to see their side to consecutive cup finals in a few weeks time.
Other News Articles