Posted
WEEK 22 REVIEW: Round-up of Sunday's league and cup action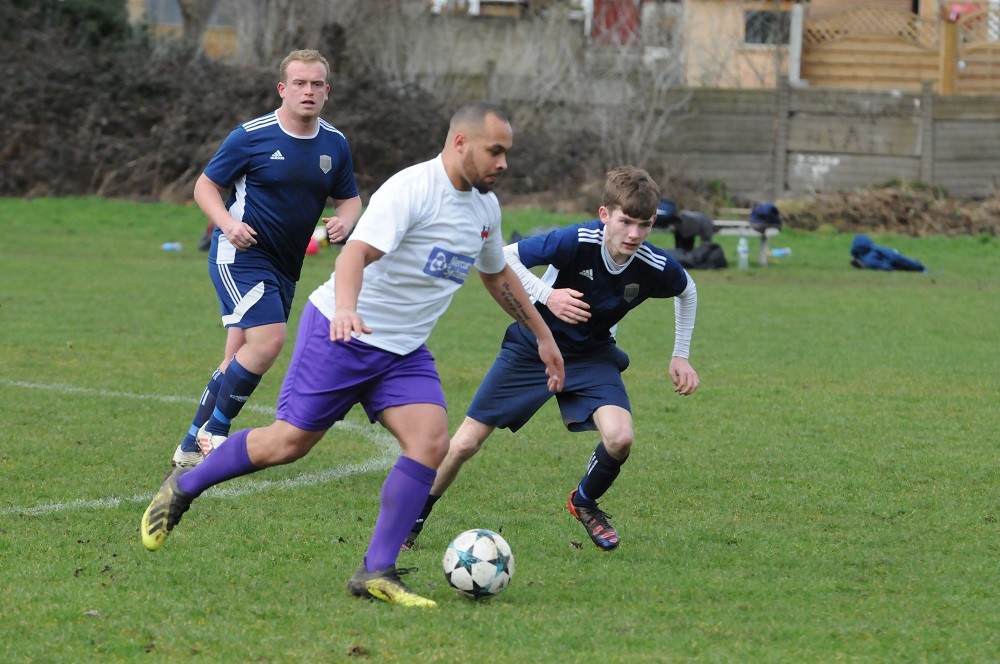 For our latest news and updates, please enter your email address
PREMIER DIVISION CUP
The semi final draw for this season's Premier Division Cup competition is now complete following Sunday's surviving football action. Finalists in the competition last season, Flanders are one game away from a return to the final as they tackled a tough trip Warren United. United goals from Jamie Lynes, James Peagram and Daniel Bell proved not quite enough in an entertaining game as Flanders won through in a 6-2 scoreline.
The day's other action in this competition came down in Newbury Park where a local derby saw co-tenants Barking & Dagenham Wanderers and Brook Athletic go head-to-head with a place in the semi finals at stake. The Thompsons pairing of Byron and Kyle for Brook were on target with a goal each, cancelling out an Andre Gumbs strike for Wanderers to each Brook a 2-1 win on the day.
DIVISION ONE CUP
In the Division One Cup, a Barkingside derby on Sunday saw Valiant looking to maintain their last hope of some silverware this season as they hosted an in-form St Augustines side. Frankie Worboyes grabbed a goal for Valiant but Saints responded strongly with a James Pararajan hat-trick, two strikes from Save Brown and efforts from Vasile Batranu and Sam Prendergast to settle the tie is stunning fashion, winning 7-1.
DIVISION TWO CUP
The roller-coaster of a season for Royal Albert sees no end as they remain amazingly poised for a shot at five different competitions this season. Albert's latest quest saw them hosting FC Kulture Klub down in Beckton but a goal apiece from Justin Parkinson, Justin Smith and Shane Wallace were more than enough to see their Albert side over the line in a 3-0 win and a place in the semi finals.
DIVISION THREE CUP
In the day's sole Division Three Cup tie, Hornchurch Oakmont's excellent season in cup competitions sees no end as they booked themselves another semi final. The county cup semi finalists ran out 4-1 winners against Alpha, Billy Oliver netting the consolation goal for Alpha to end their participation in this season's competition.
DIVISION FOUR CUP
Then into the Division Four Cup, the league leaders, Newham Athletic, secured themselves a place in the semi finals of the competition as they ran out emphatic winners over Alliance United in Beckton. A home double from James Field plus efforts from Leon Anderson, Lee Archer, Omosola Omotayo, Kane Greene and Chris Jennings were enough to see Newham through to a 7-0 win and a place in the last four.
Joining them at that stage of the competition will be East Ham Inter who made a tough trip to east London to take on AC Milano Reserves at West Ham Park on Sunday. In a tightly contested match, defences were on top as neither side could break the deadlock in 120 minutes of football through normal and extra time. In the resultant shootout, Inter held their nerve to win 5-4 and take their place in the semi finals.
PREMIER DIVISION
There was just the one game in the top flight due to the weather but what a game it was as the sides placed second and third met in East Ham, both looking to maintain a degree of pressure on the league leaders. El Valiente will have come away as the happier of the two sides as they earned themselves a 2-1 win through goals from Kane Malone and Ryan Stowel with Charlie Desmond netting the consolation effort for Elite. That scoreline moves El Valiente into second place, trailing Repton Park by five points with four matches to go.
DIVISION ONE
At the top of the Division One table, SL Menfica remain top of the pile and seemingly on course for a place in the top flight next term as they battled past Valentine United for all three points on Sunday. Jimmy McCann got the United goal but a Kris Brown brace and a Jack Barraclough effort keeps SL Menfica ahead on goal difference with games in hand.
DIVISION TWO
In Division Two, Dagenham United are on course for a very successful season as they opened up a six point lead at the top of the table, overcoming a very difficult test in the shape of an in-form Ferns Senior side. Daggers goals from Sean Thomas, Isacka Mncube, Thomas Carter and Joshua Perry confirmed a comfortable looking 4-0 win for their side in the title race.
Second placed Barking saw their title credentials take a blow as they took on a revitalised Walthamstow Avenue outfit at Mayesbrook Park. Avenue goals from Zachery Leitch, David Mercer, Bradley O'Donovan and Michael Bundock were too much for the hosts as the visitors were 4-0 victors, moving up two places to eighth and out of the relegation zone for the first time in a while.
DIVISION THREE
Division Three league leaders, Central Colts, have moved themselves onto the brink of another league title as they romped to an emphatic 8-1 win in Newbury Park on Sunday against Masterman. Masterman's keeper had a blinder in the opening half an hour to keep the match scoreless but Tunde Olagunju eventually broke through to score a hat-trick, along with a Shannon Nyabunze brace and singles from Kevin Ituko, Jake Nelson and Donavan Reynolds. Colts will wrap up the title next Sunday at home to Hornchurch Oakmont should they win that game.
On a day of plenty of goals, you would have got plenty of value for your entrance money at Castle Green where Dagenham United Reserves and West Essex combined for an eleven goal contest, settled by the odd goal. Jay Simmons scored a hat-trick for the Daggers and Tommothy Clutterbuck scored two but Connor Brathwaite got a West hat-trick in reply to add to Harry Rease, Kameron Lord and George Fairhead goals in an exhilarating 6-5 victory.
DIVISION FOUR
In Division Four, Custom House Community have pulled themselves clear of the sides beneath them in the standings as they took on Epping Forest Falcons who had started the match level on points with the east London side. Custom House took the contest with a 2-0 victory that sees them maintain a stranglehold on ninth place in the standings.
And finally, over in Newbury Park, Oak Royals continued their impressive revival through the middle section of the season as they twice came from behind to level against promotion chasing Woodford. Charlie Saywood and Jay Henderson gave Woodford a lead but Mitchell Drewe and Ryan Mitchell responded each time for Oak to level the contest at 2-2 with both sides missing chances to win it late on as they had to settle for a share of the spoils.
Other News Articles