Posted
WEEK 24 REVIEW: Round-up of Sunday's league and cup football action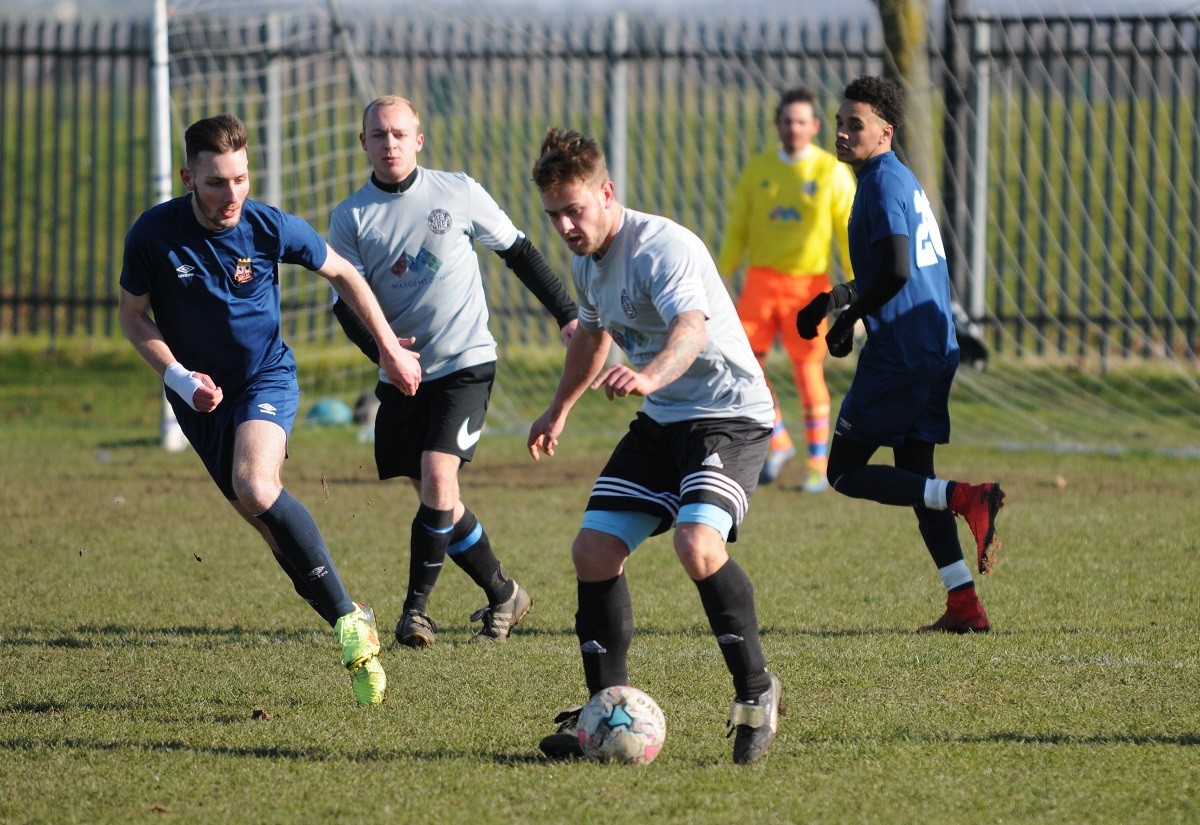 For our latest news and updates, please enter your email address
PREMIER DIVISION CUP
In the Premier Division Cup, we are reaching the business end of the competition now with Flanders remaining in pole position at present, unbeaten from their three matches so far. This was aided by a 1-1 draw at home against Romford Elite on Sunday where a Chris Bird goal wasn't quite enough as Flander levelled.
DIVISION TWO CUP
It was quarter-final day in the Division Two Cup where six sides continued their quest for cup glory on the Road to Thurrock. Flyhouse Athletic and Upshire were involved in a nine-goal thriller as Jay Dale and Josh Davis both netted twice and Tyler Rothon once but Upshire clawed their way back with four goals, not quite enough to deny Flyhouse a place in the last four.
There was also a second consecutive clash between Barca and Chingford Athletic, this time in the cup competition, as the former looked to bounce back from last week's defeat. In a much tighter match this time around, it took a brace from Michael Mignot to separate the side with Chingford going through 2-0.
The final quarter-final of the day in this competition saw two well match sides go head to head as Westferry Elite were visited by London Fire Brigade at Wanstead Flats. After ninety minutes, the sides were level at 1-1 before an Elite extra-time winner booked them second semi final. Jon Aldridge was on target with the Brigade's goal but Daniel Stevenson and Luke With both netted for Elite to send them through.
DIVISION THREE CUP
As entertaining matches go, there was another in the Division Three Cup quarter-finals where struggling Asianos Reserves made Dagenham United Reserves really sweat for their victory, taking the title chasing side all the way to extra-time. United eventually prevailed from the tie as Gary Adams scored a hat-trick and a Ricardo Teixeira strike completing the scoring in a 4-3 victory.
DIVISION FOUR CUP
There were two quarter-finals taking place in the Division Four Cup on Sunday with the performance of the day going to Oak Royals as they took on Epping Forest Falcons with a semi-final place at stake. With Falcons having already booked a Spring Cup semi final place, they were looking for the double but hadn't accounted for a two goal performance by Bill Gregory for Royals and goals from Connor Connelly and Ryan Mitchell to send Oak Royals through, winning 4-0.
In the day's other quarter-final, Custom House Community Reserves were hoping to avoid a second quarter-final exit as they were visited in Beckton by Highams Park Royals. In a closely competed fixture which culminated in three goals, it was the Royals who, like their namesakes in the other fixture, made it a Royal day to remember as they edged the match by the odd goal with Alfie Bradley and Macauley White striking in a 2-1 victory.
PREMIER DIVISION
In the Premier Division, there was one fixture as Liberty Stars faced Warren United for the second time in three weeks after their recent cup exploits. On this occasion, Warren United were able to confirm a nervy victory as they beat the Stars 2-1 courtesy of goals from Daniel Bell and James Peagram, keeping their side third in the table and still within striking distance of the top two sides currently.
DIVISION ONE
In Division One, there was a big match in Barkingside where title chasing Leyton Celtic were up against a Valentines United side who had run them close in the two previous clashes and would have been keen to make it third time lucky. Ophel Idris and Charlie Saywood both found the back of the net but five goals in response from United gave them a hugely important 5-2 win as the title chase took another turn.
The day's other match in this division saw Barking & Dagenham Wanderers come up against Park Tavern once again seeking to avenge defeat in their previous encounter as they met in Newbury Park. Dharwinder Matoo got on the Tavern scoresheet but home side braces from Nick Read and Liam Roney plus a O'Neill McDowall effort completed a 5-1 win.
DIVISION TWO
In Division Two, the shock result of the day came in Barkingside where promotion seeking St Augustines came unstuck against previously tenth placed Lonsdale who bounced back supremely from their cup exit last time out. Goals from Emanoyel Ntoi and Kalium Fletcher proved the difference between the sides as Lonsdale ran out 2-0 victors to increase their chances of beating the drop with seven matches remaining.
The division's other league action also centred around sides involved at both the top and bottom ends of the table as another of division's promotion chasing sides, Wanstead United, came up against Dagenham United who need to start picking up points urgently. United won this one comfortably as two goals from Jason Branche and Adam Hunt accompanied Bradley Drisdale's effort onto the scoresheet as they won 5-0 to regain their position at the top of the table.
DIVISION THREE
In Division Three, the biggest result of the day accolade goes to Roneo Colts who made it seven wins for the season and a climb up to fourth place in the table with a scinterlating 10-0 victory away at Alliance United on Sunday. Jamie Hart scored four of them, Kai Heather grabbed a hat-trick and efforts from Billy Flaherty, Michael Chapman and Shay Kelly completed the win.
One of the day's other match in Division Three saw a five goal thriller in Dagenham where a local derby pitted Morfdown Elect up against Goresbrook with the latter looking to close the gap on the sides at the top end of the table. With Elect leading through efforts from Ryan Livesey and Adam Davis, the visitors responded and edged this 3-2 with goals from Samuel Berry, Charlie Barrett and Robert Park to maintain their charge.
Ridgeway Rovers took full advantage of FC United of Hornchurch being out of action to regain their place at the top of the standings as they scored the only goal of the game in their home clash against Alpha. Aided by their ever efficient defensive unit, Jordon Charles' goal was enough to win this one 1-0 with four matches still to go.
DIVISION FOUR
It's taken until the end of February for it to happen but somebody has finally beaten Central Colts to end their long unbeaten league record. The side to pull off the feat were Emerson Park Under 21s, themselves one of the sides who Colts had put to the sword in previous matches. But Ronnie Hobbrough, so often the man to deliver the goods for Park, scored the only goal of the game to win it 1-0 for Emerson Park and make the end of the season very interesting.
After picking up a their first victory of the season only a fortnight ago, Newham Athletic must still be wearing their lucky underwear from that clash as they travelled to Bata United on Sunday and doubled their points tally for the season in an emphatic 9-0 win. That victory moves them up above their opponents on goal difference with both seeking to avoid the wooden spoon at the end of the season.
In the day's remaining match, Thames Ironworks Community were looking to bounce back from their recent defeat at the hands of Newham Athletic as they travelled to Chadwell Heath to take on a mid-table Grey Area outfit. Thames took the lead with an Aaron Lee header from a set-piece before Moyo Oba netted from close range to level the match at 1-1 with no further goal action.
Other News Articles