Posted
WEEK 26 REVIEW: Round-up of Sunday's league and cup football action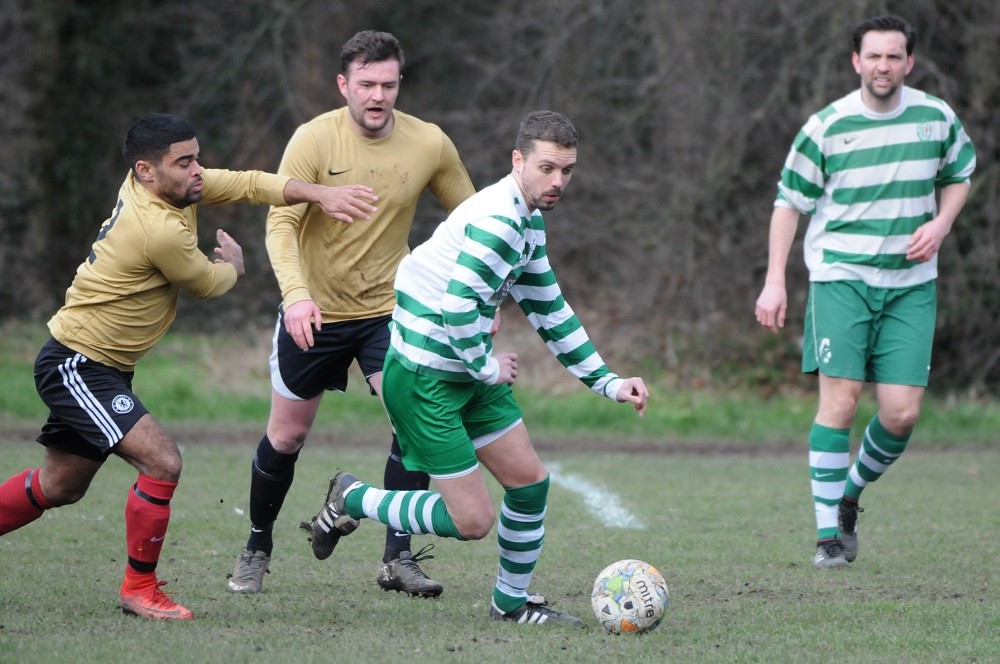 For our latest news and updates, please enter your email address
TROPHYLAND CUP
The first half of this season's Trophyland Cup final line-up was confirmed on Sunday as Westferry Elite were visited by St Augustines in their rearranged semi final at Wanstead Flats. In a tightly contested game, Westferry scored early on and led 1-0 until just after the break. Jack Dalby then equalised for the Saints who also missed a penalty to win it in normal time. Elite weathered the storm to strike in extra time, sealing a 2-1 win and a place in the final on 8th April.
SPRING CUP
In another of the day's rearranged cup ties following last week's snow issues, quarter-final action saw Central Colts travelled to Chadwell Heath to face a Grey Area side who were eager to get something out of the season. The league leaders weren't in the mood for a cup shock as two goals apiece from Bradley Williams and Curtis Taylor plus efforts from Ben Hodgson and Tunde Olagunju completed a 6-1 rout, rendering Josh Malone's goal as just consolation.
PREMIER DIVISION CUP
In the Premier Division Cup, Romford Elite have moved to the top of the group with just two games left to play as they moved to a 4-0 win against Emerson Park. Joshua Thompson was the hero, netting a hat-trick for his side along with a Chris Bird effort in a comfortable victory. One more victory will likely be enough to secure a home semi-final for Elite.
Moving up to third in the standings are Repton Park who made it two wins from four games played so far in the competition in recording a 4-2 victory at home to Flanders on Sunday. Jayden Ambrose scored twice with Ross Fraser and Jesse Spearing efforts completing the win for the hosts. Frankie Sinclair and Sydney Ekiyo got on the scoresheet with the Flanders goals.
DIVISION ONE CUP
In the Division One Cup, it was semi-final day for two of the clubs in the competition as two of the league's new clubs this season, East London Old Boys and Ultimate Vision, came face to face once more with a place at Thurrock at stake for the winner. Timothy Conroy got himself on the scoresheet for Vision but two goals from Thomas Quinn proved decisive to send his side to the cup final!
DIVISION THREE CUP
The cup semi-final entertainment continued into the Division Three Cup where one of the title chasing sides in the league, FC United of Hornchurch, were up against Morfdown Elite in the day's semi-final. An Adam Davis goal for Elect looked to be sending his side through but three goals in the second half for FC United from Shane Cassidy (2) and Shaun Allen saw the team through to a third successive cup final in consecutive seasons, albeit looking for a different outcome on this occasion!
DIVISION ONE
In Division One, Leyton Celtic are fourth in the standings following an emphatic win at the weekend as they travelled to Barkingside to face a Korona Redbridge side. Konrad Mroczka got himself on the scoresheet for the hosts but four strikes from Zachery Leitch and further goals from Liam Nicklin, Charlie Saywood, Amir Pajic and Ophel Idris were enough to earn an 8-1 win on the day.
The day's other league action in this division also took place in Barkingside as Valentines United played host to Barking & Dagenham Wanderers with the visitors starting the day five points behind their opponents. That lead was cut to just two points as Ashton Lord's double strike saw Wanderers edge a nervy 2-1 win to move fifth in the standings.
DIVISION TWO
In Division Two, Lonsdale have given themselves the best chance of survival in the division as they took four points out of six against Barca on Sunday in a double header. The sides drew 2-2 in one of the encounters with Scott O'Connor and Dylon Bradford netting to level up Lonsdale strikes from Kalium Fletcher and Klodian Gjings.
In the other match between the two sides, it was a seven goal thriller of a match as Kalium Fletcher scored twice, adding to goals from Arjan Gjergji and Klodion Gjings to render efforts from Billy Barr, Ryan Phipps and Louie Webster as just consolation for Barca in a 4-3 defeat.
Goals were certainly not at a premium in the division's other match which saw Flyhouse Athletic play host to Dagenham United in Hainault, seeking to make up ground on the sides above them. Timmothy Clutterbuck scored twice as he regularly does for United with Joseph Williams also scoring but, ultimately, seeing Flyhouse net ten goals of their own in a 10-3 victory.
DIVISION THREE
Down in Division Three, the most important result of the day saw the top two sides meet with Dagenham United Reserves taking on Ridgeway Rovers in a hugely important fixture. In a tight game of few goals, it took just a single moment to separate the sides as Sean Thomas scored the only goal of the game in a 1-0 victory. Rovers remain top but can be caught by sides below them should they cash in on games in hand.
Making their move up the table to fourth are Goresbrook who, with plenty of games in hand could yet prove a threat in the promotion hunt. Their latest fixture saw a short trip to Dagenham to take on Roneo Colts, coming away with a 5-1 win courtesy of a Charlie Barrett hat-trick and a Martin Tuohy double.
And in the day's remaining football action from this division, Hornchurch Oakmont came face-to-face with Alpha down in Chadwell Heath with just a point separating the sides prior to kick-off. In a well contested match, Alpha edged the proceedings with Ashley Godwin and George Burton on target to cancel out Ross Woolward's effort in a 2-1 victory.
DIVISION FOUR
In Division Four, there were wins for three of the top four sides in the division as the promotion race continues to take shape with just a handful of games remaining. Thames Ironworks Community bounced back from a shock defeat recently to Newham Athletic to put them to the sword second time around, winning 7-0. Kurt Smith scored a hat-trick with Benjamin Jeffrey, Billy Scott, Theo Towli and Ben Glander also netting in the win.
There was also seven goals in both of the other matches, the first of which saw Highams Park Royals complete their penultimate match of the season, earning a 5-2 win on Sunday against Custom House Community Reserves. Ryan Radley scored twice with Ashley Mills, Mitchell-Christopher Edmonds and Macauley White also netting.
And completing the day's league football action was a belter of a match in Newbury Park where Oak Royals were the hosts to East Ham Inter. Bill Gregory, Ryan Mitchell and Matthew Martin each netted for the Royals but visitor braces from Sofyan Khalfi and Sabir Yusuf were enough to edge this one in a 4-3 victory for Inter.
COUNTY CUP
Rounding off the weekend's football action was of course the tremendous feats of Upshire in the Essex Sunday Junior Trophy. The Waltham Abbey based side took on Clacton-based Vikings and, despite going a man down early on, managed to earn themselves a place at the showpiece county cup final by winning 2-1 on the day.
We look forward to sharing the big occasion with the lads at Upshire and wish them the very best of luck for the final on Friday 6th April at Aveley FC.
Other News Articles