Posted
WEEK 4 REVIEW: Round-up of all the league and county cup action from the weekend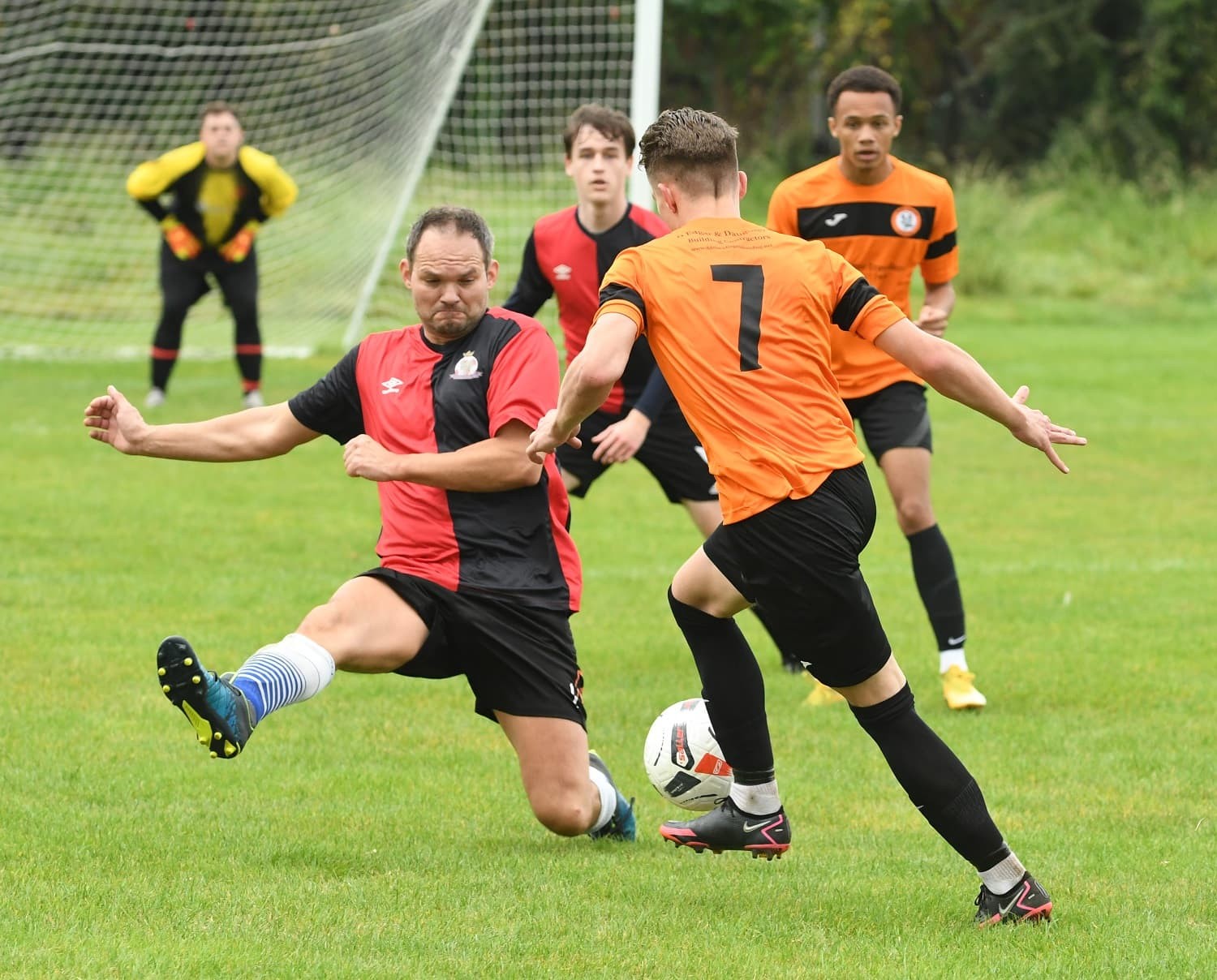 For our latest news and updates, please enter your email address
SENIOR DIVISION
Three teams share the lead of the top division after the first four weeks of the season as Hatch Lane moved level on goal difference with the leaders on Sunday, taking maximum points from their clash at home against FC Ballr. Lucio Vare was in inspired form, netting a hat-trick, while Ayrton Andrews scored the other to win 4-2.
Also moving up onto six points, El Valiente have now picked up two wins this season and they put in a 4-2 winning performance themselves as they hosted London Mavericks at Flanders Playing Fields. A goal apiece from Nathan Wilson, Sam Edwards, Paul Barry and Kane Malone did the damage to see the hosts to the win they wanted.
In the other game in the division, East Way Athletic's first home game of the new campaign saw the visit of Baiteze Squad to the County Ground in Leyton. There wasn't much between the sides in the end with the teams having to settle for a share of the spoils in a 2-2 draw, the sides staying fifth and fourth respectively.
PREMIER DIVISION
The early season leaders in the Premier Division are Barking & Dagenham Wanderers who continued their ascent to top spot on Sunday with a terrific win on the road away at Flyhouse Athletic. A goal apiece from Alexander Leslie, Nick Read and Godfrey Kambaza proved to be enough to see Wanderers return home with a 3-1 victory under their belts.
Just a point behind the leaders, Belfry are on to six points following a second win in two as they took home the points with a 2-1 home victory against Avintul as the sides met over in Hainault on Sunday. Tom Harvey scored twice for the hosts with Dumitras Olari netting the goal in consolation for the opponents who drop to fourth following this result.
DIVISION ONE
Theydon Green hold top spot in Division One after Green picked up a third win in four this season, taking home the points from Aveley as they took on Ultimate Vision. Theydon were 3-1 winners on the day to see them move a point clear of their closest rivals.
Just a point behind are Oceana who have made a perfect start this season on the back of three wins in three, a record they were able to extend on Sunday away at Chingford Athletic. Harry Rouse netted for Chingford but Oceana goals from Lewis Belcher, Jesse Jones and Tom Parsons were enough to help their side to a 3-1 scoreline.
Abridge Village have made an unbeaten start to the new season but did see their perfect start ended on Sunday as Emerson Park held them to a draw over in Harold Hill. Aaron Gurney and Leon Adeyemi both struck for Abridge but Park were able to match those efforts as the two teams settled for a point each in a 2-2 draw.
Moving into the top half of the table, Barking have moved their points tally onto six points as they had a good morning's work at Wanstead Flats, returning victorious against Snaresbrook. Justin Lopes scored twice with Liam Greaves and Devine Osuji striking also to render 'Brook goals from Kevine Kinzonzi and Harry Prince as just consolations in a 4-2 win.
It was also an important morning for FC Mexico A who went into their game against unbeaten FC Galaxy without a point but turned the tables on their head to pick up a first win, securing a 3-1 home win in Hainault. Luchian Grigore was on the scoresheet for Galaxy but his efforts were not quite enough as the Mexicans took the win they wanted.
DIVISION TWO
Eastbrook United are three points clear at the summit of Division Two after their picked up an important point on the road on Sunday with a trip to one of their closest rivals, Roneo Colts. Kane White struck for Colts but Matthew Morris also found the back of the net as the two teams finished level at 1-1 and took a point apiece.
Moving third, Royal Lions A have leapfrogged a couple of teams as they ended St Augustines perfect start on Sunday, the Lions completing a 4-1 win in Highams Park. Ed Shepherd-Bowman struck for the Saints but visitor goals from Kasbon Tokenge (2), Randy Adele and Darren Smith-Wellington proved enough to take the win.
There was a first competitive win for East London Harriers as they made a successful journey to Barkingside, taking maximum points in a 3-0 win against Korona Redbridge. Strikes from Brandon Clarke, Charlie Cole and Frankie Worboyes were the difference between the sides as Harriers completed the win.
DIVISION THREE
Two teams share the lead in Division Three with Debden Sports Reserves top on goal difference presently following a local derby draw at home against Monkhams on Sunday. George Bird, Jamie Rones and Charlie Harper goals ensured they took home a point at least with the teams finishing level at 3-3.
The other team sharing the lead are Dagenham Town who made have a near identical record to the leaders but trail by goal difference following their own draw at the weekend as they were held to a 2-2 draw away at Inside Success. Jason Banin and Quam Deen were both on target for the hosts to share the spoils.
Alpha sit third in the table after two wins in three this season so far and followed up last weekend's success with a solid performance beating Upshire Forest 5-1 at the Flats. Braces from Troy Jules and Tafari Miller, along with a Stefan Kilron goal proved enough with Tom Lawn scoring the Forest goal in consolation.
And sitting just behind are Leytonstone Athletic who also have two wins from three so far and kept their early season momentum going with a 2-0 away win against Imperial Row in Aveley. Harry Burton's brace was the difference between the two sides with those efforts seeing Athletic over the line to three points.
DIVISION FOUR
It's another close competition in Division Four where Ainslie hold a slender lead at the top after four weeks, securing a hard fought 1-0 win on Sunday as they were visited by Chingford Athletic Reserves at Wadham Lodge. Jay Digance scored the all important and only goal of a close game to maintain his sides unbeaten start.
Sitting a point behind the leaders, Ultimate Vision Reserves have also made a solid start and picked up a third win of their own over the weekend as they took home the points from a close game against Blackwall Rovers. This one was settled by just a solitary goal too with Vision the beneficiaries of that moment in the game to win 1-0.
United Amateurs are now just one of two unbeaten sides in the division and they kept that record going on Sunday with a solid 6-1 away win at Titans United in Dagenham. Hamed Hamed scored for Titans but his efforts were not quite enough as two Billy Biggs goals plus strikes from Tommy Barron, Tom Chawner, Ben Howard and Deividas Sertvietis earned the points for United.
Ace Athletics also put in a solid morning's work and moved themselves into the top half of the table as they edged a seven goal thriller against Raphael Park Rovers, 4-3. Charlie Moore scored a hat-trick for Rovers but those efforts were overcome by Ace goals from Joshua Craske, Craig Cagehin, Alex Mason and Zachary Hayles-Lee.
Securing a first ever win, Hillside had a day to remember for their club as they earned a first three point haul against Lonsdale, leapfrogging their opponents in the process. Buttrint Lecaj was on fire with four goals for 'Side, Mason Deegan and Anthony Jugason scoring the others in a 6-1 scoreline at Old Parkonians.
DIVISION FIVE
Two teams share top spot in Division Five with Valence United's goal difference keeping them clear at the top, aided by a solid performance on Sunday as they beat Athletico City 3-0 in Newbury Park. Burt Cardy, Jordan Cook and Rowan Newland all grabbed goals for the visitors to move onto three wins for the campaign.
The lead is shared with Belfry Reserves who bounced back well from defeat last time out pick up all three points against United Borough in a hard fought 1-0 scoreline. Alex Robinson scored that all important goal in the game which separated the sides and moved Belfry second, trailing just on goal difference.
Custom House Community's recent form hasn't gone unnoticed and despite a poor start, they have regrouped and now sit on the cusp of the top half following win number two on Sunday, beating Royal Lions B 2-0 in Beckton. Jack Field and Isaac Boateng both found the back of the net to move to six points and apply pressure to the sides above.
Two sides picked up opening wins of the campaign over the weekend with the first of those, Ultimate Vision A, moving into eighth place after they completed a comprehensive 5-1 win away at Young Royals in Barkingside.
And it was also an important morning for promoted Byron Red Star who secured a win against previous unbeaten Eastern Avenue, Byron returning home with all three points from the Flats as they won 4-2 to move off the bottom of the table and up to tenth, joining no less than five teams on three points.
DIVISION SIX
It's been a great start for the league leaders in Division Six where Mansfield Rangers top the tables after month one as they made it three wins from three with victory at home against Colebrook Royals Reserves. Billy Happe scored twice for Rangers with Jay Kanber and John Lakes netting in a 4-2 win, Jamie Meakin scoring the Royals consolation.
There were some high scoring draws in the division also where Royal Lions C and Ivory United were involved in a classic, sharing ten goals in an entertaining 5-5 draw. Casey Fletcher scored twice for Ivory with Conor McNamara, Oliver Pears and Matthew Driscoll also netting. But Lions braces from Shetu Paul and Brandon Fulton, plus a Temi Ajayi strike made sure that the two teams took a point each.
Third placed Ping City Phoenixes were also held to a score draw as they took on Valence United Reserves at Low Hall Farm on Sunday. Once again, the two teams had to share the points as they finished 3-3 with Jack Flood, Esat Yurtseven and Ezra Waterman striking for Ping and Keiva King, Jo Megege and Mohammed Djalo responding for Valence.
There was an Epping derby, in name at least, in the final league game of the day where Epping Royals were the hosts to Epping Forest Falcons as both sides sought an opening victory of the season. The Royals will have left the happier of the two teams as Daniel Booker and Joseph Bothwell braces laid the foundations for Calvin Bell and Charlie Ward efforts to complete a 6-3 win.
COUNTY CUP
It was a good morning for sides in the Essex Sunday Junior Trophy where Goresbrook took their place in the second round on Sunday with a closely fought victory against Brentwood League side Havering Invicta, winning 3-2. They now take on Epping Forest Falcons in the next round.
There was also an entertaining game between Singh Sabha Barking and Romford Athletic Dons as the two Corinthian sides clashed in Newbury Park. The game finished level at 3-3 after ninety minutes with Barking eventually taking the spoils 4-3 with an extra time winner.
There were three further wins for our clubs in the London Sunday Trophy where AC Milano were comprehensive 4-0 winners in their clash away at Circle Athletic to make their move into the second round.
Also scoring four goals were Asianos who bounced back well from some indifferent league form as they made the trip to south London based Athletic Dildao and booked their place in the next round on the back of a 4-1 victory.
Roose's debut in the London competitions was successful one as they travelled south of the river also to take on Crayford Arrows in the opening round action. A five goal thriller was edged by the Premier Division outfit to move on into round two.
The only reverse for a Corinthian club came in Newbury Park as Brook Athletic were up against an unbeaten Kopa League based Pantel side. And it was the visitors to progressed on into the next round as they won 3-0 to end Brook's run in the competition.