Posted
WEEK 4 REVIEW: Round-up of Sunday's league and county cup football action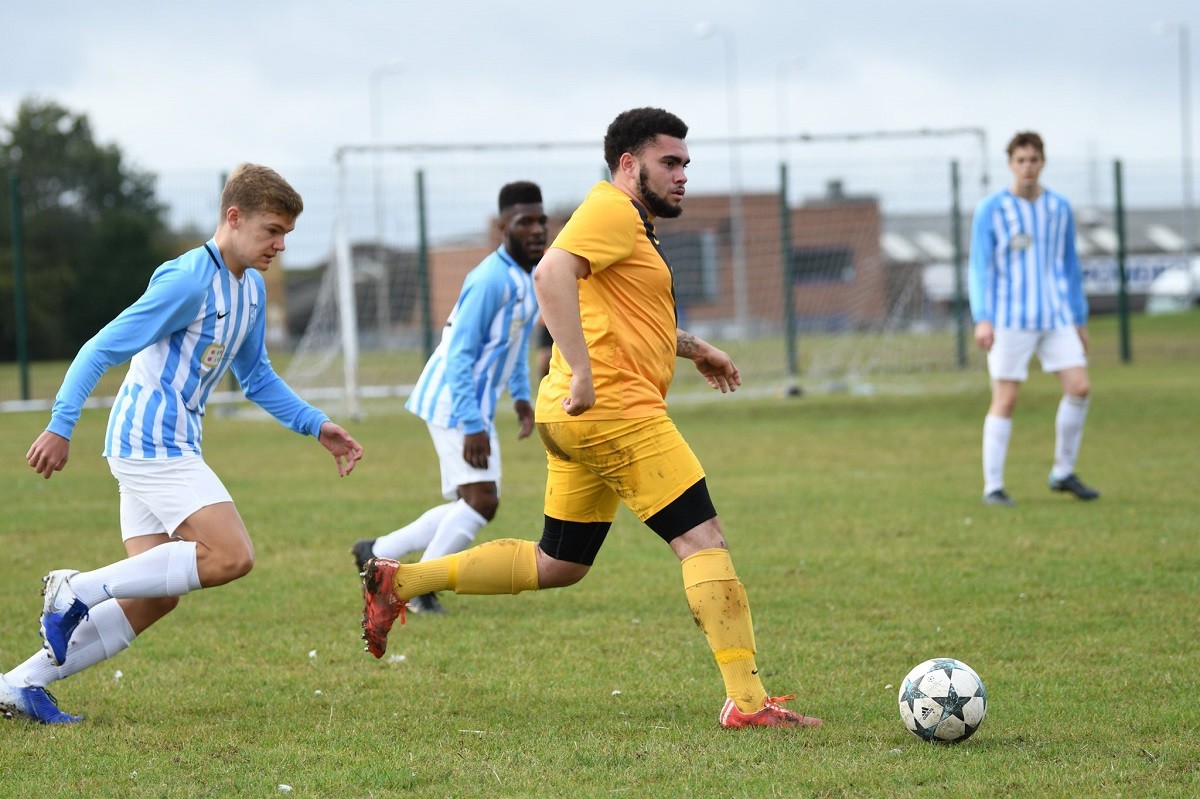 For our latest news and updates, please enter your email address
PREMIER DIVISION
The gap at the top of the Premier Division has closed to three points as league leaders, Repton Park, slipped to a first defeat of the campaign on Sunday with Asianos scooping their first win of the season. Yaaseen Patel netted twice for the league new boys with Zubair Haleem and Troy Hewitt goals completing a 4-2 win to earn the points.
There was also a good win for Flanders who opened their campaign for the new season with a victory at home against Elda in East Ham. Calvin Poku netted a brace for the visitors but Shamari Barnwell scored twice in reply for Flanders with Nasser Ishanzaden and Derrick Osei goals completing another 4-2 win on the day.
Second placed Ultimate Vision remain in that position but fell to a reverse on the road at Warren United who earned a 4-0 win, their own first victory of the season. Dan Bell continued his goal scoring form with a double with Harry Agombar and Sean Green netting too to earn the points.
Perhaps saving the best for last, there was a seven-goal thriller in Aveley where El Valiente were on the road away at SL Menfica. Shaun Goddard and Tyrell Phillips both got on the scoresheet for the hosts but El Valiente braces from Ricky Field and Aaron Marston saw them run out winners by the odd goal in a 4-3 scoreline, their first league win of the campaign.
DIVISION ONE
The league leaders in Division One are Chingford Athletic who remain a point clear of the chasing clubs following their victory over St Augustines at the weekend following a short trip to Highams Park. Pep Schiorlin and Jamie Lyndon scored for the visitors, overcoming a Kyran Allen strike from the Saints to return home with the points in a 2-1 victory.
In the day's other action in this division, Colebrook Royals remain just a point off the pace with three wins from three as they faced up to the challenge of FC Mexico A on Sunday morning at the Grange. Dean Hendrickson-Garrett got on the scoresheet for the Mexicans but Royals netted twice to win 2-1 and earn another three point haul to add to their collection.
DIVISION TWO
Central Colts remain top of the standings in Division Two but they had to graft for their result on Sunday as they faced up to Wanstead Albion at Castle Green. Mitchell Collymore and Lewis Williams netted for Albion but Gabriel Ogunwomoju's double in reply and a Ricky Rix effort secured a 3-2 win.
The other clash in the third tier saw second placed Chingford Athletic Reserves take on Thames Ironworks Community. Prior to kick off there were four points separating the sides but that was slashed to just one as Thames overcame goals from Michael Hay and Sam Gleeson for the visitors to win 3-2, moving third in the table as a result.
DIVISION THREE
Moving to the top of the table are E4 Rangers who made it three wins and a draw from their first four fixtures. Their latest success came at home to Blackwall Rovers where Ryan Radley scored twice, Billy Barr and Mitchell Edmonds netting the others in a 4-1 victory to return home with the points.
There was a first win of the new season for Alpha who were at home on Sunday against Roneo Colts at the Flats. Jamie Allen and Charlie Dann both scored for Colts but Kai Brown was in great form, netting a hat-trick for the hosts as Andre Graham's goal completed a 4-2 victory for the hosts.
And in the division's other clash, there was a goal-filled encounter between Lonsdale and Havering Well as their six-goal local derby saw both sides take a share of the spoils in a 3-3 draw. Jack Cameron, Billy Franklin and Connor Wilson netted the Well goals but Lonsdale were able to match that to secure a point apiece.
DIVISION FOUR
The league leaders, Roneo Colts Reserves, bounced back well from their first defeat of the season last week by sending Ridgeway Rovers Under 21s to a heavy 9-0 defeat in Dagenham. Kane White and Dwayne Francis-Riley both scored four goals each in a memorable morning for those players, Rorie McKenzie netting the other in a big win.
New boys, Inter Ladzio, have moved up to third in the table this weekend as they made it two wins from three games so far with a 2-0 home victory against Ping City Phoenixes. Dave Evans and Rhys Parkin were the men on target for the home side who could be one of the dark horses for a promotion push this year.
Another side who bounced back well from defeat the last time out were United Amateurs who, having lost heavily last weekend, pulled off a stunning victory at home against second placed Asianos Reserves on Sunday in Chadwell Heath. Luke Howell scored twice for United with Joseph Byrne and Jack Chawner goals seeing them home in a 4-1 win.
Moving up the table, Upshrie Forest picked up their second league win of the season over the weekend when they won 3-1 at home to Titans United in Waltham Abbey. Joseph Drummy, Patryk Mulik and George Oake were all on the scoresheet for Forest, a result which keeps this table heavily congested and wide open.
DIVISION FIVE
There are new leaders at the top of the Division Five league table as Cobra hit the dizzy heights of first place following a narrow 3-2 win at home to Thames Ironworks Community Reserves. Brandon Hubbard had a productive morning as he netted a hat-trick for his side to lead them to third win in four games.
Custom House Community are up to third in the table as they picked up a second win from four games on Sunday, beating debutants, East Tilbury Town, in a seven goal thriller. Harry Smith scored twice for Tilbury but his efforts proved in vain as the Custom House boys edged to a 4-3 win.
The remaining league action saw Eastern Avenue cause a real upset as they ended the perfect start of their opponents, Total Football, by sending them to a 2-1 defeat at the Flats. Miguel Bailey was the hero scoring twice for Avenue, overcoming a Siddharrth Chandrasekaran strike for the visitors to move up to sixth place in the table.
ESSEX SUNDAY PREMIER CUP
There was an all-Corinthian match-up in the Essex Sunday Premier Cup on Sunday where Romford Elite travelled the very short distance to take on Barking & Dagenham Wanderers at Newbury Park. It was a day for Elite to remember as they progressed onto the next round with a comfortable 6-0 win to their name.
ESSEX SUNDAY JUNIOR CUP
It was a very busy morning in the two other competitions with the Essex Sunday Junior Cup featuring numerous Corinthian teams in the opening round. Brook Athletic came from behind to secure a 5-3 win against FC Deportivo Thurrock as they made the long trek down the A127 to Basildon.
The biggest win of the day accolade went to Valentine United who had a great morning in defeating another Thurrock League side, May & Baker EC. United put nine goals past their opposition to run out 9-1 victors on the day and booking their place in the next round.
Having reached the semi-final of the Trophy competition last season, Hornchurch Oakmont will want to go one better this year in this higher competition and they opened that quest by putting Newbury Forest to the sword on Sunday, winning 7-1 to head through.
Oceana made their debut in the competition on Sunday as they travelled to face Brentwood League side, Zone 4, in their Cup tie. They weathered a late comeback from the hosts to record a 4-3 win to move on into the second round of the competition.
There was a shock in Leyton where Division Two's Walthamstow Avenue were up against Division One, Korona Redbridge with both sides eyeing a cup run in the competition. But it was Avenue who will have fonder memories of their morning's work, picking up a comfortable 6-1 victory.
Also into the hat for the second round are Goresbrook who were up against fellow Corinthian Division Two side, Roose, in their match in Hainault. Despite trailing their opponents by two points in the league, Goresbrook sent Roose crashing out of the competition in a 7-2 scoreline.
Two of our Division One sides met in another tie with Kulture Klub the hosts to KLIK in Walthamstow for their opening round clash. In a game consisting of seven goals, Klub were the beneficiaries of five of those as the hosts moved to a 5-2 win and earned their place in round two.
There were some sides suffering reverses over the weekend with Abridge Village going out of the competition after a trip to mid-Essex to face Great Baddow. They were unable to replicate their decent start in the league, going down to a 2-0 defeat on the day.
Also exiting the competition were Barking who were up against a former Corinthian side in the shape of Woodford AFC. Woodford earned themselves a 3-2 win on the day as Barking were edged out to see their participation in the cup ended for another year.
Completing the cup action, FC Mexico B saw their brief run in the competition reach a conclusion as they travelled to face Thurrock League based Fleetwood. The Mexicans went down to a 3-1 defeat as their opponents progressed on.
ESSEX SUNDAY JUNIOR TROPHY
In the Essex Sunday Junior Trophy, there were some great results for our clubs with Chigwell United earning themselves a stunning 7-1 victory against Harlow based Barretts Rangers to put themselves into the hat for round two.
Theydon who made their own debut in the competition with a home clash against Writtle Reserves who made the trip across from mid-Essex. Theydon were in seventh heaven as they also recorded a 7-1 victory scoreline to go through to the next round.
Newham Athletic were up against familiar opposition as they played host to former Corinthian outfit, Oak Royals, in their opening round match-up. Newham were 4-2 winners in Beckton to go through on the day.
There was a first competitive win for Keith Park Rangers who were in county cup action on Sunday against fellow Division Five side, Epping Forest Falcons. Despite a difficult start in the league, Rangers were 1-0 winners in Newbury Park to kick-start their season.
Following a similar pathway, Romford Athletic Dons picked up their own first competitive win as a club as they travelled to east London to take on Beckton United. After the match ended level at 1-1 after extra time, Dons held their nerves from the spot to win the shootout 5-4.
There was a great result for Ridgeway Rovers Under 21s Reserves who overcame Singh Sabha Barking in the county cup with a 2-1 win away in Newbury Park. Despite a two point deficit to their opponents in the league, unbeaten Rovers will be in the hat for round following this victory.
The only side to exit the competition against external opposition were East Ham Inter who slipped to defeat in their clash at home against South Thurrock. Their unbeaten opponents top Division Three of the Thurrock Sunday League and went through with a 2-0 win to their name.
Other News Articles