Posted
WEEK 5 REVIEW: Round-up of all the league and county cup action from the weekend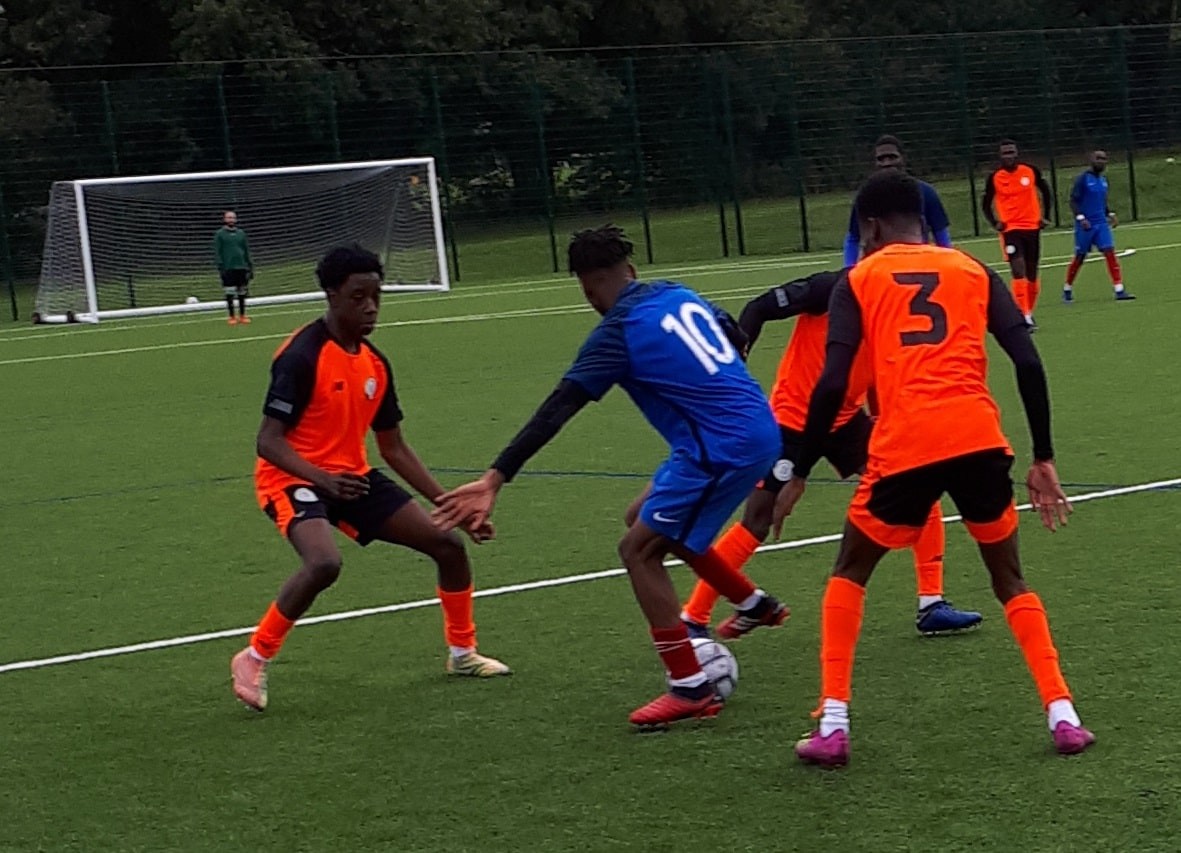 For our latest news and updates, please enter your email address
SENIOR DIVISION
In the Senior Division, Hatch Lane have opened up a three point gap at the top after they took advantage of their closest challengers being out of action to beat off the efforts of Baiteze Squad. Hatch were 3-1 winners in Chigwell as Tremayne Coley, Ayrton Andrews and Kevin Bondjanga striking to earn a crucial victory.
It was also a good morning's work for Alliance Stars who opened their account in the top flight with a solid win against London Mavericks in Newbury Park. Akin Cole and Liam Mulcare both bagged braces with Tunde Olagunju and keeper Nesta Reason also on the scoresheet as the Stars won 6-3 to move seventh.
PREMIER DIVISION
Just a point separates the top four in the second tier where Belfry now hold a slender lead on goal difference although they were held to a 4-4 draw at Roose who picked up their first point. Besmir Hoxhaj scored two of the Belfry goals with Tom Harvey on target with the other to help their side secure a point.
Brook Athletic are up to third in the standings as they completed a second win of the season in two games played, helping themselves to a big 6-0 win against Kulture Klub at the Henry Barrass. Ish Raymond and Samir Bihmoutine scored twice each with Liam Adams and Jayden Hocking-Rising striking the net also to give their side the points.
The Barking derby match was a closely fought affair at Robert Clack where hosts Barking & Dagenham Wanderers were up against Barking Riverside, the latter going in search of their first league points. They will be pleased with their efforts, coming out on the right side of a five goal thriller, winning the game 3-2.
Moving up to fourth place, Flyhouse Athletic kept their name very much in the mix after coming away with maximum points from their home match at home to East Stars. Gabriel Ogunwomoju netted a hat-trick, Tyrone Scarlett scored twice and Michael Melim once which enabled Athletic to win the game 6-1.
DIVISION ONE
It's Oceana at the top of Division One as they moved to the summit following a big home win against Abridge Village on Sunday. They were aided by a Tom Parsons hat-trick and strikes from Niall Fitzpatrick and Jamie Hart in winning 6-3. Ethan Porte, Aaron Gurney and Leon Adeyemi all netted consolations in response for Village.
Chingford Athletic have moved up into the top half of the table, earning themselves a second league win following a big 6-2 victory at Snaresbrook. Harry Rouse scored twice, adding to goals from Ronan McGoldrick, Sebastian Gardiner, Josh Flood and Connor Brathwaite to help Athletic to six points for the season. Harry Prince scored both of the Snaresbrook goals in consolation.
There was a big result for Emerson Park in Dagenham where the previously ninth placed side were up against promotion hopefuls, FC Galaxy. But it was Emerson who had the better of the result on the day, earning a stunning 4-0 win to bag their first victory of the new campaign and move them away from relegation worries.
DIVISION TWO
Division Two is another of much intrigue with a number of sides challenging. Unbeaten leaders Eastbrook United saw them gap at the top lessen as they were held to a draw at home to Thames Ironworks Community on Sunday. Callum Harris struck twice for United while Harry Peterson and Quam Adesanya also scored, balancing out two Thames goals for Jeffrey Nketia and one each for Ewan Macaulay and Harry Jones.
St Augustines have moved to second in the standings by the virtue of just goals scored as they bounced back well from a recent defeat to beat East London Harriers over in South Ockendon. Callum Daniels was on fire with four goals with Aaron Francis netting the other in a 5-1 victory for the Saints. Charlie Cole grabbed the Harriers effort in reply.
The other team sitting on nine points presently is Royal Lions A who hosted Roneo Colts in their first home fixture of the season and came from behind to seal a terrific 4-3 win and leap frog Colts in the process. Dwayne Francis-Riley's scored twice and D'jean Holland once but they proved not quite enough in the end.
Asianos will have been pleased with their efforts on Sunday morning as they moved up a number of places to fifth in the standings, pulling off a strong 4-1 win against Frenford at the Jack Carter Pavilion in Ilford. Lewis Jones netted a hat-trick for the visitors and Adnan Haji scored the other to complete the victory.
Total Football complete the weekend's action where they were hosts to struggling Korona Redbridge in Loughton. Jonathan Bluff, Nile Painter and Sachin Bawa all found the back of the net for Total but Korona were a match on the day with Dawid Smolarek, Sebastian Bilas and Krzysztof Kotwica all netting to level the match at 3-3 as the sides shared the points.
DIVISION THREE
Just a point separates the top three sides in Division Three where Debden Sports Reserves lead the way after five games as they came from behind to defeat Goresbrook at Hainault Rec. Liam Coney and Lee Niven goals haven the hosts the lead but two Jamie Rones efforts plus one each from Joe Cloake and Jacob Payne settled the game 4-2 in favour of the visitors.
Sitting second in the standings are Leytonstone Athletic who stayed within a point of the leaders following Sunday's victory at home against Windmill Warriors. George Burton was on fire for the hosts with a six goal haul as John Pluckrose scored the other two to set up an 8-1 win against the Warriors.
Higham Hill are third and with the only unbeaten record still in the division, aided by a big win on Sunday as they returned from Aveley with maximum points following a 9-2 win against Imperial Row. Derrick Agyeman and Darren Summers both came off the bench to score for Row but four Charlie Saywood goals, two from Chris Hambis and one each from Billy Jago, Corey Stewart and Bryan Smith earned the visitors the win.
Sitting in fourth place on goal difference are Inside Success who came away with a terrific win, beating Mayfield Kings 12-4. Quam Deen scored five of the goals with Usman Saeed and Halameen Agbaje netting two each alongside singles from Shemar Morris, Tommy Oseni and Taiwo Shomuyiwa. Balawal Dustgir scored two in reply with Igor Sousa and Afolabi Sunmonu netting the other for Kings.
Moving up into the mid table are Upshire Forest who leapfrogged their opponents, Monkhams, following a closely fought victory at Loughton Playing Fields over the weekend. There was just a single goal in the game to separate these well matched sides with Oliver Campbell the beneficiary of the most important moment in the game as his goal won it 1-0 in favour of Upshire.
DIVISION FOUR
There remains a three point gap at the top of Division Four where Ainslie presently sit as the leaders as they saw off the efforts of Chingford Athletic Reserves on Sunday. Harrison Riley and Kailem Gayle both found the back of the net for Ainslie to continue their unbeaten start to the season at this level.
The leaders are being closely trailed by second placed United Amateurs who are also unbeaten and extended that terrific start to the campaign following a big 9-2 home win against Titans United. And "big" was certainly an apt description as Billy Biggs struck five goals for Amateurs, Thomas Springer and Peter Adeleye striking twice each also.
Ultimate Vision Reserves sit third in the standings after their first five games and missed the chance to stay second as they were held to a 1-1 draw at home against seventh placed Romford Athletic Dons. Jake Ortega struck for the Dons but Ultimate were a match for the opponents to take a point apiece on the day.
It was a big morning for Lonsdale as the side previously bottom of the standings moved up a number of places after picking up a hard fought 4-3 win against Blackwall Rovers in a seven goal thriller at Wanstead Flats. Kalium Fletcher rolled back the years to net a hat-trick with Denis Hilaj scoring the other Lonsdale goal to take home the points.
In the division's remaining game, Raphael Park Rovers and Hillside met in Romford and started the game level on points. And that was how it ended up also with the two teams finishing the game at 2-2 as Oliver Dosad and Jake Crump goals for Rovers were equalled by 'Side goals from Einoras Galdikas and Buttrint Lecaj.
DIVISION FIVE
It's still goal difference separating the sides at the top of Division Five where Valence United continue to lead the way as they picked up maximum points from their home clash against Ultimate Vision A. Rowan Newland extended his scoring record with a hat-trick, complementing goals from Ben King, Jordan Cook and Tommy Abrams in a 6-2 win.
Belfry Reserves sit just behind the leaders on goal difference and continued their positive start with a solid win at home to Custom House Community on Sunday. Kieran Dickerson got on the scoresheet for Custom House but his efforts were not quite enough as two Glenn Bransgrove goals and strikes from Paul Barlow and Daniel Lawman made the difference in a 4-1 win.
Sitting third, Colebrook Royals Vets will hope they remain in the promotion picture come the end of the campaign after they made it three wins in four, avenging their only defeat of the season as they beat Eastern Avenue at the Flats. Nedret Ozkasim struck twice with Joe Cole and Alan McCormack goals wrapping up a hard fought 4-2 win.
Royal Lions B have moved themselves into the top half of the table following the weekend's fixtures as they scored the only goal of a very close game against fellow top half side, Dagenham Rangers. That win saw Lions move level with their opponents on six points, completing a second league win in four games.
Another side joining the six point gang were Athletico City who got back to winning ways following a run of reverses as they edged their game at United Borough over in Brentwood. Heman Gopeenauth struck twice with Sunny Kambo and Clinton Amponsah also netting in a 4-2 win. Elliot Hastings and Jake Griffin scored the United goals in response as they move to seventh.
DIVISION SIX
In Division Six, it's Mansfield Rangers still leading the way by two points as the table toppers extended their perfect start to four from four on Sunday, sending Ping City Phoenixes to their first defeat of the season in the process. Billy Happe has been an astute acquisition for Rangers and he scored twice more with Claudius Edwards' goal rounding off a 3-0 win in Walthamstow.
Royal Lions C are in second place in the standings as they took all three points in Hainault on Sunday against London Legacy. Lucas Tavares and Renato Agrela both scored for Legacy but five Lions goals in reply ensured it was the hosts who kept their unbeaten start going and continued their tilt for the title in their first season.
Colebrook Royals Reserves took advantage of results around them to shift up a place to third as they ended Ivory United's recent positive run of results in a 7-3 scoreline in Chigwell. Matthew Humeniuk scored twice with Dylan Fagan, Archie Locke, Jamie Meakin and Maxwell Graham goals enough for Rovers win as Luke Thomas, Alfie Luscombe and Matthew Simmons struck for United.
The final game of the day saw two sides at the wrong end of the standings clash with Epping Royals in action against Woodford Green United. The teams started the game three points apart and that was how it stayed by full-time as the game ended 2-2. Royals moved level with the sides above them as a result with Green moving away from the bottom two as they picked up their first point.
COUNTY CUP
The Essex Sunday Junior Trophy provided a real giant-killing as Division Four's Ace Athletics were facing up to Division Six side Valence United Reserves on Sunday and were on the wrong end of stunning performance from the Dagenham based side as Valence won through to round two with a 5-2 win.
In the London Sunday Challenge Cup, there were some terrific results for our clubs as FC Ballr secured their place in round two of the competition on the back of a big 6-1 home win in Dagenham as they entered Barnes Eagles at Castle Green.
There was a similarly impressive result for East Way Athletic as they had a trip to north London to take on Barnet Sunday League side Park Royal in their own opening round fixture. East Way were 2-1 victors on the day to confirm their own place in the next round.