Posted
WEEK 5 REVIEW: Round-up of Sunday's league and cup action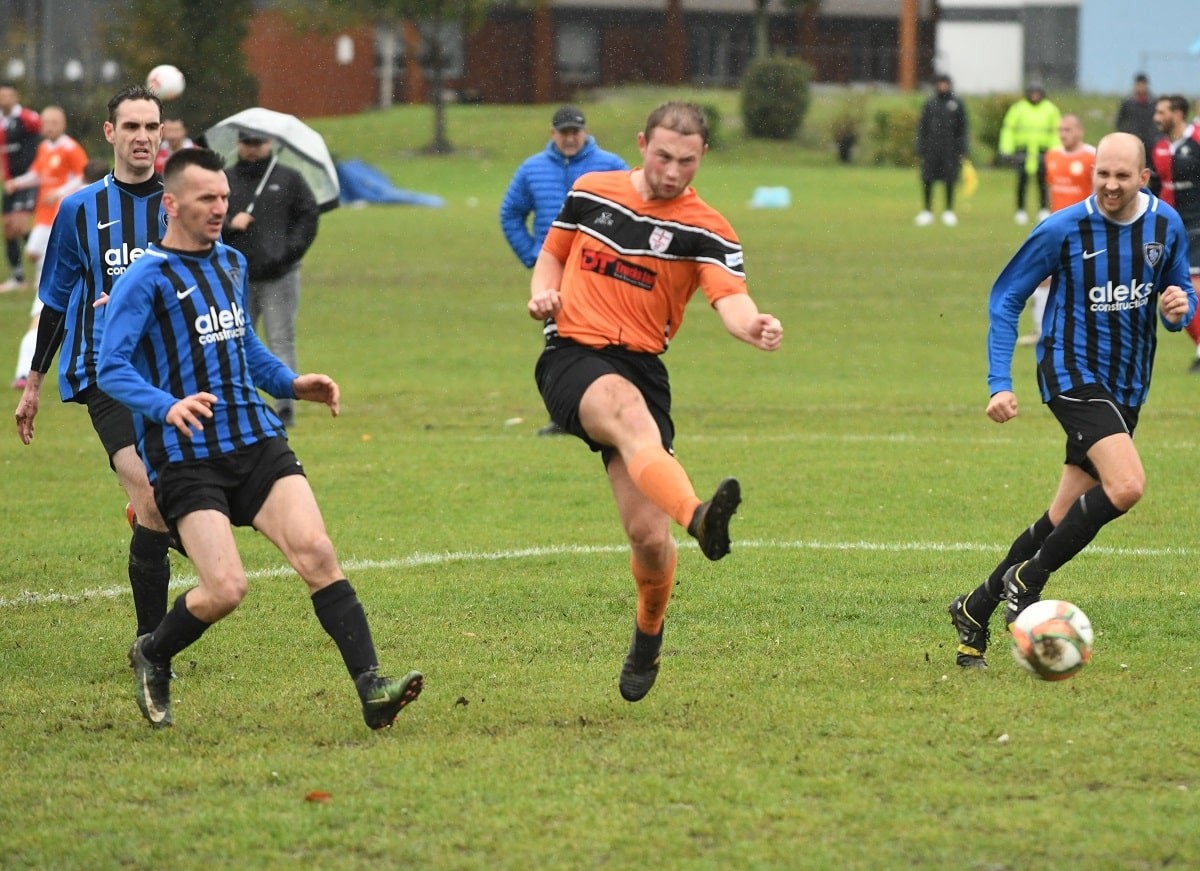 For our latest news and updates, please enter your email address
CORINTHIAN CUP
On a dismal weekend for weather, the two surviving Corinthian Cup ties brought some brightness with a total of twenty-three goals in just two games! East Way Athletic made safe passage into round two as they overcame Division One's Roose. Dylan Eivers and Emmanuel Afolabi both scored hat-tricks with Lion Docaj and Jake Mernagh scoring twice each in a 10-1 victory.
The day's other completed tie came from Loughton where holders Repton Park were up against London Mavericks with the two teams combining in a twelve goal thriller. The game ended level at 6-6 after extra time but Mavericks extended their good start by holding their nerve in the shootout and winning 4-3.
TROPHYLAND CUP
There were two completed games in the Trophyland Cup first round also where Division Two's Royal Albert overcame a tricky test with the visit of Division Three's Ainslie to Beckton. Albert Gardner and Jay Digance both netted for the visitors but two Sam Turpin goals plus strikes from Umaru Kabir and Kai Parkinson sent Albert through, 4-2 the scoreline.
There was also a good tie in prospect down at Castle Green where Division Four's leaders, Upshire Forest, were up against a high-flying FC Galaxy from Division Two, both sides sporting great starts. Galaxy's two division advantage won through in the end however, Luke Robinson netting for Upshire but his effort was rendered in vain by four goals for the hosts as they made it through winning 4-1.
SENIOR DIVISION
There was just the one game which survived the elements in the top flight and it was a local derby game as El Valiente made the short trip of around twenty yards to take on Flanders. Paul Barry scored twice for the "visitors" with Joe Thomas also netting to give El Valiente a 3-1 winning start to their league campaign.
PREMIER DIVISION
In the Premier Division, there was a local derby at Castle Green where the late kick-off saw Barking & Dagenham Wanderers up against an out-of-form Ultimate Vision side. Stephen Judge and Scott Duke both struck for Vision but Wanderers moved out of sight with braces from Ashton Lord and Godfrey Kambaza plus a Ricky Brown effort as their side won 5-2.
DIVISION ONE
There was a close game in East Ham where Gants Hill were the hosts to Goresbrook with both sides going in search of league points to move them up the table. Charlie Morris struck for the visitors Hill scored twice themselves to win 2-1, a second successive win that puts them fourth in a contested top area of the table.
DIVISION TWO
Thames Ironworks Community have moved six points clear of the chasing pack in Division Two as they completed a comprehensive 7-0 victory on Sunday over Emerson Park in Beckton. Harry Jones scored twice with Charles Donald, Paul Scanlan, Benjamin Jeffrey, Jannick Mukonde and Justin Smith efforts carrying them to maximum points so far.
There was a theme of goals in Walthamstow too where a nine-goal thriller ensued between West Essex and Chigwell United. Charlie Cole, Rhys Edwards and Matthew Curtis all netted for United but five goals from West in reply gave them a 5-4 victory as they continued their resurgence following an indifferent start.
DIVISION THREE
In Division Three, leaders Bretons Manor continued their perfect start as they made it three wins from three, overcoming the efforts of Lonsdale in a 4-1 scoreline at a wet Castle Green. Pa Lette-Jallow scored in some style for Lonsdale but Jay Batchelor, Billy Bradley, Sam Cooper and Perry Whatling efforts for Manor saw them finish the happier of the teams.
There was a mirror image of that scoreline just a couple of miles away at Barking Park where Alpha were the visitors to face an Eastbrook United side. Junia Charlton, Callum Harris, Keiva King and Alejandro Ramirez all scored for United to render Dylan Snow's effort as just consolation in a 4-1 result.
DIVISION FOUR
Two of Division Four's unbeaten sides came face-to-face on Sunday as Theydon Green were the visitors to Old Dagenham Park to take on Cobra. The two young sides battled it out with Cobra finishing the happier of the two teams as Aaron White's brace and singles from Stuart Ali and Nathan Casey won it 4-2. Noah Friend was the man on target with Green's goals in reply.
DIVISION FIVE
Goals were the order of the day in Division Five with Dagenham Rangers putting in a sterling performance to run out 12-0 victors at home to Fairlop Rovers. Three goals from Loli Veshta, two each from Stephen Brown and James Scotcher plus single strikes from Deondre Ashun, Sabjan Kukaj, Ronnie Bryan, Ryan Deuters and Bradley Marston completed a length scoresheet.
The new leaders of the division however are Valence United who kept their unbeaten start to the season going with a 5-1 win away at previously unbeaten Custom House Community. Jamie Wooster scored the Custom House goal but two Keenan Mitchell strikes plus efforts form Aaron Legget, Jordan Cook and Ryan Knight saw United to the victory.
Royal Lions are up to second in the standings with two wins and a draw from their early season efforts and they came from behind to a first half Colebrook Royals goals to eventually win it 4-1 at Hainault Rec. Four second half goals helped the Lions roar to a 4-1 win, closing the gap at the top to four points.
DIVISION SIX
A full fixture programme was able to be completed in Division Six with Barking Reserves promotion challenge extended with another good victory, beating Thames Ironworks Community Reserves 5-0 at Mayesbrook Park. Alfie Bellotti was in good form again with a hat-trick as Nicolas Bahati and Mofiyinfoluwa Ojolowo scoring the others.
Byron Red Star are keep track with the leaders and trail by just two points following a third league win of the season on Sunday, beating Epping Royals 5-1. Adrian John was in great form with four of the Byron goals with Steven Campbell netting the other to carry their side to a comfortable looking victory.
Over in Wanstead, Ilford County were the hosts to an Epping Forest Falcons side with the two teams desperate to get some momentum going as the season entered a second month. Roshan Nesarajah scored for the hosts but Falcons also netted twice themselves to win it 2-1, earning their first league win of the season to move fourth in the standings.
Completing the league action on Sunday was a late game over in Dagenham where Athletico City got their maiden league campaign underway with a home clash against Royal Lions Reserves. Lions followed in the footsteps of their first team counterparts and won handsomely with a 6-0 victory that opened their points tally.
LONDON SUNDAY TROPHY AND JUNIOR CUP
In the London Sunday Trophy, two out of three sides made it through safely into the next round of the competition with FC Ballr putting in an impressive 3-0 performance in their tie away at Middlesbrough Supporters South (they didn't have to travel QUITE that far).
That victory was added to by a win for Asianos who had another trip to east London where they visited Exonians on the Isle of Dogs and headed home with a win in the bag, taking a 4-2 victory and a place in the next round to book.
The only side to see their participation ended in the opening round were Panda who played host to Turkish League side Fenerbahce Kanarya. The visitors came through the tie winning 2-0 to end Panda hopes in the competition.
In the Junior Cup, Hatch Lane were comprehensive winners in their tie as they took on New Copa in their opening round clash at home in Walthamstow. Hatch extended their great start to the season with a 10-2 win are safely into the hat for round two.
Other News Articles