Posted
WEEK 6 REVIEW: Round-up of Sunday's league and cup action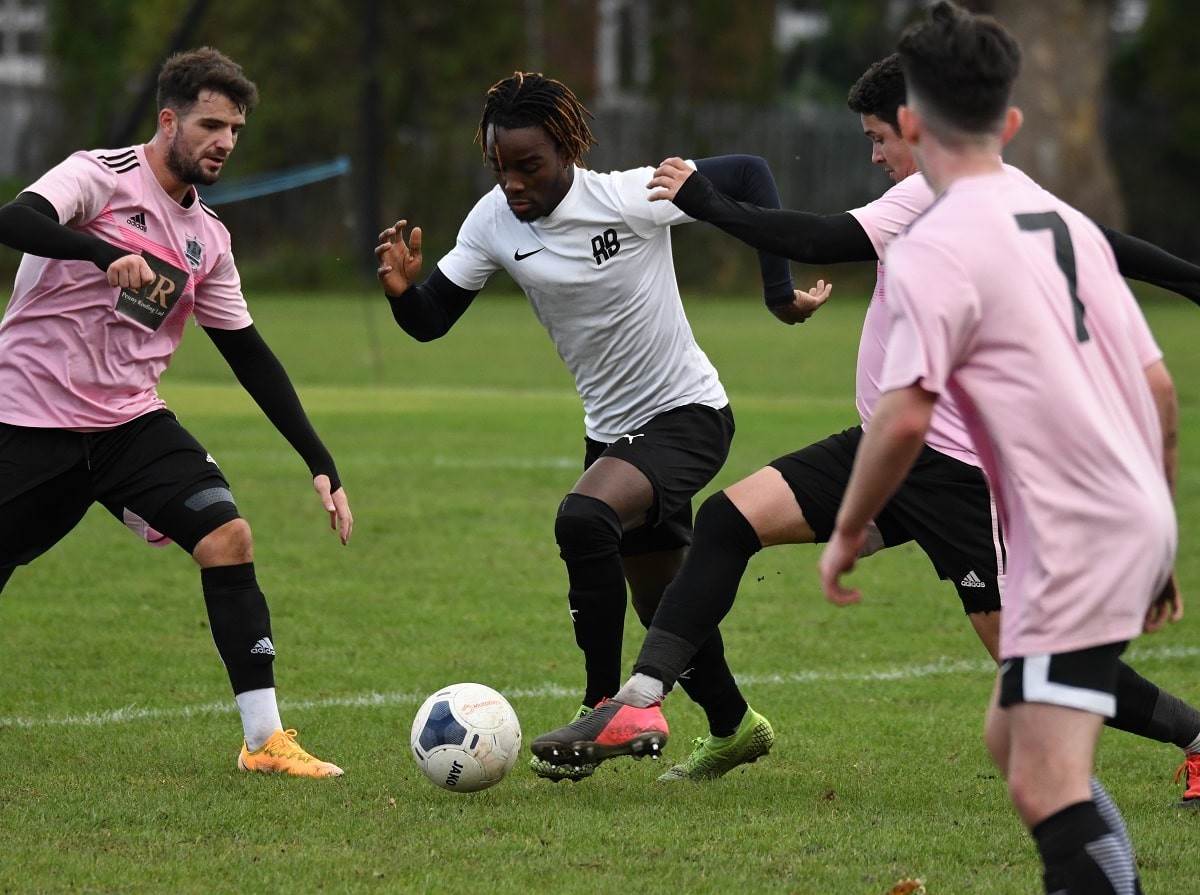 For our latest news and updates, please enter your email address
SENIOR DIVISION
There are new leaders in the top flight this week as Secret moved to the summit after recording a third successive league win, moving top by two points over the rest. Aaron Blair is in fine fettle and added a hat-trick to his record, Elias Armah, Eden Nelson and Eamon Payne scoring the others to beat London Mavericks 6-1 on the day.
KLIK move up to fourth and just two points off the leaders as they made it two wins and a draw from four so far with an exhilarating home win against East Way Athletic in Dagenham. Thomas Carter scored twice with Ricardo Teixeira, Jay Hazelwood and Sean Thomas netting the others to take the points in a 5-4 thriller.
PREMIER DIVISION
It really couldn't be much tighter at the top of the Premier Division with just two goals keeping the sides apart up there with FC Ballr holding that slight advantage on the back of a 3-1 away win at Barking Riverside over the weekend. Rob Kelly scored for Barking but his side fell to a first league defeat as Daniel Brock, Ayomikun Odukoya and Devante Davis goals took Ballr to victory.
The other side who are looking really impressive this year are Brook Athletic and they mirrored that FC Ballr result with a 3-1 win of their own, defeating Kulture Klub by that scoreline in Newbury Park. Dymon Labonne, Brandon Martin and Samir Lee got the goals to render Dereece Vanderhyde's effort as just consolation for the visitors.
Barking & Dagenham Wanderers are up to third in the standings and sit just a point off the leaders as they took all three points home with them from their trip to Panda. In a tight game, the difference proved to be goals from Reece Povey and another Ricky Brown goal which saw Wanderers to a 2-1 win.
Remaining unbeaten so far in the division are Asianos who sit seventh but with games in hand still to play. They had an impressive win on Sunday as they took all three points from an improved Ultimate Vision with Marvin Hamilton's hat-trick and a Naeem Monsur effort winning it. Ryan Chapman and Joe Oates got on the scoresheet in reply.
Saving the most high scoring game until last, Central Colts will be very pleased with their morning's work as they picked up a first win of the season on Sunday with a big 10-1 win against Chingford Athletic. Dan Wiseman got the Athletic goal but Colts were in sparkling form in front of goal themselves to pick up a big win.
DIVISION ONE
In Division One, it's incredibly tight at the top with three teams all sitting on the same points with Abridge Village just shading it presently on goal difference. They had to settle for a share of the points with second placed Gants Hill on Sunday in a 3-3 draw as Kurt Freeney grabbed a hat-trick for his side to help them move to the summit of the division.
Joining those teams at the top are Oceana who have had a great start to the new season and made it two wins and a draw from four so far with a closely fought 1-0 win away at Valentine United in the Forest Road derby. Jesse Jones was the hero with the only goal of the game to take his side into their new lofty position.
Fans of Goresbrook will be breathing a sigh of relief as they ended their recent tough patch with a 3-0 away win on Sunday against Wanstead Albion at the Flats. Goals from Charlie Morris, William Cox and Alfie Wiseman were enough to give Goresbrook a first league win of the season and a move up to eighth place in the table.
DIVISION TWO
Theydon continued their perfect start to the season in the fourth tier, making it two wins from two on the back of a big 4-0 home win against Frenford on Sunday. Dion Bishop scored twice with Harry Andreeti and Chris Walling efforts completing the victory to see them move third in the table behind the two leading sides.
DIVISION THREE
In Division Three, three teams sit on the same points and with just one single goal between them. Bretons Manor still lead the way but saw their perfect start to the season end as they were beaten 3-2 away at Alpha who subsequently secured their first league win. Kai Brown's hat-trick was the difference as he rendered Manor strikes from Jay Batchelor and Jack Whitelock as just consolation.
Moving up to second place are Eastbrook United who made it three wins from their opening four as they return home from the Flats with all three points as they saw off Blackwall Rovers 5-2. Billy Barr and Danny Bird scored for the hosts but goals from Jayde Abraham (2), Luke Gelston, Callum Harris and Keiva King took United to the win.
The third team to be sitting on nine points are Roneo Colts and they kept up their own challenge for honours this year with a closely fought 4-3 win at home on Sunday against Ainslie. Nial Mullins, William Hunt and Kailem Gayle all scored for the visitors but two Harinder Sanghera goals plus efforts from Kane White and Dwayne Francis-Riley gave Colts the points.
There was a big win for Monkhams over the weekend as they scooped a first league win of the season, overcoming the efforts of Jaffna in a 5-0 scoreline. Sam Snell scored twice with Samuel Griffin, Charlie Thomas and Aaron Francis goals capped off an excellent morning's work.
DIVISION FOUR
There are new leaders in Division Four as Cobra moved to the top of the pile on the back of their most recent win on Sunday away at United Amateurs. Aaron White scored twice with Malachi Fajembola, Ryan O'Connell and Jordan Riches grabbing the others in a 5-2 win. Jack Chawner and Jordan Catchpole were on target with the United replies in consolation.
Also staying unbeaten so far are Total Football and they've now pushed themselves up to third place in the table on the back of a recent 3-1 away win against Chingford Athletic Reserves in Waltham Abbey. David Donaghue scored for the hosts but Total goals from Sachin Bawa (2) and George Ridley gave their side the points they wanted.
Sitting just a point back in fourth place are Theydon Green who were big 7-0 winners this weekend as they took maximum points from their home against Young Royals at Roding Valley. Josh Steele scored twice with efforts from Max Jessop, Joseph Jessop, Henry Groom, Harry Boyd-Walker and Callum Carr completing things off.
DIVISION FIVE
In Division Five, the free-scoring Royal Lions have moved to within a point of top spot as they racked up another big win on Sunday with a 7-0 win away at Ping City Phoenixes. Randy Adele was in good form with another two goals, Daniel Galeseanu, Charlie Burns, Kasbon Tokenge, Christian Damahou and Darren Smith-Wellington grabbing the others.
Just a point further back are Dagenham Rangers as they warmed up for their big game this coming weekend by edging past Custom House Community in a 1-0 scoreline in Barking. It took just the single goal to separate these sides with Rangers recording a third league win in five to hold third spot.
Singh Sabha Barking are sitting fourth in the standings and were another side to see a fixture settled by just the one goal as they took all three points from their 1-0 home win against Colebrook Royals Vets. Daniel Adasonla scored that one crucial goal to help SS record a third league win in four.
In the remaining game at this level, Tekkers Vets will have been pleased with their morning's efforts as they confirmed a first league win of the season with a victory away at Fairlop Rovers in Barkingside. Leon Muir and Wesley Imbert scored once each to send their team to that win and a climb up to eighth place in the table.
DIVISION SIX
With sides above them in county action this weekend, two sides cut the gap at the top with Thames Ironworks Community moving up to fourth on the back of a 5-0 home win against Athletico City. Allen Smith scored twice with Aaron Lee, Lee Mpensah and David Nott goals completing their second league victory.
The Reserves of Royal Lions made it a profitable day for the Hainault based club as they also recorded a big win, a 4-0 scoreline at home to Woodford Green United as Jason Tokenge helped his side to victory with a brace. Emmanuel Ejembi and Nicolae Bengin scored the other to make it two wins in succession for Lions.
Completing the day's league action was the clash between Mansfield Rangers and Ilford County over in Walthamstow which saw Rangers confirm a maiden league win with a 2-0 home victory. That was made possible through goals from Jake Megson and Jack Cousins who helped their side to a memorable result.
COUNTY CUP
In the Essex Sunday Junior Cup, there were some good results for Corinthian clubs with West Essex confirming a big win as they kept their great recent county cup record going with an 8-0 home win in a local derby against Lymore Gardens.
In one of the all-Corinthian clashes, Barking kept their decent start to the season going with a 4-2 win against the reigning Trophy champions, Royal Albert, winning that tie 4-2 to go through to the next round.
Joining them in the hat for the next round will be Hornchurch Oakmont who also had to bypass Corinthian opposition with a trip to face Korona Redbridge in Barkingside. The in-form Oak were 4-1 winners there to make safe passage.
The weekend also saw a couple of sides exit at the first round stage with FC Mexico A going out 5-4 in a nine-goal thriller as they were overcome by a Belfry Reserves comeback to go out while Emerson Park suffered a similar fate, exiting with a 2-1 defeat at similarly named Emerson Oak.
In the Essex Sunday Junior Trophy, there were seven victors from our league with Upshire Forest continuing their great form this season with a 4-0 home win against Margaretting Rovers at Town Mead.
The same margin of victory was attained by Valence United who were giant killers against Lonsdale, overcoming a two division deficit to eliminate their opponents in a 6-2 scoreline in Dagenham.
Division Four's Eastern Avenue avoided a potential cup shock in the competition as they beat Division Five's Stow Rovers in a 6-3 victory, securing a place in the draw for the second round in November.
Another Division Four side, Leytonstone Athletic were also victorious, making their debut in the competition away at Havering Invicta. They were 3-1 winners on the day to head on safely into the next round.
Barking Reserves are a side who are making waves in Division Six and they overcame another side from that division as they beat East Tilbury Town by the odd goal, 2-1, in a well contested match.
It was a good morning's work for FC Mexico's B team who were at home to Harold Hill from the Brentwood League and came away 4-1 winners to keep their positive start to the season going with another win.
Completing the set of wins for the league were Byron Red Star who were up against a previously unbeaten Belhus Park Wanderers side in the first round with the game ending level at 3-3 after extra time. However, Byron held their nerve in the shootout to win it 4-3.
Two sides from the league saw their participation come to an end in the competition with Romford Athletic Dons taking Recreativo Romford to extra-time but losing out 2-0 while Epping Forest Falcons were knocked out by Brookhouse in a 4-2 result to exit the cup.
In the London Sunday Challenge Cup, Baiteze Squad made safe passage through to the second round of the competition as they were victorious in their home fixture against south London based Groundhoppers.
East Stars saw their run come to an end as they were beaten in a penalty shootout against Panathanaikos after the game had ended at 2-2 after extra time and over in East Ham, El Valiente had a tough test against the famed Rising Ballers and ended on the wrong side of a 3-0 scoreline to go out.
The day's sole London Junior Cup tie came from West Ham Park and AC Milano will have been pleased with their efforts as they saw off the efforts of Eagles Land in a 4-2 scoreline to make the draw for round two.
Other News Articles