Posted
WEEK 8 REVIEW: Round-up of Sunday's league and cup action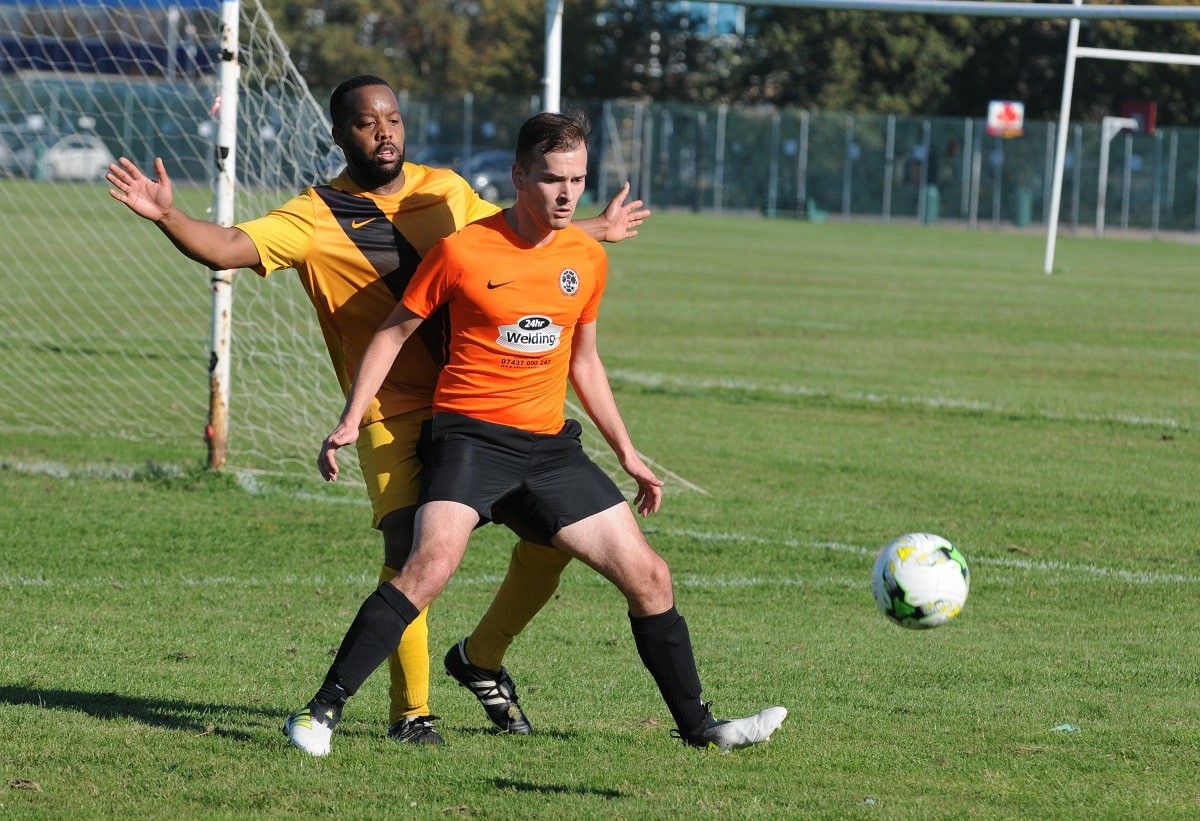 For our latest news and updates, please enter your email address
CORINTHIAN CUP
The second round action in this season's Corinthian Cup got underway on Sunday with the first two ties complete. Premier Division leaders, Repton Park, were up against Valentine United from Division One with a close game ensueing between the sides. Shaun Gibson scored twice for United by two goals from Jesse Spearing and one from Charlie Henry helped their Repton side to an eventual 4-2 victory.
The day's other tie two in-form sides from Division One go head-to-head as SL Menfica made the journey to Hainault to face Virtue. With the sides level at ninety minutes, it took the extra time period to eventually separate the sides with James Dobson, Kristopher Brown and David Hornsby goals seeing SL Menfica to a 3-1 win, cancelling out a Bradley Thomas goal for the hosts.
TROPHYLAND CUP
The Trophyland Cup competition resumed on Sunday with Division Two outfit, Ferns Seniors, up against Division Four side, Custom House Community in a tie which only looked to have one outcome on paper at least. But you can never predict what might happen on the day as the plucky Division Four opposition held Ferns to a 0-0 draw at full time. The crucial goal though arrived in the extra thirty minutes with Billy Howe proving the hero for Ferns Seniors to record a 1-0 victory and a place in round three.
PREMIER DIVISION
With the leaders out of action in the league, the chasing sides took advantage of the situation to close up the gap on them with victories recorded by all three of the chasing pack. El Valiente are up to second place on goal difference as they overcome Upshire in a 4-0 result. Aaron Marston scored twice with one apiece from Sam Edwards and Danny Bird completing the win.
Also scoring four were third placed Romford Elite who remain unbeaten after securing a third win in five so far with a 4-2 victory away at Barking & Dagenham Wanderers. Alex Leslie and Loranzo Ramsey got the Wanderers goals but a Chris Bird brace and strikes from Lewis Rix and Joshua Thompson saw their side to the win.
Flanders remain a point behind the sides in second and third but will be buoyed by their victory at the weekend as they overcame the efforts of the reigning champions, Warren United. Sean Green and Harry Agombalor both scored for United but Flanders scored three goals of their own to run out narrow 3-2 victors.
Making a move up the table were Ultimate Vision who returned to winning ways with a good victory against Brook Athletic on Sunday in Chadwell Heath. Joe Linton got on the scoresheet for Brook but his efforts were ultimately in vain as Ryan Chapman scored twice and Joe Oates got the third in a 3-1 victory for Vision.
DIVISION ONE
The battle for supremacy in Division One couldn't really be much closer and bodes well for another stunning title chase this season with six points separating the top seven sides. Chingford Athletic made the most of the leaders being out of action to move second and just two points off the top, recording a hard fought 2-0 victory at home to St Augustines - the wily Tom Pearce grabbing the only goal of this close game.
Ridgeway Rovers' solid start to their campaign sees no end as they recorded a fourth victory of the season with a terrific 3-0 win at home to Westferry Elite at the weekend. Duone Minors grabbed two of the goals with Kolade Ogunade's strike rounding off the win for Rovers in Walthamstow.
The side creeping up the table week by week are the unbeaten Korona Redbridge who will be pleased with their efforts so far in the league but they didn't have things all their own way against Wanstead Albion on Sunday. Tomasz Cenin, Dawid Pietras and Jacek Miedzak got the Korona goals but two late Jerald Aboagye goals for Albion threatened to ruin the party – alas it was just a little too late.
DIVISION TWO
Just with Division One, the Division Two situation looks equally competitive with five sides looking well in the frame to compete for the promotion places. FC Kulture Klub remain top as they overcome an improving Bretons Manor side, recording a 3-1 victory through goals from Samuel Bytyqi, Luca Valentine and Gerhard Krasniqi. Sam Cooper was the man on target with the Manor consolation goal.
Moving up to second place in the table are Royal Albert who are now the only unbeaten side in the division after they ended that similar accolade of their opponents, Dagenham United on Sunday. Nathan Thomas netted twice for the Daggers but efforts weren't quite enough on the day as Albert ran out 3-2 victors to stay unbeaten.
DIVISION THREE
Another tight division is Division Three where anybody from the top four, or perhaps beyond, could still be pushing for those promotion places at the backend of the season. Alpha remain top of the table by a point but they had to come from behind in their match at home against Ping City Phoenixes, levelling up at 2-2 to settle for a share of the spoils. Matthew Fyfe and Jack Flood netted for Ping but Kai Brown's brace rescued a point for Alpha.
There was a terrific contest in Chadwell Heath where two of the division's previously unbeaten sides came face-to-face with Central Colts the visitors to Hornchurch Oakmont. Hornchurch raced into a two goal lead with Martin Swanwick and Lewis Minton netting but Tunde Olagunju halved that deficit before the break. Tunde then proved the be the hero in the second half, levelling up the match and then winning it late on 3-2 to outline his continued importance to his side.
E4 Rangers are up to fourth place in the standings after they were held to an exhilarating 4-4 draw away at ten-man West Essex on Sunday in a very local derby. Ashley Mills, Tim Dye, Ben Hodgson and Macauley White all got on the scoresheet but West were able to overcome those setbacks to take a point home.
There were also goals aplenty down at Castle Green where Dagenham United Reserves played host to Masterman with both sides eager to get some more league points under their belts. In a seven-goal thriller, the balance was eventually tipped in Masterman's favour as Alan Liddell, Joe Philips, Lewis Foster and Misha Djemaili goals edged it 4-3. Jay Simmons and Lee Green were the men on target with the Dagenham goals.
DIVISION FOUR
The Division Four race for promotion remains very interestingly poised with Woodford continuing to hold top spot for now having beaten off the efforts of an improving Epping Forest Falcons side on Sunday. Ryan Lawless got on the scoresheet for the Falcons once again but Jake Silk and Charlie Saywood goals got their Woodford side to a 2-1 win and maximum points.
Keeping up the pace at the top end of the table are Newham Athletic who went second in the standings following an equally competitive 2-1 victory of their own at the weekend against Thames Ironworks Community Reserves. Allan Smith grabbed the Thames goal but Newham efforts from Leon Anderson and Vinesh Kurup earned their side a crucial win.
Third placed Grey Area saw their unbeaten start this year come to an abrupt halt with Asianos Reserves extending their own unbeaten start in the process. Naeem Monsur scored twice with Majid Hanif and Shakil Rahman scoring one each to overcome a Danny Potter effort for Grey Area in a 4-1 result.
Moving up to sixth place in the table are Monkhams who earned a second win of the season, beating the previously undefeated AC Milano Reserves by a single goal. Aaron Francis' effort for Monkhams proved to be enough for the Loughton-based outfit to record a 1-0 win and close the gap on the top half sides.
WEST ESSEX SUNDAY CHARITY CUP
It was a busy day in the West Essex Sunday Charity Cup competitions with some terrific results for Corinthian sides. Valiant had one of the results of the day as they took out Thurrock Sunday League top flight side, Ockendon Manor, earning their quarter final place with a 3-1 victory.
There was the most local of derby matches at Emerson Park School where FC Mexico opened their run in the competition with a solid 2-1 win, seeing off co-tenants, Emerson Park, to secure their place in the last eight of the competition.
In the Trophy competition, Walthamstow Avenue faced similar opposition as they took on Thames Ironworks Community once again. After a Thames win in the Trophyland Cup, Walthamstow righted the wrongs against their lower division opposition in recording a 2-1 win and a place in the quarter finals.
Completing the quartet of wins for Corinthian sides in this competition, Lonsdale were involved in an absorbing contest against Combination side Hainault Athletic with the sides ending level at 2-2 at full time. Lonsdale eventually prevailed from the tie as they netted three in extra time to run out 5-2 winners on the day.
Other News Articles