Posted
WEEK 9 REVIEW: Round-up of Sunday's league and cup action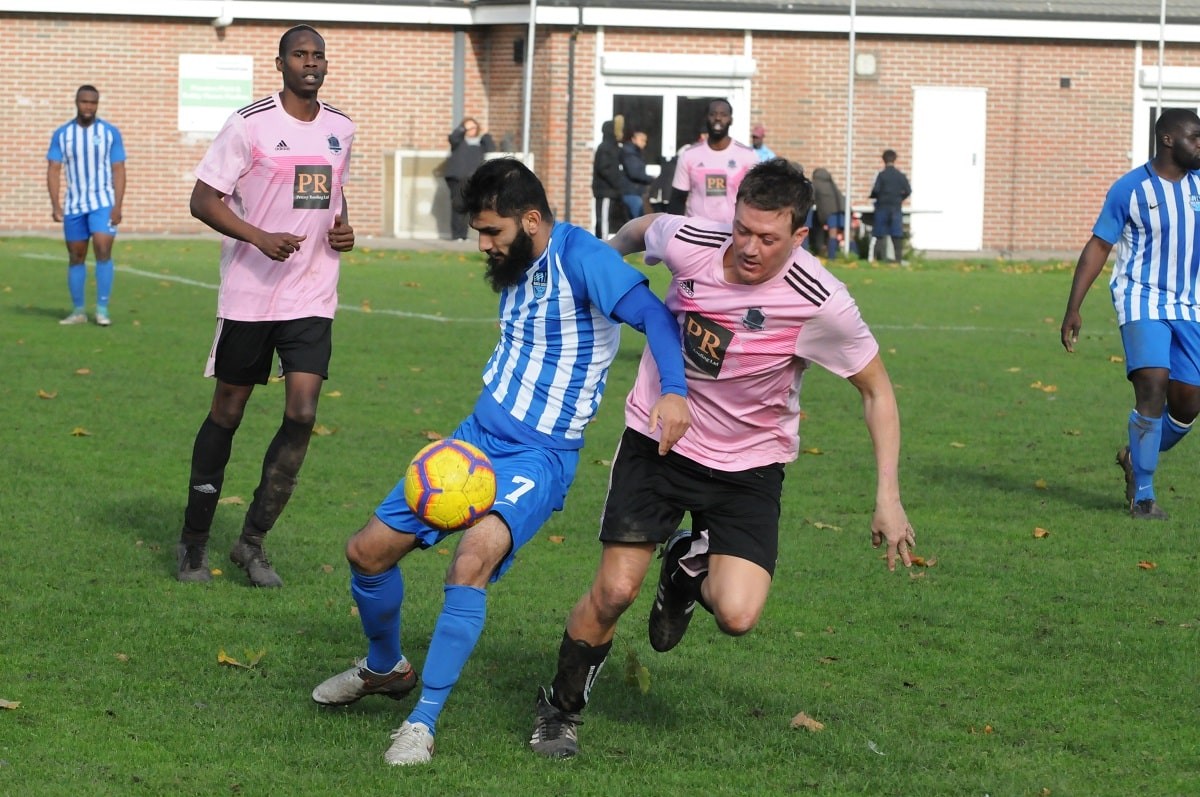 For our latest news and updates, please enter your email address
CORINTHIAN CUP
Romford Elite have put themselves into the hat for the second round proper of the Corinthian Cup this season as they came out on top of their Newbury Park derby game against Barking & Dagenham Wanderers. Lloyd John and Robbie Rees both scored twice with Tyrone Scarlett, Dexter Stuart and Jay Dale goals completing a 7-2 victory.
PREMIER DIVISION
There was just the one game in the top flight on Sunday with postponements affecting the fixture list but leaders, Repton Park, took full advantage of that to extend their lead at the top of the table to eight points, albeit it with sides beneath them having fixtures in hand. They were 5-3 winners at home to Asianos to record a fifth win in six this year in defence of their title.
DIVISION ONE
It's as you were at the top of Division One where KLIK continue to be the side to beat having opened a seven-point lead at the top. They had a real battle on their hands against Oceana and came out narrow 3-2 winners with Matthias Lionel, Jay Hazlewood and Loui Hazelwood netting in reply to goals from Max Reynolds and Jesse Jones.
The division's other game came from Newbury Park where FC Mexico A were the visitors to face Brook Athletic in their latest fixtures. Brook Athletic were previously winless going into the game but secured a hard fought victory with two Jayden Rising goals completing a 2-1 win over the Mexicans, shifting up to seventh in the process.
DIVISION TWO
It's looking like a real battle at the top of Division Two where Central Colts still lead the way narrowly having overcome a recent tricky patch to earn a 2-0 win on the road against old rivals, Thames Ironworks Community. Tunde Olagunju and Jonathan Mogege were the scorers to earn Colts an important 2-0 victory.
Keeping up with the pace, Walthamstow Avenue are a side likely to pose a strong challenge as they earned another win for themselves with a 5-2 away victory against FC Mexico B. A brace for substitute Grant Eagle set them on their way with David Mercer, Sam Serrar and Michael Bundock efforts completing the win.
Chingford Athletic Reserves are third in the standings as they came away from their clash against an in-form Barking side with a 5-1 win under their belts. Justin Lopes scored for the visitors but his efforts were in vain as James Lee-Legon scored twice and one each from Michael Hay, Duane Foster and Tom Lowe completed a fourth league victory.
Moving up to seventh place in the standings, Wanstead Albion were the up against fifth placed Abridge Village on Sunday with four points and four places separating them prior to kick off. A Kane Parson goal was the solitary strike on the day as Albion earned a narrow 1-0 win to take the points home with them.
Goresbrook remain one of just two unbeaten sides in this division and, with games in hand, will be looking to make a climb up the table in weeks to come. Their latest match saw them face a previously unbeaten Hornchurch Oakmont side for whom Lewis Minton was on the scoresheet. But his efforts proved not quite enough as Josh Keeble, Charlie Morris and William Cox goals sent Goresbrook to a 4-1 win.
Completing the day's action in Division Two, Roose are up to fourth place in the standings as they made the journey to Ilford to take on a winless Frenford side at The Drive. Roose made no mistake on the day as Ross Hart and Uros Vakanjac goals saw them earn their side a 2-0 win to secure the points.
DIVISION THREE
There were goals aplenty in Division Three with a top end of the table clash featuring two local rivals as leaders E4 Rangers took on West Essex. Billy Barr scored twice for E4 with further strikes from Kobie Ambrose and Ryan Radley but their efforts were not quite enough. George Fairhead and Ola Ogunwamide scored twice each with Harry Rouse's effort making it a exhilarating 5-4 win in favour of West Essex.
Goals were also the order of the day in Beckton where Newham Athletic hosted Lonsdale. There were a mere twelve goals in this contest with Anthony Cooke the hero on the day for Newham with a four-goal haul, adding to two from Ryan Embert and one from Wesley Scott. Kalium Fletcher and Jani Gjergji scored twice each in reply for Lonsdale with Albert Kaloci's effort seeing the contest finish 7-5.
In a rather more sedate game of just eight goals, things didn't fair quite as "Well" for Roneo Colts on Sunday as they travelled to Havering Well on the back of a decent result last week. A Well hat-trick from Billy Franklin done most of the damage with Michael Cacchio and Albert Carley efforts seeing their side to a 5-3 win on the day.
"Just" the five goals were scored in each of the two remaining games with Theydon coming from behind in their home clash against Blackwall Rovers to take all three points, their maiden league win as a team. George McNamara, Albert Hellen and Jack Morgan goals were the difference to earn a 3-2 win.
And rounding off the action in the division, Alpha were firing on all cylinders on Sunday as they were paid a visit by seventh placed Chigwell United at the Flats. They closed to within a point of their opponents as Humza Qamar, Connor Wallace, Kai Brown, Andre Graham and Dominic Crichlow goals saw them to a stunning 5-0 win.
DIVISION FOUR
An equally goal-laden Division Four saw an incredible eleven-goal thriller with Ping City Phoenixes the visitors to take on promotion chasing Bretons Manor at Castle Green. Home side braces from Billy Bradley and Robert Ferris plus efforts from Sam Cooper and Joseph Connor were just enough on the day to overcome five strikes from Ping in reply.
Roneo Colts Reserves' form in front of goal this year is undoubted with the small matter of forty-two goals scored thus far in the league. They were big 8-1 winners against Upshire Forest Reserves as Bobby Port's five goals helped his side sail to victory along with Rorie McKenzie's brace and a Luke Sargent strike to render Leighton Hughes-Franklin's goal as just a consolation.
Keeping up their positive recent form, Romford Athletic Dons recorded a second league victory of the season on Sunday as they were the hosts to a Asianos Reserves in their match in Hainault. Harry Harding scored twice and debutant Keenan Gravillis once to earn themselves a well deserved 3-0 win.
Monkhams are a side who could still yet provide some stiff competition in the promotion places as they moved up to fifth place on Sunday with a third win in four games, this time against United Amateurs. Samuel Griffin and Jamie Wilkinson goals were the difference on the day as the Loughton-based side ran out 2-0 victors.
That was also the scoreline in the division's remaining game where Titans United were paid a visit by Ridgeway Rovers Under 21s at Old Dagenham Park. Despite Rovers being a man light, they fought manfully but were eventually undone by United goals from Shane Hovell and Jimi-Dean Shepherd to round off a 2-0 win for the hosts.
DIVISION FIVE
Ridgeway Rovers Under 21s Reserves have moved up to second place in the Division Five standings along with being the division's sole remaining unbeaten side as they came through a seven goal thriller away at Cobra. Stuart Ali, Aaron White and Nail Kadri were on target for Cobra but Rovers efforts in reply from Matt McDowell, Ben Burn, Regan Marshall and Federico Ardei made it 4-3 in favour of their side.
Moving up to sixth place in the table, Eastern Avenue put in an excellent performance in their game at home to previously unbeaten Epping Forest Falcons, earning their side a 4-2 win on the day. Peter Andrew and Rory Fairweather scored for the Falcons but Bankole Fadami netted twice in reply with Damian Kearney and Daniel Freeland goals completing a big win for Avenue.
Thames Ironworks Community Reserves opened up their points account for the new season as they made the trip to Dagenham to face fellow winless outfit, East Tilbury Town. A goal apiece from Jack Crabtree, Jaedon Banya and Simeon Nelson were the difference, overcoming a Daniel Boughader goal on his debut for Tilbury in an eventual 3-1 scoreline.
Singh Sabha Barking got back to winning ways, putting the disappointment of their result last week to the back of their minds to run out 2-1 winners at home to Custom House Community. Jack Field got on the scoresheet for Custom House but Ryan Dubb and Kulmir Bhakar goals in reply for SSB secured them the victory.
LONDON SUNDAY CHALLENGE CUP
It was third round day in the London Sunday Challenge Cup on Sunday with the first of two ties seeing El Valiente taking on south London based Roca Seniors in a difficult looking clash. Trailing early to two well taken goals, Sam Edwards netted before half time with Kieran Bishop levelling after the break at 2-2. Edwards then missed a spot-kick but his side prevailed in the shootout 5-4 to book a quarter final place.
They will now face Turkish League based side Kizilirmak who, themselves, were up against Corinthian opposition with their afternoon clash against Elda on Sunday. That game saw a tight contest, edged ultimately by the odd goal as Kizilirmak booked their place in the quarter finals with a 2-1 win.
WEST ESSEX SUNDAY CHARITY CUP
In the day's sole West Essex Sunday Charity Cup clash, Korona Redbridge made a short trip along Forest Road to take on last year's beaten finalists, Belfry, in their tie in Hainault. Korona took the lead midway through the first half and held that until the hour mark before Belfry levelled then ran away a little to record a 4-1 result and book their place in the last eight.
Other News Articles