Posted
CUP FINAL PREVIEWS: Division 1 Cup and Division 3 Cup finals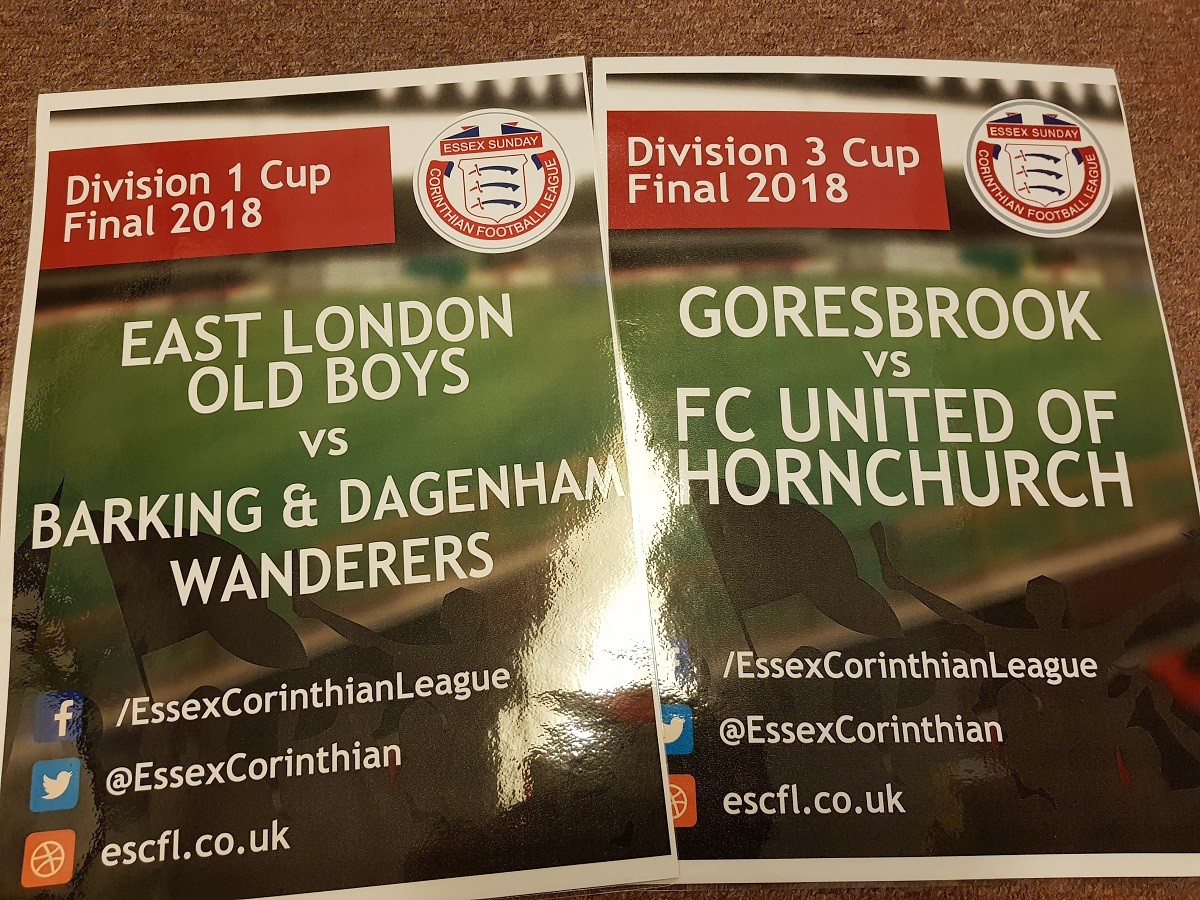 For our latest news and updates, please enter your email address
This Sunday marks our second weekend of cup finals as we head to Thurrock FC for another busy day of football comprising the Division 1 Cup and Division 3 Cup finals.
All of our showpiece cup finals will once again be taking place at Thurrock FC's wonderful Ship Lane ground, just a stone's throw from the M25/A13 & Lakeside. There will be bar and refreshment facilities available on the day which you are all welcome to make use of.
All of the clubs involved have been allocated tickets which they are required to sell so please contact your clubs for tickets in the first instance. We also have a supply of tickets on the turnstile on the day at a cost of £5 each.
We now look ahead to each of the games and provide some insight into who might be crowned cup winners on Sunday.
Division 1 Cup Final – 10.30am Kick-Off
East London Old Boys vs Barking & Dagenham Wanderers
The morning final brings together two sides, East London Old Boys in their first season and Barking & Dagenham Wanderers, who are each making their cup final debuts and will both be hoping to make it a memorable occasion.
For East London Old Boys, their first season together has gone pretty well and are a side who could still end up with a league and cup double if results in the last few games go their way. Their season started really well and only the deluge of rain and snow mid-season, added to a good county cup run to the quarter-finals, derailed those efforts and put them well behind with their fixtures. Now making headway with the big catch-up, they are playing their part in a dramatic climax to the Division One title race which could still go to one of five clubs. They have reached Sunday's final on the back of two very closely fought matches, needing extra time to see off Korona Redbridge in the quarter-finals as they progressed 5-2, then edging past their close rivals, Ultimate Vision, in a 2-1 semi-final victory that booked their place at Thurrock. Thomas Quinn is their man to watch with a 17-goal haul this season making him the club's record goalscorer in their short existence so far.
For their opponents, Barking & Dagenham Wanderers, in their second season as a club in the league, this match also represents the biggest in their own history and one which offers the first set of silverware for the trophy cabinet back in Newbury Park. Wanderers maintain their own outside chances of promotion and will, either way, play a big role in that picture with matches still to play against two of the top five sides in the run in. Their own run to this cup final has seen two entertaining matches as they saw off Leyton Celtic in the quarter-finals, coming from 2-0 behind at half-time to run out late 3-2 victors in that tie. In the semi-finals they faced twice finalists, Park Tavern, with a place at Ship Lane on the line and they didn't disappoint, winning 4-2 to confirm their place. Ashton Lord is the leading goalscorer this season with a haul of 11 goals in 13 matches and they will be a side not to be underestimated with key players all over the field.
The league meeting between these sides earlier in the season saw the Old Boys edge to a 2-1 win in a close match which therefore suggests that this could be a game settled by the odd goal on the day. East London's league position suggests they head in as favourites but Wanderers have stuck with the promotion chasing pack all season and you feel that the side who deals with the occasion the better will win the day.
Congratulations to our appointed match officials on this final, a reward for the continued hard work put in by our referees across the season. The recently promotion-nominated Sam Wigington is the man with the whistle and will be ably supported by the recently promoted Chris Cleeve and the experienced head of John Conaghan from the touchlines.
Division 3 Cup Final – 2.30pm Kick-Off
Goresbrook vs FC United of Hornchurch
The afternoon final on Sunday sees two of Division Three's top sides meet in the second of our divisional finals with second placed FC United of Hornchurch making their third successive final, taking on fellow challengers, Goresbrook.
For Goresbrook, this season marks a real turnaround in fortunes after a couple of seasons of constructing this squad, a season which really started at the end of the last campaign where they secured the Spring Cup as well as ending the long undefeated run of SL Menfica in thumping fashion. They remain on-track for a possible treble this season, staying in touch with the leading sides in the league as well as having also booked a place in the West Essex Sunday Trophy final in May too. Their progression to this Sunday's final took in a first round win at home to Hornchurch Oakmont, winning 4-2, before seeing off the efforts of Roneo Colts in the quarter-finals as they cruised to a 6-1 win. In the semi-final, they came up against one of the division's other top sides in the form of Dagenham United Reserves and a belting match saw Goresbrook just edge past United in a 3-2 win to book their place at Thurrock. There is no surprise that Charlie Barrett is the man to watch for Goresbrook with an astonishing 28 goals in just 16 matches this season.
Completing the line-up for Sunday's final is an FC United of Hornchurch side who are all too familiar with the surrounds of Ship Lane, this being their third trip here in as many seasons following a narrow 3-2 defeat there two years ago against FC Mexico, before losing out 2-1 to Wanstead United last year. They'll therefore be hoping that it's third time lucky as they face Goresbrook. They also remain very much in the hunt for league honours as one of the four sides with realistic hopes, especially with huge games coming up against many of those rival sides. Their run to the final of this competition has taken in some closely fought matches, none more so than their first round 2-0 victory away at Ridgeway Rovers which was a tough a draw as could be imagined. They then squeezed past Alpha in the quarter-finals winning 2-1 to book a semi-final against Morfdown Elect. In that semi-final, Elect led in the first half but a superb second half comeback saw FC United win 3-1 to book their place in the final. The goals of Billy Pearce (18) and Shane Cassidy (12) make them the players to look out for in a side who have undoubted ability to find the back of the net.
With these sides not having met before, it's difficult to match up how these two sides would fair against each other. Looking at the statistics however, it is clear that both know where the back of the net is with near-on a century of league goals this season between them. Perhaps the defensive areas will therefore be a key aspect of the game with Goresbrook having conceded just 14 in 11 matches this year. It's all about who, metaphorically at least, turns up on the day.
Congratulations to our appointed match officials on this final, a reward for the continued hard work put in by our referees across the season. The very experienced Alan Steward is the man with the whistle in the middle and will be ably supported by the recently promoted Tommy Breen and Morgan Conn from the touchlines.
Other News Articles