Posted
WEEK 1 REVIEW: Round-up of all the Corinthian action from the opening weekend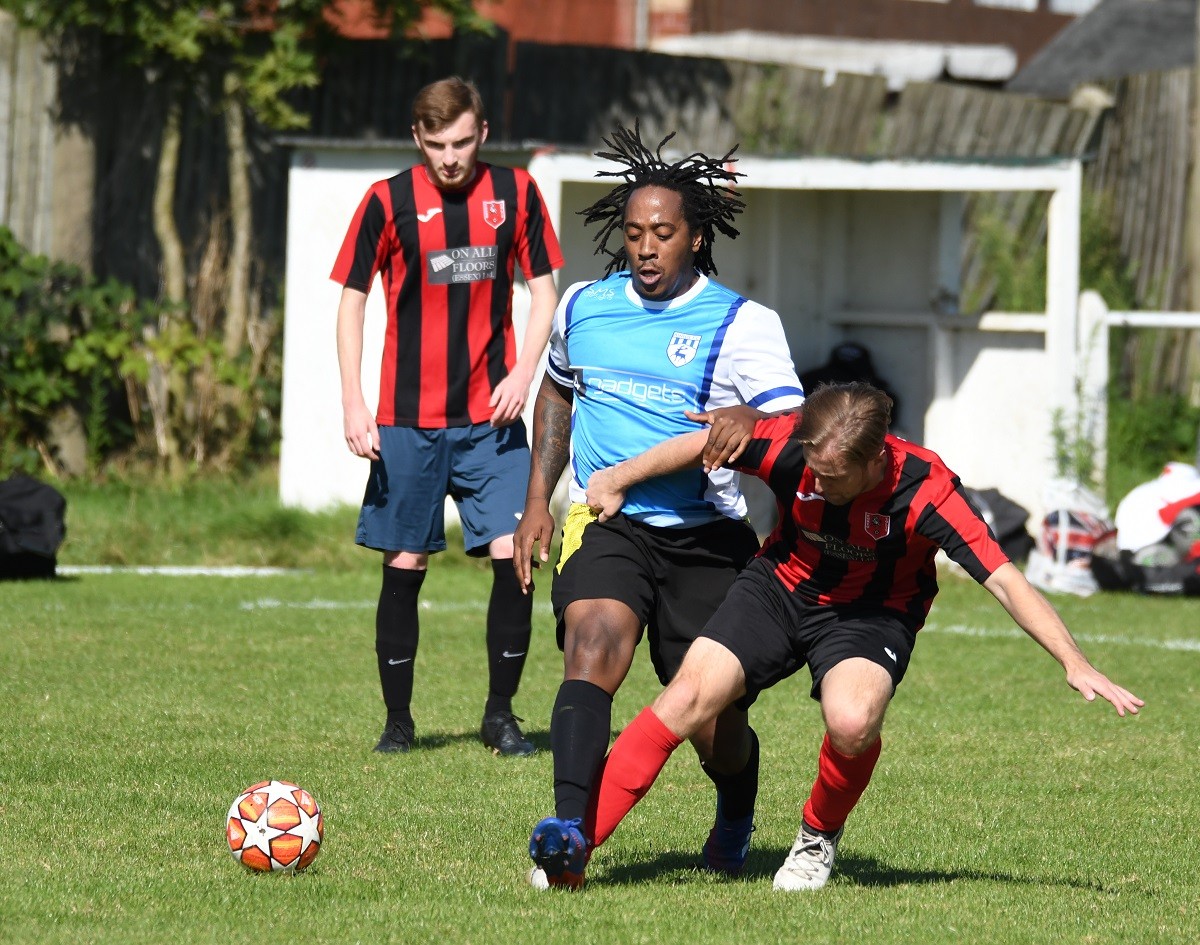 For our latest news and updates, please enter your email address
Football in the Corinthian League made it's long awaited return over the weekend after many months of uncertainty and frustration. We're pleased to be back, bigger and better than before and happy to see our clubs back in action.
SENIOR DIVISION
Our newly reintroduced Senior Division got started with just the single fixture on Sunday where two of the league's new clubs met in the form of Baiteze Squad and East Stars. Joshua Adu netted for Stars but Baiteze emphasised their quality with Ibrahim Salih scoring twice while Colin Atubrah, Reside Coxi-Sebastiao and Usman Adeniji grabbed the others in a 5-1 scoreline.
PREMIER DIVISION
The early leaders in the Premier Division this season are Barking Riverside who, following promotion from Division Three, made their debut at this level with a trip to Chingford Athletic. Stephen Osho, Hamid Ibrahim and James Case were all on target to see Barking over the line in a 3-1 victory.
Just behind them on goals scored are Brook Athletic who got their season underway with a local derby match against previous co-tenants, Barking & Dagenham Wanderers, over in Dagenham. Brook scored twice with Wanderers unable to reply as the visitors confirmed a 2-0 opening day victory.
There was a fantastic game over in Cheshunt as one of the league's new boys, Panda, opened their competitive season and had to cam from 2-0 and 3-1 down to level late on in their contest against Kulture Klub. But the action didn't end there and Panda were stung by a terrific late Kulture goal as the visitors earned maximum points in a 4-3 victory
For all of the goal scoring feats of the opening matches, it was a case of defences on top in the division's remaining game where new boys, FC Ballr, came up against Ultimate Vision in their clash in Dagenham. Neither side were able to breach the defences as the game ended in a rare 0-0 draw.
DIVISION ONE
The opening day saw two sides in good pre-season form meet with Abridge Village playing host to Goresbrook in their first league games. Abridge appear to have done some good transfer business over the summer and romped to an emphatic 6-0 win over last year's county cup finalists. Jake Clarke scored twice with Aaron Gurney, Rio Manicom, Daniel Poku and Leon Adeyemi netting the others.
DIVISION TWO
The leaders after the first week in Division Two and league new boys, FC Galaxy, and they put in an impressive performance with ten men to beat county cup semi finalists from last season, West Essex. Josh Flood and Nathan Thomas goals had given West the lead but Mihai Dinu's hat-trick gave Galaxy renewed impetus with Eduard Bica and Mihai Mareniuc goals completing a 5-2 comeback win.
There were plenty of goals in another of the games where one of last year's title chasing sides, Chigwell United, also held a lead with strikes from Charlie Cole, Owen McKelvey and Mitchel Thompson. But Thames Ironworks Community showed good spirit as San Chunegwundoh, Jannick Mukonde, Jason Turner, Ashdon Turner and Justin Smith all responded to see their side to a 5-3 victory.
Yet another side returning to the league are technically the reigning county cup holders as 2018/19 winners Royal Albert got back to winning ways with a 2-1 win on the opening day away at FC Mexico A. Shane Wallace and Umaru Kabia both netted for Albert with Nicky Bristow scoring the Mexican's consolation.
DIVISION THREE
Roneo Colts replicated their early season form of last year as they confirmed a big win in the first weekend following their trip to league new boys, Ainslie, in Walthamstow. Dwayne Francis-Riley was in good form in front of goal with a hat-trick, adding to single goals from Kane White, Bryan Paredes and Keenan Gravillis in a 6-0 scoreline.
Following a good season last time out, Bretons Manor kept their momentum going as they started at the next tier up, on the right side of a 4-0 scoreline at home to FC Mexico B at Castle Green. Jay Batchelor, Sam Cooper, Jack Barwick and Billy Bradley scored the goals for Manor to take home all three points on the day.
There was an eight-goal thriller in Barking as another of the league's new sides, Eastbrook United, got their maiden campaign underway with a home match against league stalwarts, Lonsdale. Jani Gjergji scored twice and Kalium Fletcher once for the visitors but United goals in reply from Callum Harris (2), Fredericus Cunningham, Jayde Abraham and Charlie Livings gave them a 5-3 winning start.
It was also a very good morning for league debutants, Jaffna, who having made their move across from their previous league, had a tough opening day clash against a progressing Monkhams side in Loughton. Aaron Francis got on the scoresheet for Monkhams but two goals in reply from Sivaram Sivanantharajah, gave his side a hard fought 2-1 win.
DIVISION FOUR
It was a great start to the new season for Cobra in Division Four as the promoted side took on local rivals United Amateurs in Dagenham on Sunday. Thomas Springer and Jake Griffin both scored for United but eight goals from Cobra done the damage with braces from Bradley Johnson and Jordan Riches, and singles from Luke Eskelson, Alfie Dove and Aaron White rounding off an 8-2 win.
Sitting in second place are a new side to the competition as Leytonstone Athletic made their debut with a hard fought victory at home against Romford Athletic Dons. Jake Hubbard and George Burton were the men to find the back of the net to assist their side take maximum points from a 2-1 win.
The third fixture in the division came from Loughton where the promoted Total Football started their first campaign at this level with a fixture against Upshire Forest. A close game ensued between the sides as Mahni Bhabutta's goal for Total was levelled up by a Zayddin Mckop strike from the visitors.
DIVISION FIVE
The early leaders in the seventh tier are Stow Rovers, a new side to the competition, as they faced up to another of the new clubs, Dagenham Rangers, over in Woodford. Macauley White, a familiar name around the league was instrumental in helping Stow to victory, scoring a hat-trick to confirm their 3-1 win.
The other game in this tier saw a close game over in Dagenham between two more of our newly formed sides this summer as Valence United entertained Tekkers Vets. Wesley Imbert came off the bench for Tekkers to score his side's first ever goal, Ryan Knight the Valence man to also find the net in a 1-1 draw.
DIVISION SIX
Both of the opening games in the newly formed Division Six ended in closely fought draws with Byron Red Star and Mansfield Rangers sharing the honours in a 2-2 draw in Hornchurch, both sides first competitive games at this level. James Thorne and Adrian John scored for Byron with Charlie Weston and Kempson Allen netting the Rangers goals in reply.
The other fixture saw East Tilbury Town and Epping Forest Falcons meet in Woodford with both sides very familiar with each other from their battles last season. Town will rue missed chances as Falcons grabbed a goal and held onto a lead until late on. But East Tilbury took home a point with a last kick of the game equaliser to make it 1-1.
WEST ESSEX SUNDAY CHARITY CUP
It was semi final day in the West Essex Sunday Charity Cup where two of our top flight teams, Repton Park and El Valiente, met in Loughton. Repton went in to the game as the holders of the cup and earned themselves a chance to defend the crown with a big 7-2 win over their rivals.
Other News Articles