Posted
WEEK 10 REVIEW: Round-up of all the Corinthian League action from the weekend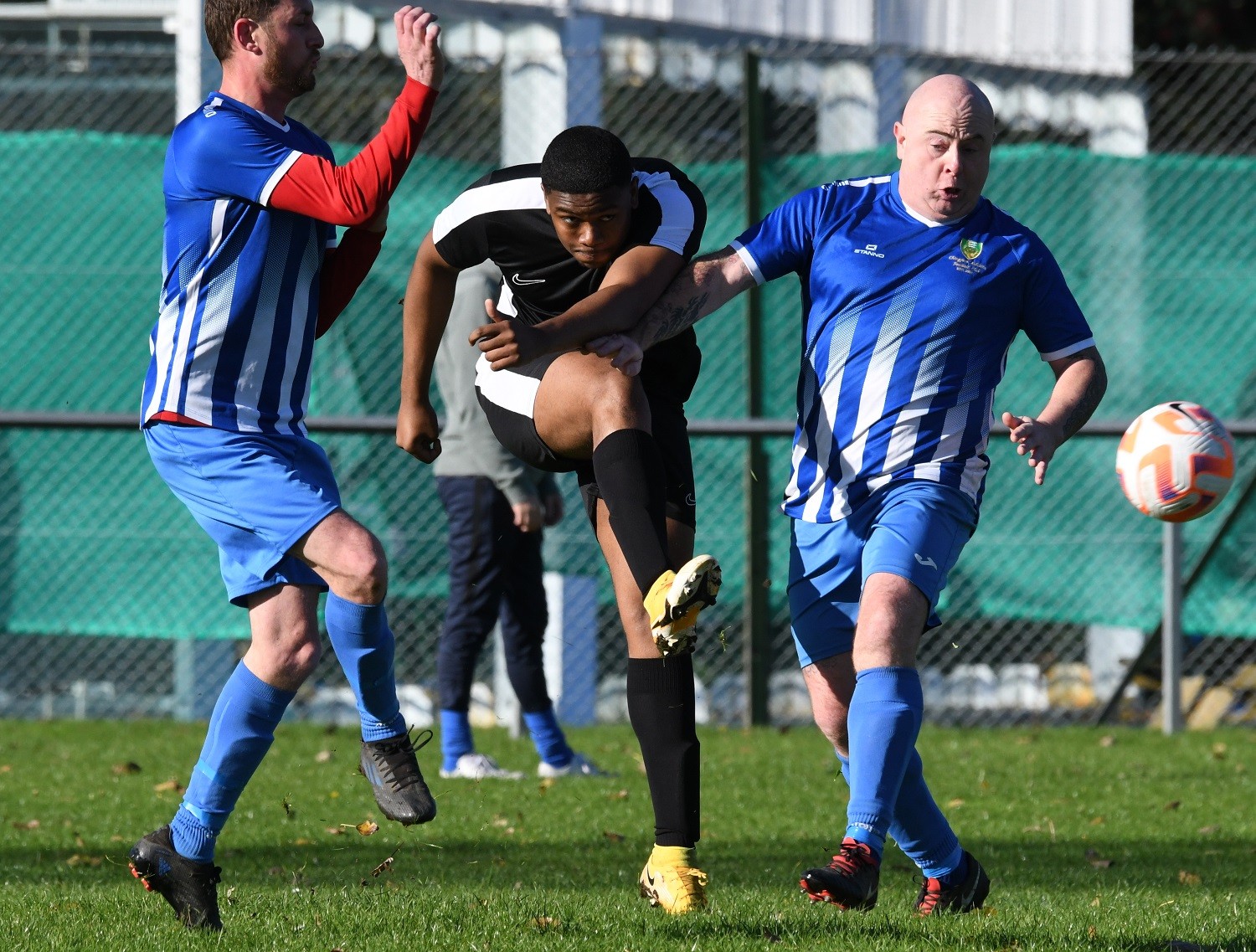 For our latest news and updates, please enter your email address
TROPHYLAND CUP
There were three Trophyland Cup ties completed on Sunday with first round action coming from Hainault as Division Four's Silencio faced a local derby with the visit of Royal Lions B across the hedge. Despite a division between the sides, Lions held their loftier opponents to a 2-2 draw at full-time but it was Silencio who went through, winning a shootout 3-1.
In the second round, a couple of all Division Four ties saw bottom side Kit Out London overcome their league form to head into the quarter finals, starting their game against Byron Red Star with a six point and five place deficit to make up. But Kit Out were 2-1 winners at Wanstead Flat, booking their place in the last eight of the competition.
The day's other tie saw eighth play ninth from Division Four with Cardinals Athletic hosting Eastern Avenue, just goal difference separating the sides heading into the tie. The game was predictably a tight affair but it was the visitors who came away the happier of the sides, winning 2-1 too with Miguel Bailey and Paulius Olisauskas both on the scoresheet.
SENIOR DIVISION
In the day's Senior Division action, London All Stars and Flyhouse Athletic renewed old acquaintances, their first meet since their Corinthian Cup travails in May. There were nine goals in their latest contest with All Stars once again coming away the happier of the teams, 5-4 winners to move top of the table.
Over in Loughton, another hard fought battle pitted Club 1017 up against Hatch Lane for their first meet, the sides going into the game level on points albeit with Hatch having games in hand. But it was the reigning champions who prevailed, scoring both goals in the game with Tyler Hinds and Tyler Dolan efforts making it 2-0 at the game's conclusion.
DIVISION ONE
The Division One leaders, AC Milano, maintained their lead at the top of the table, remaining two points clear on the back of a 2-0 home win in their clash with St Augustines. Nadeem Khankhara and Aaron Browne both netted for the hosts to help them over the line, that being their fifth league win of the campaign.
Moving second on goal difference, Barking Riverside sit two points off the leaders albeit from a game more, their latest efforts seeing them record a strong 7-3 success away at Cinoci in Loughton. Tommy Kavaz scored a hat-trick, Soloman Asomah a brace, with Aaron Matthews and Ryan Gardiner also netting, rendering home goals from Andy Adomakoh, Carl Godfrey and Robert Kelly as consolation.
There were five goals in the division's other game with Barking & Dagenham Wanderers on the road to take on Wanstead at the Flats, holding a seven point lead over the hosts at the start of the game. That was extended to ten by full-time, Wanderers edging a close game which could have ended differently, winning 3-2. Tom Stewart-Green and Makhily Diaby scored the Wanstead goals.
DIVISION TWO
The biggest winners of the day in Division Two were Colebrook Royals Seniors who closed the gap on the promotion places to eight points following a big 8-0 win on the road away at Higham Hill. Nedret Ozkasim's hat-trick, Kaci Henry's brace and further goals from Sam Wilson, Presley Evans and James Jolly overcame the Hill resistance.
The weekend also pitted the division's top two sides against each other with Debden Sports Reserves entertaining the league leaders, Belfry, at Chigwell Lane with much at stake. The game came to a conclusion with Debden leading 2-0, Charlie Harper and Harry Barrett both netting for Sports to leave them sitting on level points at the very top.
East London Ballers also made up some ground in the division, moving up to seventh in the standings following their third win of the season, defeating Cloud 9 at West Ham Park in a 5-1 scoreline. Faraz Akbar, Ibrahim Khan, Yaya Bamba, Mohamed Abdi and Hamza all found the back of the net to keep them looking upwards.
Sitting just above Ballers are a Daglanta side who returned to league action this week with the visit of Ainslie in the east London derby. With just three points between the teams, it was a game likely to be close and that was how it proved with Daglanta winning it by the odd goal in a 2-1 success. Ryan Radley netted once again for Ainslie but it was Lion Docaj and Gersi Lika goals that earned victory.
DIVISION THREE
In Division Three, there were some huge results affecting the top end of the table, beginning over in Dagenham where the leaders, Upshire Forest, were in action with a trip to fellow challengers, City Site. Alex Paraskeva scored twice, Donatas Briedis, Robert Garvan and Frederick Mattock once apiece for Site to earn them a big 5-1 win, overcoming Rhys Thurgood's goal for the visitors.
That result allowed third placed AC Milano Reserves to make up ground on the sides above them in the standings, earning their fourth win in six this term with a solid 2-0 away performance against South Ilford Catholics at Hainault Rec. That result places the visitors just a point off the promotion places while South Ilford sit seventh.
The remaining game saw Asianos Vets go into their latest fixture trailing Singh Sabha Barking by three points but produced one of their best performances of the season to move level with their opponents, winning the game 5-3 in Walthamstow. Alex Akanbi scored a hat-trick with Matthew Hamilton and Isa Hussain goals proving pivotal.
DIVISION FIVE
With the leaders out of action in Division Five, the chasing pack had a chance to close the gap and did just that with second placed Coppice Row moving to within three points of the top following a 5-3 away victory against Athletic Newham in Beckton. Jake Mernagh scored a hat-trick, Mark Tyrie and Jack Speakman also netting while Jamie Wooster scored two in reply and Russell Jones once.
Also keeping up the pace are third placed Manford Way who, with games in hand, have a big role still to play here and added a fourth league win their record on Sunday, winning 2-1 in the Forest Road derby at home against Young Royals. Jakes Crump and Li done the business with the two Manford goals, Suijiven Jeyaratnam scoring the Royals consolation effort.
Alpha moved themselves back up into the top five in the standings, coming away winners by the odd goal in a seven-goal contest with Hainault Athletic. James Wall, Adam Newbold and Lewis McCarthy scored for Hainault but a four-goal performance from Stephen Maitland for Alpha turned things in their favour to win it 4-3.
Over in Dagenham, May & Baker EC went into their home game with local rivals Lonsdale with both sides eager to extend their points tallies in the division. The game started with three points between the sides and that was how it remained, the sides ending level at 1-1 to share the spoils. Johnny Gallagher was on target once again for Bakers, Charlie Owen notching for Lonsdale in reply.
DIVISION SIX
Chingford Athletic have moved level with the leaders at the top of Division Six, taking their wins tally to seven for the season as they defeated Brymans Park in a 6-2 scoreline at Town Mead. Ife Bakreen and John Clarke goals accounted for the Brymans efforts but Daniel Crowie and Darryl Wilson braces kept Chingford ahead, Justin Clarke and Jermaine Jenden also netting.
There was a first league success of the season for bottom of the table Titans United who produced the goods to defeat a promotion chasing Valence United Reserves outfit 4-0 at Old Dagenham Park. A four goal performance from Charlie Foran proved to be the difference between the sides, his efforts enough to hand Titans all three points.
After defeat to the same opponents in the opening week of the season, London Legacy went into their clash with Mayfield Kings certainly looking to reverse their fortunes and came away 3-2 winners from Hainault on this occasion. Paul Edwards and Kiz Myaz struck for the Kings, Walid Benmouna scoring twice and Tejean Lovell once to hand Legacy the points.
It was also a victorious morning for an FC Mexico B side who made the trip along Forest Road to take on Barking Colts at the Rec, both sides sitting on six points in eighth and ninth places respectively heading into the weekend. But the Mexicans will have been pleased with their efforts, scoring both goals in a 2-0 win to move them three points ahead of their opponents.
DIVISION SEVEN
It's all change a the top of Division Seven again this week as Ridgeway Rovers took advantage of sides around them being out of action to resume their place at the top, completing win number seven this term with a 9-1 away win against Zone 4 Athletic. Harley Hillman netted a hat-trick with Ben Byrne, Ricardo Joseph, Dillon Woods, Reece Boultwood, Regan Marshall and Ammar Menouar also scoring.
Third placed Colebrook Royals A were in action also, welcoming an in-form Gatcliffe side to Chigwell on Sunday with three places between the teams in the table. But it was the hosts who produced the goods in front of goal, a 7-0 Royals win the result at full-time to keep them in touch with the sides above them.
The remaining league action saw Ping City Phoenixes in home action with the visit of Emerson & Upminster to Redbridge Sports Centre, just a point between the sides heading into the contest. Emerson goals from Oliver Mills and Flynn Treanor were cancelled out by Ping goals from Tom Lyall (2), Josh Flod, Jack Flood, Charlie Thompson and Dan Arnot as the hosts won it 6-2.
COUNTY CUP
In the Essex Sunday Premier Cup, Division One's JK Silvertown travelled to Barkingside to take on top-flight Critics. A closely fought contest saw the sides finish level at 4-4, Critics coming out of the resulting shootout with a 5-4 win.
In the London Sunday Challenge Cup, Baiteze Squad successfully navigated their second round tie to make the draw for the third round, defeating Highgate & Muswell Hill in a 6-2 scoreline, booking a home game with JAM in round three.
The Essex Sunday Junior Cup second round action saw Leytonstone Athletic up against former Corinthian side Emerson Park Reserves, Leytonstone taking a one goal lead into the break. But Emerson fought back to take a 3-1 win to see them through.
A seven-goal thriller completes the round-up from the weekend with Division Three rivals Valence United and United Amateurs going toe-to-toe at Barking Park, last year's finalists in the Trophy competition, Valence, heading on through with a 4-3 success.