Posted
WEEK 11 REVIEW: Round-up of all the Corinthian League action from Remembrance Sunday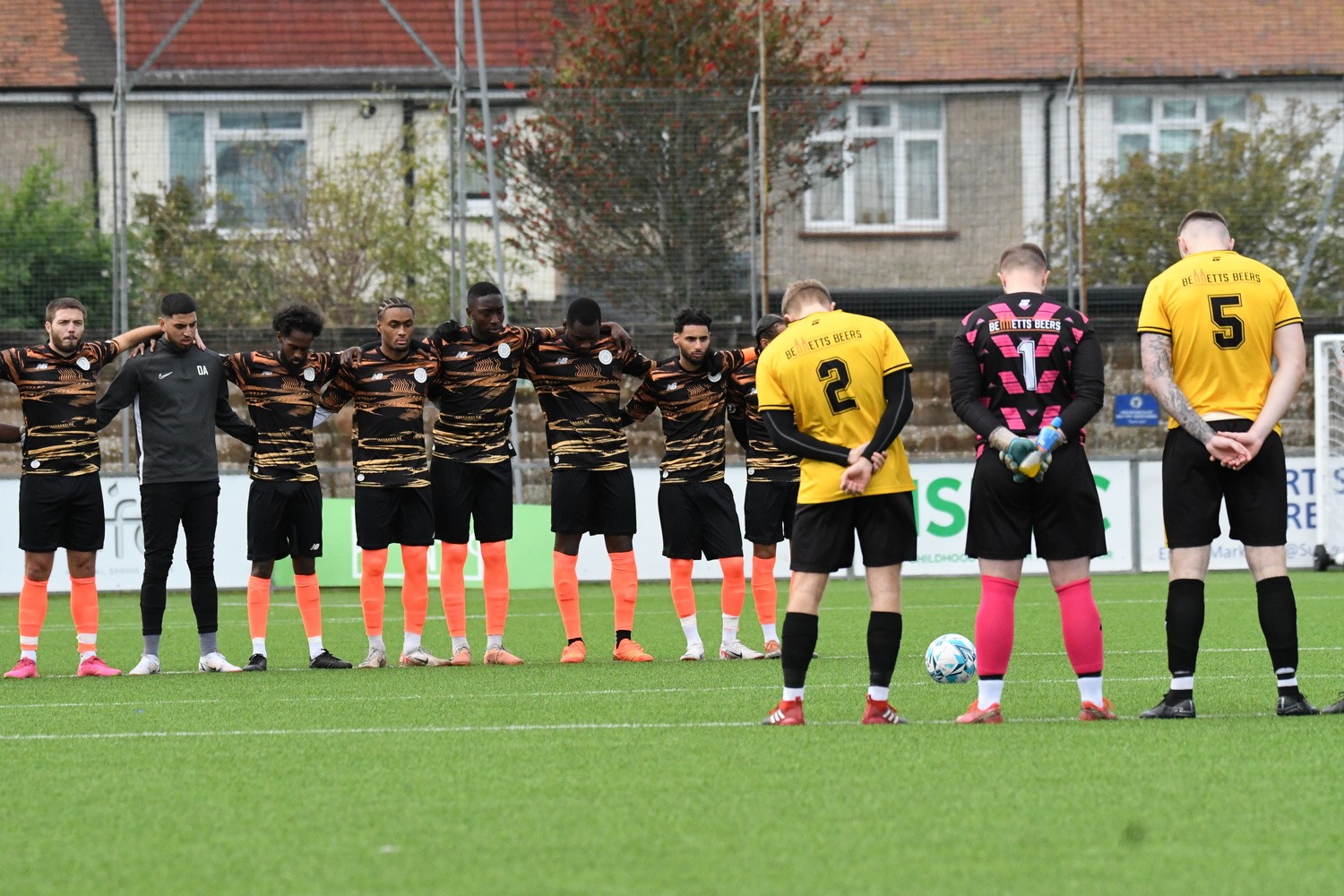 For our latest news and updates, please enter your email address
FA SUNDAY CUP
It was FA Sunday Cup day for four Corinthian sides on Sunday with the all-Corinthian tie seeing Flyhouse Athletic taking on Brook Athletic at The Drive on Sunday evening. With the game in the balance at 1-1 at half-time, Flyhouse then led from the spot before Brook levelled again and eventually prevailed with three further efforts making it 5-2. They now host a Market Hotel side next month.
In the day's early game, Hatch Lane were on the road with a trip to Dulwich to take on The Wall, the sides having met in the London Sunday Challenge Cup a few weeks back in Loughton. On this occasion however it was the SFL side who gained some revenge, scoring both of the game's goals to put The Wall through into the last thirty-two of the competition.
Down on the south coast, Baiteze Squad made their way down to Lancing to take on the Sussex's top side, BN Dons, in front of a big home crowd at Culver Road. The first half produced very little in terms of chances before Dons missed a crucial second half penalty then spurned vital efforts to wrap it up. Baiteze almost won it late on but needed a shootout, coming from behind in that to take a 5-4 win. They head to Fryerns in the third round.
TROPHYLAND CUP
In the first round tie from the Trophyland Cup, the rearranged tie between Woodford Town and Manford Way saw the higher placed Town side edge their way past Manford, netting the odd goal in five in a 3-2 success at Whitbreads. Sam May-Parrott scored twice with Luke Dimond netting the other, despite visitor goals from Jake Li and Daniel Moulden.
Over at Westlands, Division Four's Warren Senior were up against higher ranked opposition with Singh Sabha Barking the visitors on the day. Omari Williams' four goals were the difference between the sides, alongside two Victor Ferrini goals and a Fiston Ndonga effort as Singh Sabha won through 7-3. Brady Jones scored twice in reply for Warren and Harry Glenister was also on the scoresheet.
ENDEAVOUR CUP
The Endeavour Cup produced it's fair share of cupsets and near misses on Sunday, beginning at Hainault Rec where Division Seven's Warren United knocked out higher division opposition with Titans United falling at the second round stage. Charlie Foran and Justin Godwin-Samuel struck for Titans with their goals, but Warren netted four of their own to progress on from a 4-2 win.
Another Division Seven side to almost pull off a shock were Ping City Phoenixes who faced title contenders from the division above in the form of Woodford Town Reserves. With the game ending locked at 2-2 in the ninety minutes, Barney Waterman-Cushway and Ezra Waterman netting for Ping, the game required a shootout to settle things with Town holding their nerve to win that 4-2.
Zone 4 Athletic were another side to almost pull off a big result despite their trevails in the league this season, they were up against higher division opposition too, travelling to Division Six's London Legacy. Defences were certainly on top in this one with neither side able to break the deadlock, the game ending goalless at the end of ninety minutes. The resulting shootout was won by Legacy, 5-4, to edge their way into the quarter-finals.
The final tie of the day saw a top of the table clash between two Division Seven sides as Ridgeway Rovers took on Colebrook Royals A at Peter May in Walthamstow. An expectedly close contest was edged byt the hosts, Rovers heading in to the last eight with a 2-1 win under their belts as Tommy Sheridan and Ammar Menouar goals overcame a Jake Austin effort from the visitors.
SENIOR DIVISION
In the Senior Division, Total Football will be feeling a lot better as they recorded their maiden top flight success with a home victory in Loughton against Club 1017, come away with all three points in a 2-1 win. Aderemi Aderogba netted for the visitors but home team goals from Carl Parsons and Marcus Painter pulled their side over the victory line and level on points with their opponents.
A barnstorming game at Leyton County Ground saw London All Stars as the visitors to take on FLY, both sides sitting promisingly placed at the top of the table going into the game. An eleven-goal thriller ensued with attack certainly dominating defence though it was FLY who eventually took the honours in a 6-5 win, despite a Johnville Renee hat-trick for Stars and further goals from Lamin Bangura and Jaime Obama.
DIVISION ONE
Two in-form sides met in Division One as the leaders, AC Milano, were up against a stiff task with the visit of Barking Riverside to East Ham on Sunday morning, the leaders starting the day two points clear of their opponents. But it was to be another strong showing from the division's top side, Milano winning 2-0 to move four points clear in the title race, Omar Zerhoui and Zekariyas Hailu scoring the goals.
Second place is now held by Benchviews following that result, their game on the adjacent pitch seeing them add another point to their record though perhaps disappointed not to make that three, Cinoci the side producing a good performance to hold them to a 1-1 draw. That result sees Benchviews move a point clear of third, albeit from a game more while Cinoci continue to hold sixth spot.
Over in Newbury Park, St Augustines have started to find a bit of a purple patch of form in recent weeks after a difficult start and made it three wins for the season on Sunday with a 3-0 success against Barking & Dagenham Wanderers, moving level with their opponents in the process on a near identical record. Matthew McDowell scored two and Aaron Hepworth once to give their side the points.
DIVISION TWO
In Division Two, with the sides above them being in cup action, Colebrook Royals Seniors took advantage to close the gap on their rivals to five points, defeating Leytonstone Athletic in a 6-0 scoreline at Grange Farm. Kaci Henry certainly knows where the goal is as he netted a hat-trick, Ivan Machado scoring two and Joe Cole the other to confirm win number five this season.
The other game from the division came from Wadham Lodge and it saw Ainslie reverse their fortunes against Condor following their defeat last month, this time producing a win of their own in a 1-0 scoreline, moving them up into ninth spot and in touch with the sides above. Eric Kelly used his experience to net the game's only goal while they were solid defensively to withstand their opposition's attacking threat.
DIVISION THREE
In Division Three, Valence United went into their game against South Ilford Catholics trailing their opponents by a point but produced a strong showing at Barking Park to take all three points in a 6-1 win. Rowan Newland scored four goals for his side, Ryan Knight and Charlie Surridge scoring the others, rendering a Jaudaan Zubair effort as just consolation for South Ilford.
DIVISION FOUR
Things are tight around the mid-table area of Division Four following the weekend's results where Cardinals Athletic picked up a third win this term, travelling to Hainault to take on Prospect Protege and coming away with all three points in a 2-1 win. Tom Younanof scored for Prospect but a goal apiece from Tyrell Carbon and Daniel Acquaye turned things in Cardinals favour as they walked away with the win.
Byron Red Star are another side amongst that chasing group and they were able to close the gap following a seven-goal thriller victory away at Horse & Well, that game ending 5-4 in the visitors' favour. Joe Powell scored twice and Chris Leckie once for Well but Byron goals from Benjamin Vincent, Chido Ugorji, Perry Robinson and Richard Oduwole edged things in their favour by full-time.
Sitting a point further back are now sixth placed Silencio who picked up a third league win of the season on Sunday after taking all three points from their clash with Eastern Avenue, winning 4-1 in Hainault. They started the day with only two points between themselves but that had been extended to five by the end to move the hosts clear of any imminent relegation worries.
DIVISION FIVE
The race for promotion in Division Five threw another curve ball on Sunday as Royal Lions B produced another vital win against one of their rivals, ending Mansfield Rangers' unbeaten start to the season in a enthralling 5-4 scoreline. Billy Happe scored twice, Billy Evans and James Scott scoring the others for Rangers but those proved in vain as the Lions scored one more than their opponents to earn all three points.
That outcome enabled Coppice Row to move level with the league leaders, trailing on just goal difference, after they returned home from Wanstead Flats with all three points in a 3-1 win against Alpha. Ryan Dodd struck for the hosts but Row goals from Mark Tyrie, Mike Davies and Ishaq Memi ensured that it was the promotion chasers leaving the happier of the teams.
May & Baker EC have showed some improved form of late and are now up into the top five in the division as they produced a well earned 4-0 away win against Ace Athletics to scoop win number four this season. Ross Riding came off the bench to score twice for Bakers, Ryan Rodwell and Deon Spelling punctuating their win in Barkingside and confirming all three points.
Over in Beckton, Athletic Newham faced a Young Royals side with only three points and two places between the teams heading in the game in east London, both sides keen for an upturn in league form. And it was the hosts who left the happier of the teams as Jamie Wooster scored two, Jack Field and Russell Jones scoring the other in an eventual 4-2 winning scoreline.
DIVISION SIX
There were goals galore in Division Six, beginning in Barkingside where hosts FC Mexico B were up against one of the division's title chasing sides, Chingford Athletic, and between them, notched ten goals in the game. Zac O'Halloran, Callum Ruby, Dwain Sharrier and Alex O'Halloran netted for the Mexicans but a Chingford hat-trick for Daniel Crowie plus efforts from Justin Clarke, Darryl Wilson and Bradley Williams gave the visitors a 6-4 win.
At Newbury Park, Brymans Park produced a big bounceback performance after last week's defeat, coming away with all three points in a home win against Barking Colts. Archie Liman scored two, Jordan Esliker, Ronnie Pemble and Adrian Dubery the others to give them a 5-1 win on the day. Charlie Cole was on target with Colts' consolation effort.
DIVISION SEVEN
There were a couple of important results in Division Seven, beginning down at Chigwell Lane where second placed Debden Sports A fell to defeat for just the second time this season after going down 5-2 at home against FC Leytonstone Reserves, winning for just the second time. Alec Osborn and Shane Mitchell scored for Sports but those efforts proved just consolation in the end.
Over at Old Dagenham Park, hosts Gatcliffe went into their clash with Epping Forest Falcons holding a two point lead over their opponents but Falcons had leapt above them into seventh by the end of the game, the visitors winning 2-1 to record a third league win this term. Emmanuel Addo was the man they had to thank, him scoring both goals.
COUNTY CUP
In the Essex Sunday Premier Cup, the second round replay between Critics and JK Silvertown saw a reversal of the previous weekend's outcome as, on this occasion, it was JK Silvertown who headed on through into the third round after a 3-2 victory, booking a clash away against Leigh United.
The day's Essex Sunday Junior Cup action saw a number of positive victories for Corinthian sides, beginning at Wanstead Flats where East London Ballers earned their place in the third round with a strong 6-0 winning performance against Hackney & Leyton League side, Loxford Lions.
There were two all-Division Two clashes, beginning in Dagenham as FC Galaxy netted themselves a place in the next round after they produced a 5-2 win against Cloud 9 at Castle Green, sending the hosts down to Benfleet B in the next round.
Also into the hat for round three are Debden Sports Reserves who had to overcome a dogged Daglanta side in east London but came out on the right side of a 3-2 scoreline. Their reward is a trip to Earls Hall United or Chafford Thirteen in the next round of the competition in a fortnight.
Over in Hainault, Division Three's City Site were the visitors and up against local rivals Belfry from a division higher, hoping to spring a surprise. An expectedly close tie needed the odd goal in favour to seperate the teams and that was scored by Belfry, 3-2 winners and now hosting Valence United in the next round.
A cracker of a game at Harold Wood Athletic saw the Brentwood Sunday League side up against JP8 where both sides traded leads at various stages of the first hour of the contest. But Wood managed to level then lead in the space of two critical minutes midway through the half before eventually running out 5-2 winners.
Barking were on their travels on Sunday with a short trip down to Rainham Working Mens Club and looking to arrest their recent league form. But they found it tough going at the Workies, the hosts completing a 6-2 win against their visitors to earn their place in the third round.
In the day's sole Essex Sunday Junior Trophy game, what can only be described as a goal-fest of a game saw Lonsdale and Valence United Reserves share a quite incredible fifteen goals in ninety minutes with the higher placed Lonsdale side coming away winners by the odd goal, the game ending 8-7. Wow.
Other News Articles