Posted
WEEK 12 REVIEW: Round-up of Sunday's league and cup action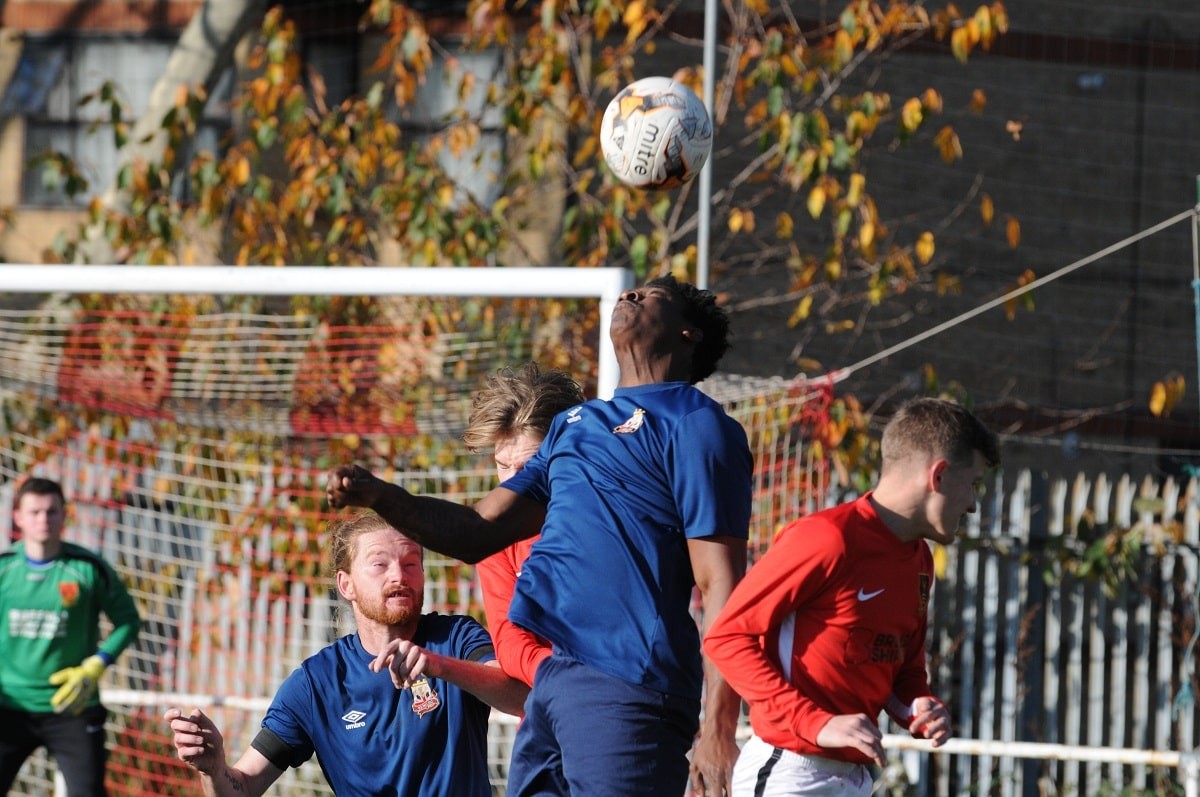 For our latest news and updates, please enter your email address
TROPHYLAND CUP
There was a big shock in the Trophyland Cup on Sunday as Division Four side, AC Milano Reserves, took out opposition from two divisions above them with a big home win over Bretons Manor. Chris Crowe got on the scoresheet for Manor but AC Milano made home advantage count as they romped to a 5-1 win to book their place in the third round of the competition.
PREMIER DIVISION
The league leaders, Repton Park, have extended their lead at the top of the Premier Division to five points as they continued their unbeaten start to the season by beating second placed El Valiente in Loughton. A goal apiece from George Pummell, Jobe Ambrose and Jesse Spearing was enough to earn a 3-1 win, Matt Guidera scoring the Valiente consolation.
Moving up to third place in the table are Warren United who have begun to hit their straps in recent weeks and close to within two points of the top two sides following a big 7-1 win away at FC Mexico. Adam Roberts scored the Mexico goal but a Marti Farmer hat-trick for Warren plus single goals from James Dawkins, Jon Docker, Harry Agombalor and Lewis Compton carried their side to the win.
Over in East Ham, there was a big clash between two in-form sides as Flanders played host to Barking & Dagenham Wanderers with both sides occupying the mid-table area of the standings going to the match. Wanderers will have been pleased with their morning's efforts as they edged a tight encounter 2-1 to earn a third league win of the season.
DIVISION ONE
The race for Division One title glory continues to draw much attention with Chingford Athletic's recent form enhancing their credentials, spurred on by a exhilarating victory on Sunday over Valiant. Liam Coughlan, Jordan Hart and Ben Cox all notched for the home side but a Chingford quartet of "Michael" strikes saw Mignot score twice, Johnson and Boahene scoring the others to edge the contest 4-3.
You would expect SL Menfica to be one of the other sides in contention for the silverware but they didn't have things all their own way as they visited Korona Redbridge on Sunday. Tomasz Cenin and Dawid Smolarek were both on target for Korona as they arrested a run of draws. Menfica took home all the points however as David Hornsby's brace and a Jack Barraclough effort earned them a 3-2 win.
Moving up to fourth place are St Augustines who secured a fifth league win of the season so far on Sunday with an away win at Westferry Elite at Wanstead Flats. Thomas Neil scored twice with namesake Thomas Neale getting another. Duane Hitchman scored the side's fourth as the Saints completed a 4-2 victory.
The division's remaining action came in a local derby contest where Valentines United made the short trip down Forest Road to take on Virtue with both sides languishing in the lower reaches of the table and looking to improve their records. Jonathan Day scored twice for United and James Gibbins once but their haul was equalled by Virtue who also scored three to take a share of the spoils in a 3-3 draw.
DIVISION TWO
The leadership of Division Two changes about as often as the British weather as FC Kulture Klub resumed top of the table duties on Sunday but it took eleven goals to eventually separate the sides in their entertaining clash against Walthamstow Avenue. Jay Jones scored a hat-trick, Oliver Modeste a brace and one from Gerhard Krasniqi completed a 6-5 win for Kulture.
Moving up to second in the table and trailing on just goal difference alone are Dagenham United who had a huge game at home to third-placed Barking with the sides vying for the promotion places. Charlie Surridge scored both of the Barking goals but a Ricardo Teixeira brace plus efforts from Garry Shea and Aaron Nuet completed a 4-2 victory for the Daggers.
Remaining poised with games in hang over all of the sides above them, Royal Albert are the division's last remaining unbeaten side and they picked up a fourth league win on Sunday with a hard fought 4-2 win away at London Fire Brigade. David Moore and John Dillon both netter for Fire but a Shane Wallace brace and further efforts from Bradley Smith and Justin Smith secured a Royal win.
Ferns Seniors have moved up to seventh place in the standings as they brought about a third league win of the season, defeating co-tenants Lonsdale in the Chadwell Heath derby match. Liam Coney's form in front of goal since his transfer has been sensational and he scored four of the gaols with Perry Whatling netting the fifth in a 5-0 win for their Ferns outfit.
DIVISION THREE
In the battle of the Colts, it was Central Colts who will have been happier with their morning's work on Sunday as they maintained their healthy lead at the top of the table with a victory away at Roneo Colts in a Dagenham derby match. Central Colts were 2-0 victors, their seventh league win in nine matches this year to stay seven points clear.
Thames Ironworks Community are now up in second place and as they also got the better of a 2-0 scoreline in a home match against West Essex in Plaistow. Billy Scott was the difference between with a goal in each half for Thames as they won their fifth league match of the year to move up above Alpha into the promotion places.
The third league game in the division saw another of the promotion contenders in action as Hornchurch Oakmont made the journey to Walthamstow to face Ping City Phoenixes. A Malcolm Mitchell effort accounted for the Ping goal but Ross Woolward responded with a hat-tricks with further Oak goals arriving from the boots of James Mitchell, Thomas Gibson, Bobby Cass and Charlie Woods in a 7-1 victory.
DIVISION FOUR
The Division Four race for promotion continues to excite with up to five sides still in with a realistic shout of being involved come the later stages of the campaign. Newham Athletic are the new leaders as they took advantage of other results by winning their contest at Oak Royals, 3-1. Joseph McEnroe caused a "racket" by scoring twice with Kane Greene netting the third to win it.
Asianos Reserves caused one of the upsets of the day as they overcome fellow promotion chasing outfit Woodford in the Wanstead Flats derby match. Charlie Saywood extended his goal tally with another two goals but Majid Hanif's brace in reply plus an Ali Jalo goal earned a stunning 3-2 win that keeps Asianos fifth in the standings.
Grey Area have resumed winning ways in recent weeks and they are handily placed third in the table following a comfortable looking 3-0 victory on Sunday against sixth-placed Monkhams, their sixth league win of the campaign so far. Khadean Campbell's influence in front of goal paved with the way with a brace, accompanying Connor Frost's effort onto the scoresheet.
The biggest winners of the day were East Ham Inter who could still prove a big threat at the top of the table come the business end of the season as they ran in eleven unanswered goals against Thames Ironworks Community Reserves in Plaistow. Hat-tricks from Michael Kemp and Erik Rusnak were instrumental with Harinder Sanghera's brace and singles from Barjinderpal Singh, Ellis Barounovitch and Princewell Eze rounding things off.
And completing the day's league action, Alliance United have recorded a long awaited league victory at the sixth attempt as they were involved in an epic battle with Custom House Community in Dagenham. An exhilarating contest saw seven goals with Alliance edging that contest 4-3 aided by a Michael Livesey hat-trick and a Robert Ashdown strike.
COUNTY CUP
In the day's delayed county cup contest, Masterman were in Essex Sunday Junior Trophy action which saw the visit of Notley Reserves to Newbury Park, the visitors making a long trip down the A12 for the third round tie. With the sides ending level at 1-1 at full-time, Notley struck late in the extra thirty minutes to eliminate Masterman 2-1 in an absorbing contest.
CHARITY CUP
Finally, in the West Essex Sunday Charity Cup, there was an intriguing tie in east London as former holders Romford Elite made the trip to face JK Silvertown in an intriguing looking tie. The sides conjured up the not so insignificant sum of eight goals between them with JK the beneficiaries of a 5-3 win to progress on to the quarter-finals.
Other News Articles