Posted
WEEK 25 REVIEW: Round-up of Sunday's league and cup action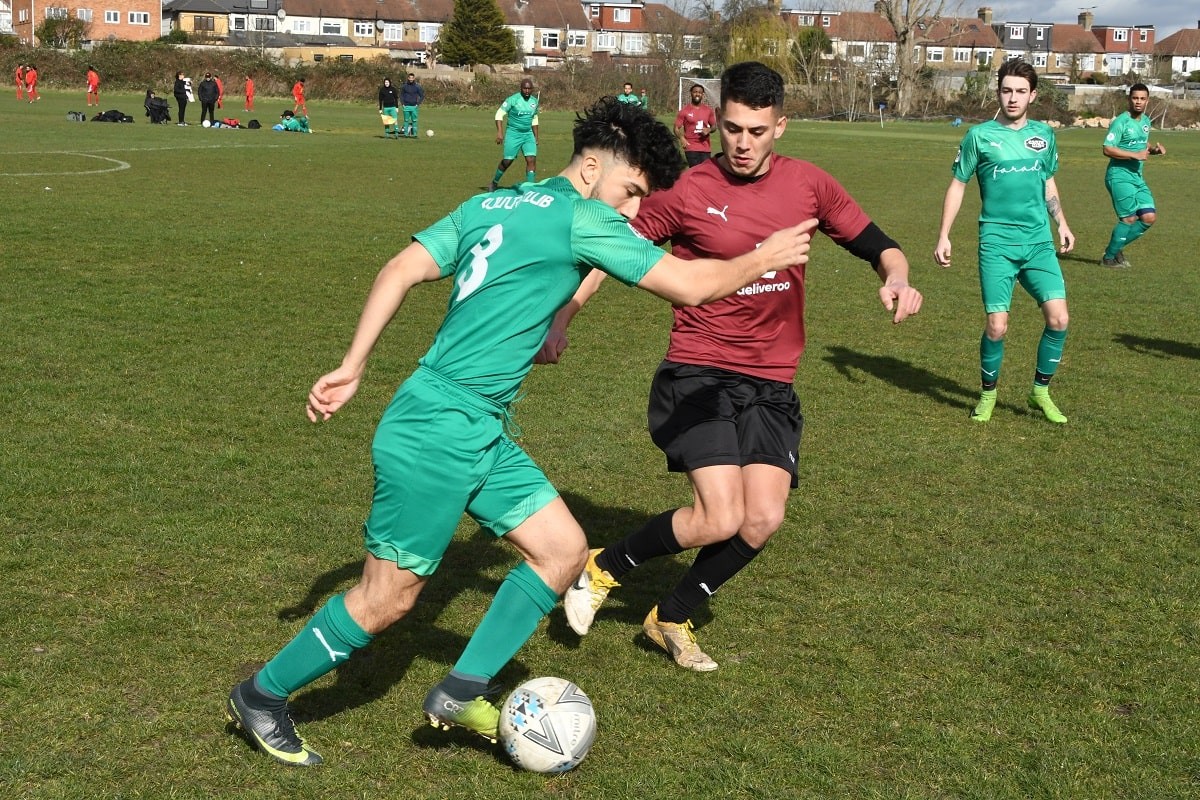 For our latest news and updates, please enter your email address
CORINTHIAN CUP
Three teams have secured their places in the semi finals of the Corinthian Cup this season following victories this weekend with Roose producing another cup upset as the Division Two sides ended St Augustines' run in the competition this season. David Fitzgerald scored for the Saints but Charlie Hawes and Uros Vakanjac both scored for Roose to win 2-1 and book a semi-final spot.
Roose will now face a top flight side in the last four as they take on former winners of the competition, Warren United, next month. Warren are through to that tie on the back of a stunning win at the league leaders, Flanders. Garrett Delves, Ben Rippengale, Sean Green and Harry Agombar scored for United to keep their quest for a third successive appearance in this final in their grasp.
The third semi finalists came through a ten-goal thriller in Loughton as Premier Division Elda had to overcome a plucky Central Colts side from Division Two to confirm their place. Jack Jeffries came off the bench to score a hat-trick with Calvin Poku, Eljay Worrell and Joey May goals completing a 6-4 victory in favour of the hosts.
DIVISION ONE CUP
In the Division One Cup, the Fixtures Secretary was rejoicing as Chingford Athletic and Oceana finally were able to complete their first round tie at the fifth attempt. Despite the long wait, the defences were on top of the game as it ended at 0-0 at full-tie and extra time. But Chingford battled their demons from twenty-four hours previous to win the shootout 7-6.
DIVISION THREE CUP
The Division Three Cup brought about a similarly rearranged clash as Theydon and E4 Rangers were able to get their quarter final completed. Mark Frostick got on the scoresheet for Rangers but his effort was in vain as Chris Walling scored twice, Ross Chimes once and substitute Dion Bishop scored the fourth to complete a 4-1 victory in favour of Theydon.
DIVISION FOUR CUP
Over in Dagenham, In the Division Four Cup, Bretons Manor were the hosts as they took on local rivals Titans United in their quarter final clash with Monkhams awaiting the winners in the semi-final. Lewis Mills scored twice and Sam Cooper once to earn their Manor side a hard fought 3-0 victory, sending them to the last four.
PREMIER DIVISION
There was just the one top flight fixture due to cup action and that saw a tight battle in Newbury Park where Barking & Dagenham Wanderers took an early lead against Asianos. The visitors battled back to earn all three points with Adnan Ali scoring both of the goals to see Asianos to a 2-1 victory.
DIVISION ONE
There were two big results in Division One where KLIK needed a late goal in their game against Valentine United to take all three points. It's not the first time this season that Loui Hazelwood has demonstrated his qualities but they were in full effect once again, scoring the only goal of the game to secure a vital 1-0 win.
One of the contenders for the title and indeed promotion are Kulture Klub who finally were able to get back to football action on Sunday as they made the trip to Newbury Park to take on Brook Athletic. Mitchell Collymore scored twice as did debutant Dymon Labonne which proved too much for Klub despite Afolabi Obafemi and Sebastian Sayer goals.

DIVISION TWO
The biggest scoreline of the day award certainly went to Frenford as the bottom of the table side pulled off a stunning 10-0 victory at home against Wanstead Albion. Kyran Chiedozie was on fire with four goals, Bradley Cousins scored a hat-trick while Carl O'Malley, Adam Andrade and Elidon Selmani efforts completed a comprehensive victory.
There was also a big win for Hornchurch Oakmont who have moved up to second in the Division Two standings on the back of their 6-2 win on Sunday at home against Abridge Village. Luke Newman and Thomas Gibson both scored twice with Joseph Hyatt and George Terry goals completing the win that keeps them well in the promotion hunt. Ethan Porte and Aaron Gurney scored the Abridge goals in reply.
At the other end of the table, Thames Ironworks Community done their relegation survival hopes a power of good as they faced FC Mexico B in Hainault with both teams needing points. Thames were 3-1 winners with Lee Mpensah netting twice and Jack Crabtree once, moving them to within just two points of the sides outside of the relegation zone above them.
DIVISION THREE
Chigwell United have cemented their place in the top two for the time being as they visited Roneo Colts on Sunday and returned home with all three points in a 4-2 victory, that being their eighth league win of the season. Michael Lowry and Del Hewtin scored the Colts goals in reply but their efforts weren't quite enough.
West Essex have moved up to fifth place in the table and still well placed for a promotion chase after they came through a double header against Lonsdale with all six points. Nathanial Simms and Ola Ogunwamide scored twice each and Miguiel Cruchinho, George Fairhead and Josh Flood one each as they won 7-3 in the first fixture. Second time around, Nathanial Simms scored a hat-trick, Dylan Scutt twice and one apiece from Ola Ogunwamide and Jack Newbury-Neale earned a 7-1 win.
Blackwall Rovers' recent surge in form certainly hasn't gone unnoticed and the Wanstead Flats-based side made it seven wins in the league this season after they beat East Ham Inter 3-2. Barinder Singh scored twice for Inter but Luke With's brace plus a Ryan Evans effort completed the win in Rovers' favour.
DIVISION FOUR
There was a huge result in Division Four where Roneo Colts Reserves missed the chance to cut the gap at the top of the table after they were beaten in Chingford by Ridgeway Rovers Under 21s. Kane White and Jeffrey Nketia scored the Colts goals but their efforts were not quite enough in the end as Gus Lawrence scored a brace and Jelka Tabukanga got the other as Rovers won 3-1.
The bottom half of the table couldn't be tighter with six points separating the bottom seven teams! Romford Athletic Dons done themselves a massive favour as they picked up a crucial home win against Upshire Forest Reserves. Harry Harding and Sean Hewett got the goals as Dons won 2-1 to move to within two points of safety with five games to go.
DIVISION FIVE
Total Football's return to action was a successful one for the club as they picked up an eleventh win in Division Five this term with an 8-2 home victory against sixth placed Epping Forest Falcons. Nile Painter brushed away Falcons with a four-goal haul with Aaron Dadzie, Joshua Dadzie, George Ridley and Christopher Atkinson goals rounding things off, rendering Ricky Bronson and Ryan Lawless goals as just consolation.
Moving up to second place, Eastern Avenue took advantage of sides around them being out of action with a 3-1 away win on Sunday against Thames Ironworks Community Reserves. Bram Alpha, Freddie Cox and Rifath Rahman all found the back of the net to hand Avenue their tenth league win of a debut campaign in adult football.
After a tough week for East Tilbury Town, they bounced back to good effect with a big away win over Keith Park Rangers in Newbury Park. Town will have been disappointed with their cup exit last weekend but Harry Smith showed the way forward with four goals and Rodang Ngesang scored twice too, helping them overcome Corey Buffham and Ben Gibbins efforts for Rangers in a 6-2 scoreline.
CHARITY CUP
Two West Essex Sunday Charity Trophy ties completed Sunday's football action with a seven goal thriller ensuing between Alpha and Walthamstow Avenue. Alpha had fought back to level against an Avenue side from a division higher but Avenue scored the crucial fourth to win the tie 4-3 and progress into the semi-finals.
And in the final tie, two sides sporting unbeaten records in their respective divisions came head-to-head as Goresbrook travelled to face Barking Riverside in a local derby. It seems a while since Goresbrook last played a league game and they added another fixture to a hectic schedule with an 8-3 win over Barking to go through to the semi-finals.
Other News Articles