Posted
WEEK 3 REVIEW: Round-up of Sunday's league and cup action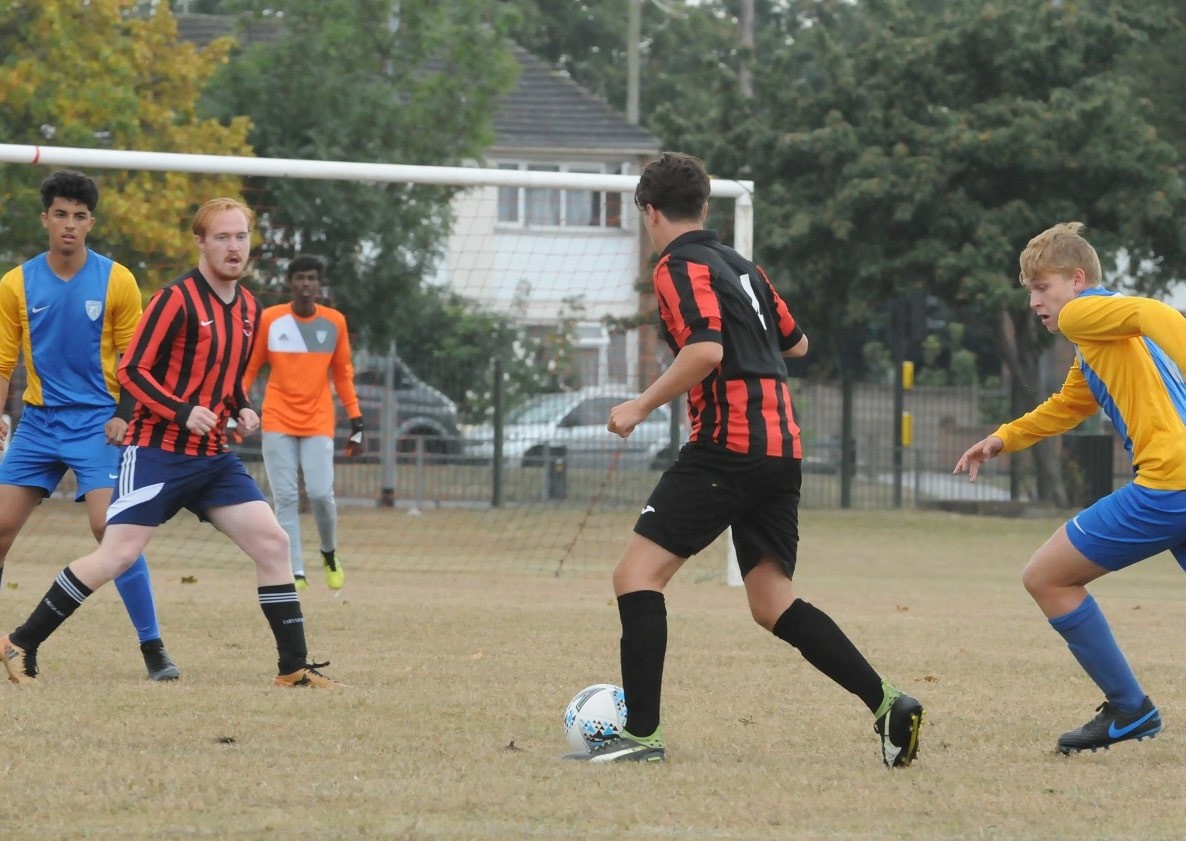 For our latest news and updates, please enter your email address
PREMIER DIVISION
There was plenty of entertainment in the top division this weekend where a ten-goal thriller saw Barking & Dagenham Wanderers hold the lead over reigning champions, Repton Park, on a number of occasions with Matt Ackee scoring twice and Harry Monnoyer once. But Repton showed their resolve to come from behind with George Johnson scoring twice and one goal apiece for Anthony Kemp, James Smith, Jobe Ambrose and Jesse Spearing securing a 6-4 win for the hosts.
There was another close game down in Aveley where a five-goal thriller saw Romford Elite earn maximum points with a narrow 3-2 win at SL Menfica. Tyrell Phillips and Kristopher Brown netted the host's efforts but Elite strikes from Joshua Thompson, Luke Thomas and Lloyd John secured the points for the visitors.
Moving up to second place in the table are Ultimate Vision who made it two wins from their opening three games of the season with a difficult home clash against Asianos. A goal apiece from Jack Mooney and Jordan Rodway proved to be the difference as Vision earned themselves a 2-1 victory on the day and returned home with the points.
DIVISION ONE
It's just alphabetical order keeping the top two sides apart in Division One where Chingford Athletic go top following a second win of the season, this time against Brook Athletic. Patrick Clarke scored twice for the visitors, overcoming a Lee Lashley effort from the hosts in a result which keeps Chingford unbeaten so far this term.
Keeping up the pace with the leaders and with a completely identical record so far, KLIK are second in the standings aided by a hard fought home win on Sunday against Valentine United. James Jacobs was on the scoresheet for United but KLIK scored three goals of their own to record a 3-1 victory.
Oceana are fourth in the table after they picked up a second league win in three this term with a home victory on Sunday against St Augustines in Hainault. Strikes for the hosts from both Joseph Belcher and Jamie Hart were the difference on the day, earning a 2-0 victory to keep their positive start going.
There was a high-scoring contest in Emerson Park where FC Mexico A and Korona Redbridge resumed old rivalries in Division One. The teams could not be separated on the day with Patryk Jurczyk, Michal Bozik and Daniel Bendek goals proving to be all important for Korona to secure a 3-3 draw against the Mexicans.
DIVISION TWO
There were some quite astonishing scorelines in the third tier where Wanstead Albion made it two wins from three games with a high-scoring 5-3 victory at home against Barking at the Flats. Aaron King scored twice and Ben King once for Barking but their efforts were ultimately not enough as Albion crowned their victory with two goals from Harry Prince and one each from Max Catherall, Aidan Bailey and Bradley Laudat.
The league leaders are Central Colts and their win was rather more sedate compared to others in the division where they confirmed a narrow, hard-fought victory away at Frenford on Sunday. Tunde Olagunju grabbed the all important only goal of the game as Colts returned home with the points, winning 1-0.
It's been a story of draws in the remaining games where Goresbrook took away their second point of the campaign, coming from behind late on to make it 4-4 in their home clash with the improved Walthamstow Avenue. Daniel Galvin scored twice for Goresbrook with Josh Keeble and William Cox efforts completing their scoring. Avenue's goals arrived through a Grant Eagle brace and single strikes from Sam Crispe and John Pluckrose.
There is just goal difference to separate Abridge Village and Roose at present and those sides met on Sunday seeking to close the gap on the sides above them. They couldn't be kept apart however with the two sides sharing all six goals in a 3-3 draw. Aaron Gurney scored twice and Jake Geggus once for Abridge to cancel out Roose goals from Harry Amoah and Charlie Hawes.
And it was a similar story in Hainault where FC Mexico B earned their first point of the season with the visit of previous leaders, Chingford Athletic Reserves. James Lee-Legon scored twice for Athletic and Jack Saunders once but the Mexicans also scored three goals of their own to take home a well earned point in this 3-3 draw.
DIVISION THREE
It appears that clean sheets are a precious commodity in Division Three also with another glut of goals being the central story here. There were ten in the contest between Theydon and Lonsdale with the latter netting six with Kalium Fletcher grabbing a brace and other efforts arriving through Alfred Marku, Garry Baker, Albert Kaloci and Klod Gjinaj, that handing Lonsdale a 6-4 win.
Moving up to second place in the table behind the leaders are E4 Rangers who made light work of their trip to Woodford to face promoted East Ham Inter. The hat-trick heroes were Ryan Mallett and Remi Awosamya with a Tim Dye brace and Macauley White single seeing their side cruise through to a 9-0 win.
Chigwell United remain unbeaten so far this year and looking like a real challenger as they faced a trip to Wanstead Flats to face the previously unbeaten Blackwall Rovers. This top of the table battled proved a thriller, won by the odd goal in seven by Chigwell with Charlie Cole, Noel Killeen and Taylor McLaughlin netting for them and Rovers' consolation goals arriving through Lawrence With, Daniel Stevenson and Ryan Hippolyte in a 4-3 scoreline.
Completing the action in this division, it was a big morning for Havering Well who secured their first ever competitive win, taking all of the points in their home clash against Newham Athletic in Hainault. James Farmer scored for Newham but Well goals from Billy Franklin and Jack Cameron were the difference in a 2-1 victory for their side.
DIVISION FOUR
The early season leaders in Division Four are Asianos Reserves who made it two wins and a draw on Sunday with a 1-1 scoreline against Ping City Phoenixes. Reece Ricekts scored the Ping goal to earn them a share of the spoils, taking them to fifth in the table so far with four points from their three matches.
The previous leaders, Roneo Colts Reserves, slipped to their first defeat of the season with a defeat away at rivals, Bretons Manor, in a Dagenham derby match. In a close contest, Sam Cooper scored the only goal of the game for Manor to earn his side the points in a 1-0 victory, moving his team up to third and level on points with Roneo in the standings.
Moving up to fourth place in the table. Ridgeway Rovers extended their good start to the season with a 4-2 win on the road away at Romford Athletic Dons in Hainault. James Dunn scored both of the goals for the Dons who still await their first points of the campaign while Rovers have opened with two wins from their three games thus far.
After suffering defeat in their opening match, Inter Ladzio are up to sixth place in the standings as they cruised to victory in their clash in Waltham Abbey against Upshire Forest Reserves. Jay Crews, Sam Owen, Skirmantas Bulauka and Rhys Parkin got the goals for Inter in a 4-0 win.
There was a first win of the season for the newly formed Titans United who got their points tally underway with a home win on Sunday against United Amateurs in Dagenham. Jack Chawner netted for the visitors but Etelberto Monteiro scored twice and once each from Hamed Hamed and Ethan Palmer completed the scoring in a 4-1 victory for United.
DIVISION FIVE
The early leaders in Division Five are Total Football who made it three wins from three games on Sunday with a victory at home against Thames Ironworks Community Reserves in Epping. George Ridley and Carl Parsons got the goals that gave Total the 2-1 victory to continue their perfect start.
In second place, Cobra's start to the season has been positive and they made it two wins from three so far with a big win at home against Eastern Avenue. Gerald Longwe scored for Avenue to keep them level at the break but Alfie Jennings had a morning to remember as he scored all five of his Cobra's goals to win 5-1.
Also looking like a side to challenge this year are Epping Forest Falcons who made it a pair of wins in their opening games, this time winning their Woodford derby match against co-tenants, Woodford Green United. Peter Andrew scored twice with one apiece from Alex Cachia, Ryan Lawless, Kabir Singh, Rob Noakes, Jamie Lewis and Ashley Conroy completing a comprehensive 8-1 win.
The Newbury Park derby match saw Keith Park Rangers take on their local rivals, Singh Sabha Barking, on Sunday with both sides sporting an indifferent start to the respective campaigns so far. This was clearly a close contest with just a single goal to pull these teams apart, Kulmir Bhakar the man to make the difference with his winner for Singh Sabha who were 1-0 victors.
And completing the league action on a busy Sunday, Ridgeway Rovers Reserves and Custom House Community have both had decent starts to their seasons and just goal difference separates the teams so far. Tommy Hill got himself on the Rovers scoresheet but Custom House levelled things up to see the sides share the spoils in a 1-1 draw.
ESSEX SUNDAY PREMIER CUP
The flagship Essex Sunday Premier Cup commenced on Sunday with Elda involved in the opening round action, on the road away at Crumpled Horn. The Corinthian side kept their good start to the season going with a big win, returning home with a place in the second round thanks to an excellent 6-1 victory.
ESSEX SUNDAY JUNIOR CUP
The Essex Sunday Junior Cup got underway on Sunday too with two sides from Division One meeting in an all-Corinthian clash between West Abbey and Colebrook Royals. The latter have made an unbeaten start to their season and continued that with a convincing 8-2 victory against the hosts.
ESSEX SUNDAY JUNIOR TROPHY
There was also action in the Junior Trophy where yet another all-Corinthian tie saw West Essex playing host to Roneo Colts in their first round match-up. West extended their strong start to the campaign with a 4-0 home win against Colts to see their team safely into the second round of the competition.
LONDON SUNDAY CHALLENGE CUP
El Valiente returned to the London county cup scene on Sunday as they played host to Combination side, Walthamstow Red Star, in the first round of the competition. The East Ham based side edged a tight game, winning 2-1 to go through to round two of the competition as Jack Taylor and Sam Edwards hit the back of the net.
Other News Articles