Posted
WEEK 7 REVIEW: Round-up of Sunday's league and cup action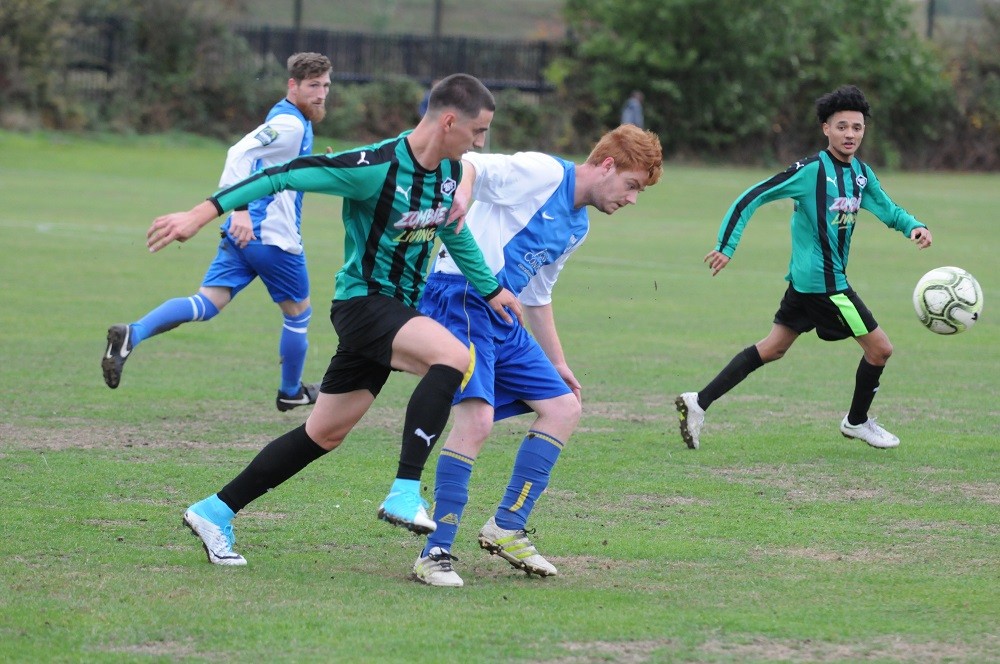 For our latest news and updates, please enter your email address
CORINTHIAN CUP
The Corinthian Cup served up a giant-killing on Sunday as Division One's St Augustines bounced back from a league defeat last weekend to stun top-flight Flanders in the first round. Goals from Thomas Neale and Sam Prendergast had helped the Saints to finish 2-2 after extra-time before winning the shootout 5-4 to book a second round spot against Ultimate Vision.
TROPHYLAND CUP
There was also lots of drama in the day's Trophyland Cup action where Oak Royals almost caused a shock as they recovered late to take their tie against East Ham Inter into extra time after a 2-2 draw. An entertaining extra time period saw Oak score again but two more goals from Inter saw them eventual prevail 4-3 in thrilling fashion. Their goals were scored by Dave Jadeja, Kasey Singh, Sam Bessadi and Harjeet Singh.
PREMIER DIVISION
In the Premier Division action, Repton Park have extended their lead at the top of the table to eight points as they made the journey to Newbury Park on Sunday to face Brook Athletic. Brook goals from Jaden Rising and Kyle Thompson proved not quite enough on the day as Dean Morgan, George Pummell, Jesse Spearing, Charlie Henry and George Johnson goals earned Repton the victory.
There was an entertaining match in Barkingside where the reigning champions, Warren United, played host to a previously unbeaten El Valiente side with both sides eager to close the gap on the leaders at the top. Warren strikes from Ryan Handelaar, James Peagram and Harry Agombalor were enough to edge this thriller by the odd goal, cancelling our visitors goals from Sam Edwards and Nathan Wilson.
DIVISION ONE
SL Menfica remain top of the pile in Division One after they saw off the efforts of Ridgeway Rovers on Sunday in Aveley with Rovers suffering their first reverse of the season in the process. Jake Muller scored twice and one apiece from Shaun Goddard and David Hornsby helped their side secure a 4-0 win, their fifth victory of the campaign so far.
Moving up to second place in the table are Valiant who made it four wins from seven games so far this season as they beat off the efforts of Westferry Elite in a 3-1 victory. Daniel Stevenson got the Elite goal but two in reply from Reece Bridgeman and one from Hussien Fadul earned the win.
Also moving up in the standings were Virtue who have bounced back well from an indifferent start to the campaign to record a number of successive wins, their latest being a hard fought victory away at Wanstead Albion. Tony Field, Ricky Field and Lee Wootton all scored for Virtue with Jerald Aboagye and Tyriquee Solomon earning Albion's consolation goals in a 3-2 scoreline.
DIVISION TWO
The game of the day in Division Two came from Walthamstow where the league leaders, FC Kulture Klub, were up against a promotion chasing Barking side. Barking led early on but the leaders stormed back to lead 2-1 going into the latter stages of the game with debutant Dario O'Reilly on the scoresheet. But with time running out, Barking first equalised them stole the points with a dramatic late winner to win 3-2 – their goals coming from Aaron King, Charlie Surridge and Michael O'Brien.
Bretons Manor also had a morning to remember as they recorded their third league victory of the season and moved up to fifth place in the table as they beat Lonsdale in Chadwell Heath. Klodion Gjings got on the Lonsdale scoresheet but a Greg Bowles hat-trick led his side to victory with Sam Cooper also netting in a 4-1 Manor victory.
London Fire Brigade will be breathing a sigh of relief as they recorded an excellent 1-0 win on Sunday as they made the journey to Leyton to face Walthamstow Avenue, returning home with all three points in a 1-0 win. John Hines got the side's only goal of the day, a victory which moves the side up a place to ninth in the standings, with Avenue just one point and place above them.
DIVISION THREE
In Division Three, Thames Ironworks Community closed the gap on the leading pack to just a point at the weekend as they made the difficult looking trip to face E4 Rangers in Walthamstow. And it will be Thames who will have been the happier of the two sides as they cruised to a 5-0 victory, moving up to fourth place in the table.
It was a big morning for another of the division's outfits as West Essex took on Ping City Phoenixes in a Waltham Forest derby match with the hosts earning themselves a terrific first league victory of the campaign. West Essex ran out 4-1 victors, a result which moves them up to ninth place and within touching distance of the mid-table sides above them.
DIVISION FOUR
In Division Four, there were some big results throughout the division as Woodford bounced back well from their opening defeat last time out to edge their contest with Monkhams by the odd goal in five. Valerio Phipps and Sam Snell both scored for the Loughton-based outfit but Woodford strikes from Sol Norris, Jake Silk and Charlie Saywood earned the 3-2 win for the league leaders.
After the euphoria of beating the leaders last weekend, Newham Athletic were brought back down to earth on Sunday as they were stunned at home by Asianos Reserves after missing a late penalty to level it up, their first defeat of the campaign. Steven Courtney and Caelan Kellegher scored for Newham but Asianos goals from Majid Hanif, Abdinasir hashi and Naeem Monsur earned their side a stunning 3-2 victory.
Epping Forest Falcons played host to Alliance United in Woodford with both sides keen to get their seasons up and running again after indifferent starts. But it was Falcons who flew to a significant victory as two goals from Ryan Lawless plus strikes from Gary Sare and Jack O'Donoghue carried them to a 4-0 win on the day.
The day's final league action saw one of those games that Gary Lineker would relegate to being last shown on Match of the Day as Thames Ironworks Community Reserves faced Custom House Community, a match which ended goalless. That result did see Thames record their first ever point of their short existence but both defences take the credit on the day.
ESSEX SUNDAY JUNIOR CUP
There were some magnificent results for Corinthian clubs in Sunday's Essex Sunday Junior Cup action with four of our sides coming through the five ties that took place. Barking and Dagenham Wanderers took the honours from their all-Corinthian match-up against Valentine United, running out 5-2 winners to book a long trip to Braintree Legends in the third round.
There was an equally impressive result for Dagenham United who, despite playing a competition higher than their league standing, were 2-0 winners at home to Emerson Oak. That result sees them into the third round where they will face Social Club Birchanger who will make the long journey down from the Essex/Herts borders.
There was a nine-goal thriller down at Lakeside where FC Mexico made the journey to face an unbeaten Aveley United side from the Thurrock Sunday League. An eventful game was finally sealed by the odd goal as Mexico won through 5-4 to a home tie in round three against Harlow-based New Town Rangers.
Also sealing their place in the next round were the reigning county cup champions, Upshire. They also had an away tie with a trip to Brays Athletic on Sunday with the match ending locked at 1-1 after extra time. Upshire showed their composure in the shootout however to win through to a tie with south Essex based Oyster Bay or Concord Rangers.
In the day's final game in this competition, there were plenty of thrills and spills in the tie between Korona Redbridge and Jack's Lads where the sides shared nine goals between them. Missed penalties cost Korona in the end however as the Lads won 5-4 to end their visitor's participation in the competition for another season.
ESSEX SUNDAY JUNIOR TROPHY
There was a similarly successful theme in the Trophy competition on Sunday as three sides from the four ties progressed on to the next round in November. Masterman had a successful morning as they overcame the previously unbeaten CFC Rainham but were taken all the way to extra time, eventually coming through with a late winner to earn a 2-1 victory. They will now face Notley Reserves in the next round.
Goresbrook will have an eye on going far in this competition once again after they beat off the efforts of Roneo Colts in Dagenham, beating them 9-2 to book their place in round three. The match will be of particular interest for the statisticians as 63 year old manager, Phil Pafnouti, netted from the penalty spot in the win. They will now face Chelmsford-based Tulip Royals in the next round.
Also netting a big victory on Sunday were Hornchurch Oakmont who carried their excellent league form into the county cup on Sunday, overcoming one of the Division Four high-flyers, Grey Area, in the process. Oak eventually prevailed in a 7-0 win as they secured a third round place at home to Beckton United in November.
Dagenham United Reserves saw their participation in this year's competition come to an end as they made the trip to face Recreativo Romford on Sunday. The Combination based opposition ran out comfortable 5-0 victors to enable Dagenham to focus on their league and league cup commitments for the next few months.
LONDON SUNDAY JUNIOR CUP
In the London Sunday Junior Cup, both of our sides have successfully navigated the opening round as AC Milano Reserves made a successful return to the county cup, earning themselves a comfortable 6-0 win at home to Wheatsheaf Athletic Reserves. They will now head to FC Lokomotiv Thunder in the next round in November.
Other News Articles